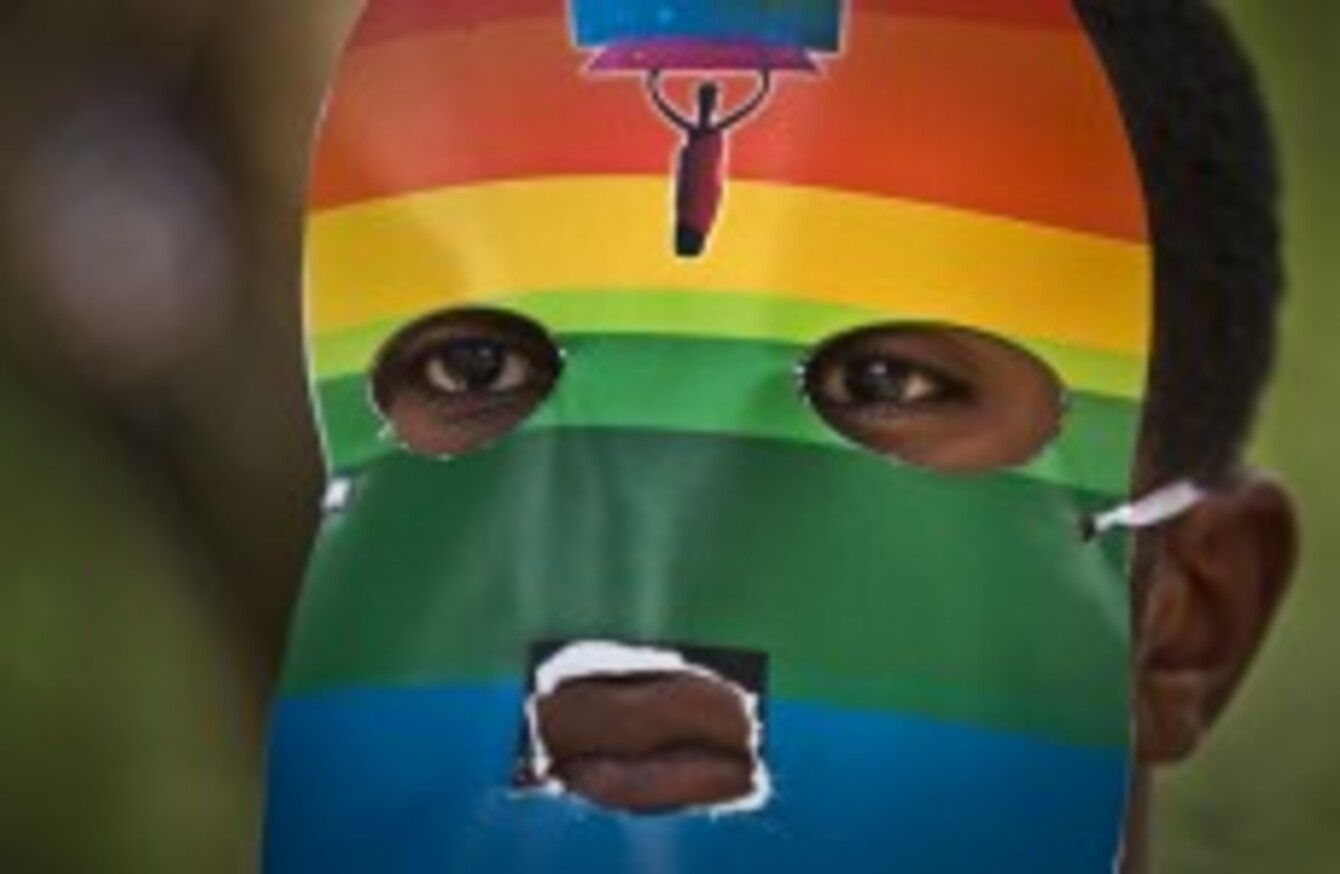 A person wears a mask as Kenyan gays and lesbians protest against Ugandan laws
Image: AP Photo/Ben Curtis
A person wears a mask as Kenyan gays and lesbians protest against Ugandan laws
Image: AP Photo/Ben Curtis
UGANDAN PRESIDENT YOWERI Museveni signed off on a controversial law today that will see homosexuals jailed for life.
The signing of the law, which also outlaws the promotion of homosexuality and requires people to denounce gays, came despite fierce criticism from US President Barack Obama and a warning that ties between Kampala and Washington would be damaged.
"No study has shown you can be homosexual by nature, that's why I have agreed to sign the bill," Museveni said in a speech after a signing ceremony at the presidential palace near the capital Kampala.
Museveni warned Western nations not to meddle in the central African nation's affairs, and said that he was not afraid of aid being cut.
Outsiders cannot dictate to us, this is our country. I advise friends from the West not to make this an issue, because if they make it an issue the more they will lose.
The anti-gay bill holds that repeat homosexuals should be jailed for life, outlaws the promotion of homosexuality and legally obliges people to denounce gays to the police.
The lawmaker behind the bill, David Bahati, praised the decision to sign it.
"This is the moment the world has been waiting for," he told AFP. "We thank our president for taking such a bold move despite pressure from a section of foreign organisations. The law is for the good of Uganda, the current and the future generations."
'Legislation against love'
South African Nobel peace laureate Desmond Tutu said yesterday that the law recalled sinister attempts by Nazi and apartheid regimes to "legislate against love".
Gay men and women in Uganda face frequent harassment and threats of violence, and rights activists have reported cases of lesbians being subjected to "corrective" rapes.
Museveni, a devout evangelical Christian, earlier this month also signed into law anti-pornography and dress code legislation which outlaws "provocative" clothing, bans scantily clad performers from Ugandan television and closely monitors what individuals view on the Internet.
"Offensive"
Amnesty International described the bill as "draconian".
"This deeply offensive piece of legislation is an affront to the human rights of all Ugandans and should never have got this far," said Michelle Kagari, Deputy Regional Director, Amnesty International.
This legislation will institutionalise hatred and discrimination against lesbian, gay, bisexual, transgender and intersex people in Uganda. Its passage into law signals a very grave episode in the nation's history.
She added that the bill "makes a mockery of the rights enshrined in the Ugandan constitution".
Uganda has made important progress on human rights in recent years, including criminalizing torture, but this Bill is a giant step backwards.
Earlier this month, Tánaiste Eamon Gilmore said that the anti-gay laws would affect Ireland's "valued relationship" with Uganda, and that he was "deeply concerned" about the situation.
He said that the legislation "will be a step back for Uganda" and he urged the President and the Ugandan Government "to uphold their international obligations to treat all citizens equally, regardless of their sexual orientation".
- Additional reporting from AFP: - © AFP, 2014