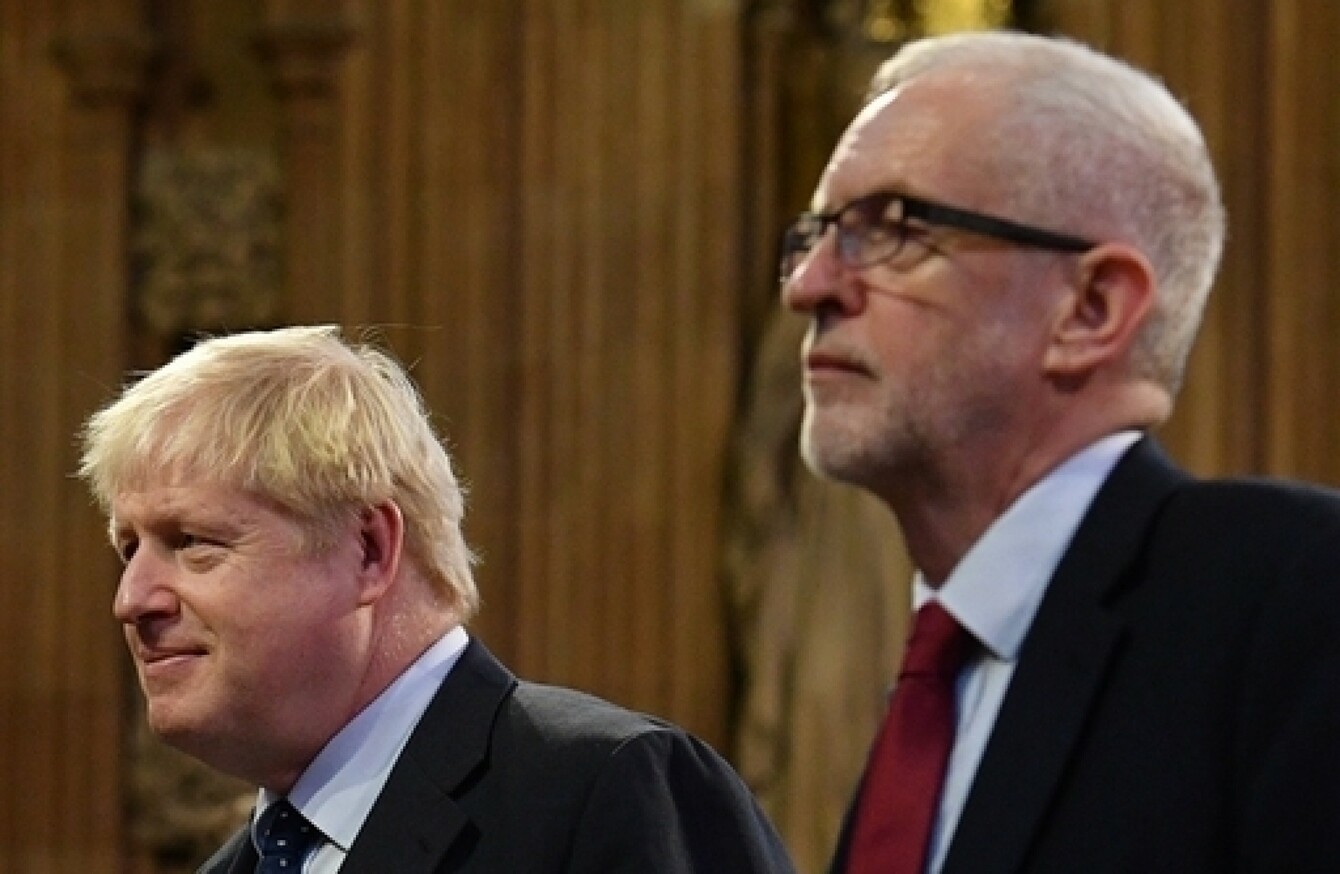 UK Prime Minister Boris Johnson and Labour leader Jeremy Corbyn.
Image: PA Images
UK Prime Minister Boris Johnson and Labour leader Jeremy Corbyn.
Image: PA Images
Updated Oct 29th 2019, 3:36 PM
A DECEMBER ELECTION in the UK has moved significantly closer with the confirmation that Labour is to back a government motion to hold one.
In the House of Commons this afternoon, both Boris Johnson and Labour leader Jeremy Corbyn backed the holding of a general election but the matter will be subject to a vote later today. 
The vote may even be derailed ahead of time due to a number of amendments attached to the election bill. 
Johnson failed for third time last night to get sufficient backing from MPs to hold an election but is trying another route today that is more likely to succeed.
Johnson has on three occasions sought to hold an election using the Fixed-Term Parliament Act, which requires two-thirds support in parliament, but failed to get the required numbers despite winning a majority on each of the votes.
This afternoon, Johnson said that his government has been "left with no choice but to go to the country to break free from this impasse".
"There is only one way to get Brexit done in the face of this unrelenting parliamentary obstructionism, this endless, fingers crossed, refusal to deliver on the mandate of the people. And that is to refresh this parliament and give the people a choice," Johnson said.
And I say this to the whole house and to people who may be wavering about whether to vote for this bill, there is only way to restore the esteem with which this democracy is held, and to recover the respect by which parliament should be held by the people of this country and this is finally to offer ourselves to the judgement of the people of this country.
Source: TheJournal.ie/YouTube
Yesterday, Johnson fell 135 votes short of the 434 required to get an election after the vast majority of Labour MPs abstained.
After that proved unsuccessful, the UK government has today tabled a bill which will simply set the date of the next election as 12 December. This would require a simple majority in parliament.
The government had been wary of going down this route because such a bill could be amendment by opposition politicians.
A motion tabled by Labour's Stella Creasy this afternoon was passed by the House of Commons making it easier for MPs to table amendments to the bill. 
Two amendments being proposed would give 16 and 17 year olds and EU citizens the right vote in the election.
These amendments are unlikely to be selected for MPs to vote on but this will be decided later. 
If they are selected and subsequently passed the government has said it will pull the entire election bill.
Despite this, the prospect of an election moved closer this morning after Corbyn confirmed that Labour would be supporting the government's motion to hold an election. 
Corbyn has repeatedly stated that he would support an election only after if the threat of a no-deal exit was removed.
This morning, the document officially granting the UK a Brexit extension until 31 January 2020 was published and Corbyn has said this allows him to support an election.
This, however, is despite the EU confirming that an extension was granted yesterday before MPs voted on holding an election.
Addressing his party front bench this morning, Corbyn confirmed that his party's position will now support the holding of an election.
"We have now heard from the EU that the extension of Article 50 to 31 January has been confirmed, so for the next three months, our condition of taking no-deal off the table has now been met," Corbyn said.
#Open journalism No news is bad news Support The Journal

Your contributions will help us continue to deliver the stories that are important to you

Support us now
Speaking this afternoon in the House of Commons, Corbyn said he backed to election as a way of removing "this reckless and destructive Conservative government".
"A government that has caused more of our children to be living in poverty, more pensioners to be in poverty and more people to be in work poverty. More families without a home to call their own and more people living on the streets," Corbyn said.
"I've said consistently that when no-deal is off the table we will back an election. Today after much denial and much bluster by the Prime Minister, that deal is now off the table. So this country can now vote for the government it deserves."