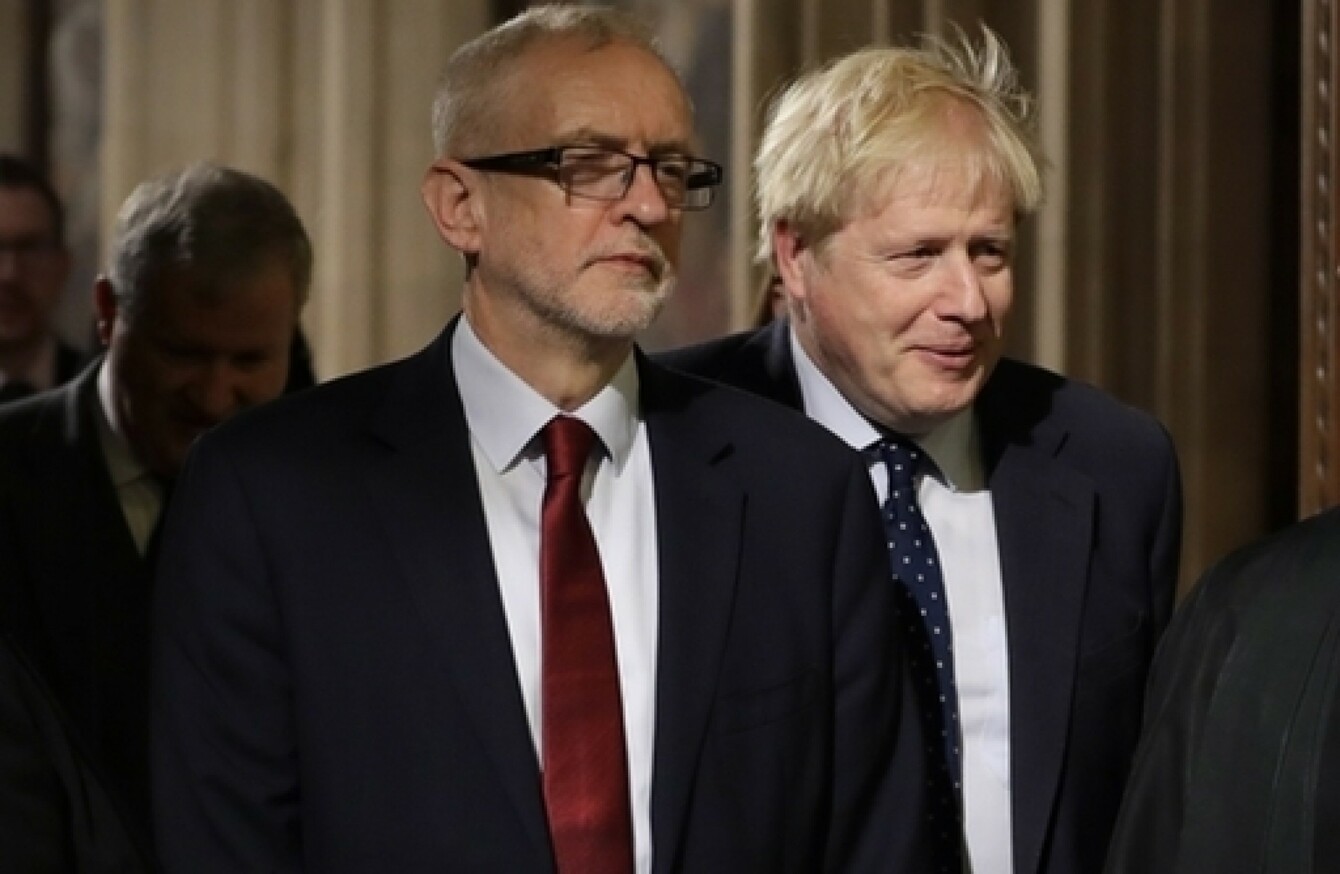 Corbyn and Johnson in Westminster.
Image: Kirsty Wigglesworth/PA Images
Corbyn and Johnson in Westminster.
Image: Kirsty Wigglesworth/PA Images
Updated Oct 25th 2019, 3:17 PM
BRITISH PRIME MINISTER Boris Johnson has attempted to heap more pressure on Labour and Jeremy Corbyn into agreeing to support a December election.
Labour look set to block Johnson's bid for a pre-Christmas election with the Labour leader saying the threat of a no-deal Brexit has not yet receded. 
Johnson said yesterday evening that he wanted to be "to be reasonable with parliament" and give it more time to scrutinise Brexit legislation if MPs submitted to a 12 December general election.
On the two previous occasions Johnson has attempted to call an election, Corbyn said Labour would back an election only if the threat of a no-deal Brexit is removed.
Last night he said last night that this is still his position.
"Take no-deal off the table and we absolutely support an election. I've been calling for an election ever since the last one because this country needs one in order to deal with all the social injustice issues, but no-deal must be taken off the table," Corbyn stated. 
Speaking on BBC's Today programme this morning, Labour's Diane Abbott said that the party wanted an "explicit commitment" that no-deal was of the table, adding "that might mean further legislation in parliament". 
Responding this afternoon, Johnson attempted to drive a wedge through Labour by saying the party is split on the question of holding an election.
"What we have is a great deal on the table. It's a deal that's been approved by parliament. And what I'm saying is that it's up to the opposition, it's up to Jeremy Corbyn to decide whether he wants to get this deal done or not," Johnson told Sky News.
And I will make it very, very clear that we will, as the Chancellor rightly said this morning, we will give some extra time to get this thing done, if and only if the Labour Party will agree to an election on December the 12th. And as far as I can see, at the moment, the Labour Party is split from top to bottom, and they can't work out whether or not they're in favour of an election, which is the thing they're supposed to be campaigning for for the last three and a half years.
Source: This Morning/YouTube
Speaking on ITV's This Morning programme, Corbyn said that he's happy to have an election but that the UK must first be protected from a damaging EU exit.
I'm very happy to go out and campaign, I'm very happy to be out campaigning, I do it all the time anyway. I love campaigning. The last election in 2017 we were written off by everybody and look what happened.
#Open journalism No news is bad news Support The Journal

Your contributions will help us continue to deliver the stories that are important to you

Support us now
"He has got to understand that the protection of jobs, the protection of the peace process in Northern Ireland are very, very important. His proposals don't do any of that," Corbyn added about Johnson's deal.
The space for an election is subject to the EU's approval of another Brexit extension, which could come on Monday. 
Earlier today, EU ambassadors agreed in principle to a Brexit extension but have postponed a decision on exactly how long it will last for.
The diplomats set an informal deadline of late Monday or early Tuesday to decide — just two days before the current Brexit deadline of 31 October.
EU leaders are keen not to be seen to be influencing decisions taken in the House of Commons but the vote itself is dependent on the extension decision.