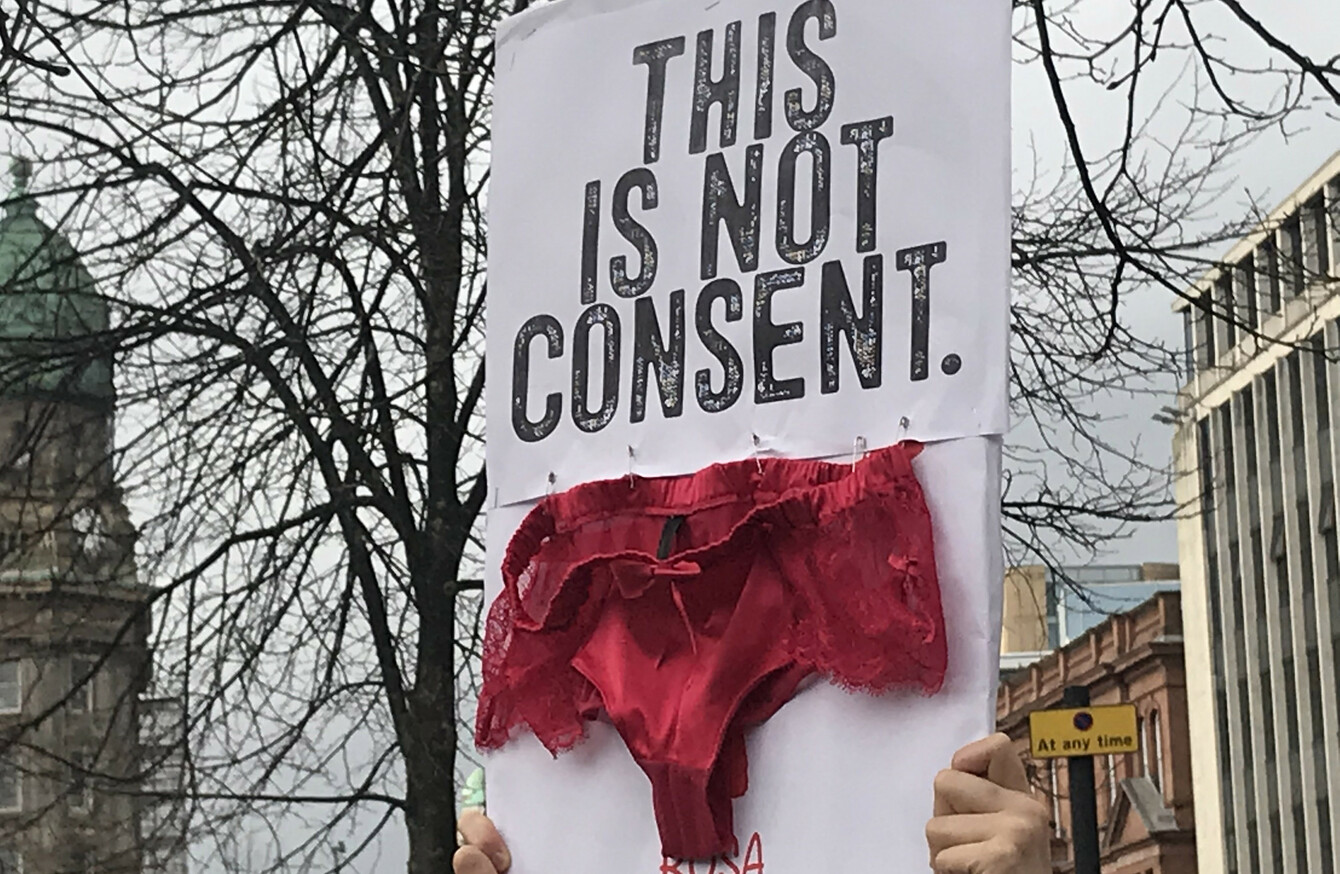 Image: PA Wire/PA Images
Image: PA Wire/PA Images
PADDY JACKSON'S LAWYER has defended showing the courtroom the underwear of the woman who accused Jackson of rape.
The issue of using alleged victims' underwear in court has been raised since the Belfast trial and again in recent weeks, after a defence barrister asked a jury in Cork to take into account that the 17-year-old complainant was wearing a thong with a lace front on the night in question.
Rugby player Paddy Jackson was acquitted earlier this year of charges relating to the alleged rape of a then 19-year-old woman at Jackson's home in June 2016.
Speaking to the RTÉ Documentary On One – Notes From A Belfast Rape Trial, Brendan Kelly, QC for Paddy Jackson, said that it wouldn't be proper practice if he had not done so.
"The clothes had to be introduced because of the confusion between what might have been the source of blood and what was the source of blood."
In the Belfast trial, the woman in question said she had put her underwear in her bag before leaving Jackson's home. It was necessary to question the witness over where the blood came from, as it was being linked to the severity of the intercourse and consent, Kelly argued.
"Had counsel not put the clothing to the witness, the whole approach of counsel would have been called into question by the judge and by the Crown and we would have been bound to be criticised that these points are made to the jury, but the complainant was not given the opportunity to answer them."
Cork case
The rape trial before the Cork Circuit Criminal Court sparked protests in Ireland and raised debates around consent after the defence barrister asked the jury to consider how the teenager was dressed:
"Does the evidence out-rule the possibility that she was attracted to the defendant and was open to meeting someone and being with someone," Elizabeth O'Connell SC is reported as stating in court, adding:
You have to look at the way she was dressed. She was wearing a thong with a lace front.
Following the remarks made in the rape trial in Cork, TD Ruth Coppinger brought a lace thong into the Dáil to protest against the use of them as evidence in court cases.
The RTÉ documentary, which aired today, looks back at one of the most important cases of the year. It includes details about the woman at the centre of the trial, saying that after she gave evidence, she continued to follow proceedings from a room in the courthouse.
"She was present, but invisible, patched through every morning and listening to the proceedings in the next room." 
Jackson's lawyer said that a vulnerable witness has the option of giving evidence from behind a screen or in a pre-recorded interview.
"But the further you remove the complainant, the less real it is," he says.
"[After that was brought in, I remember] being conscious that acquittal rates soared because it didn't seem real."