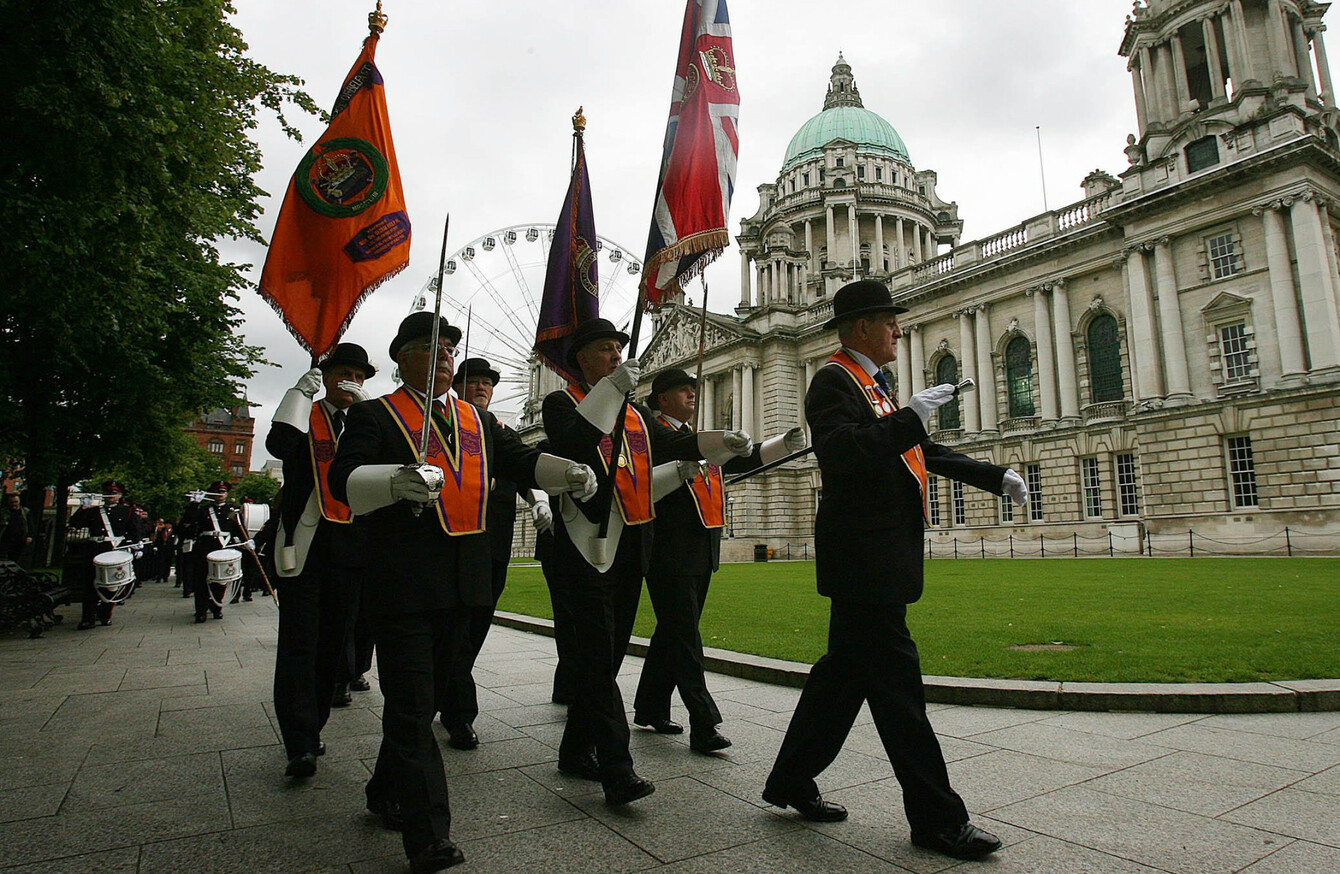 The Orange Order march past City Hall in Belfast.
Image: Julien Behal/PA Images
The Orange Order march past City Hall in Belfast.
Image: Julien Behal/PA Images
SENATOR MARK DALY is currently undergoing a task which, in the light of this week's events at Stormont, may seem particularly daunting.
Daly is spearheading an effort by an Oireachtas committee to tease out what a reunited Ireland might look like in a post-Brexit world.
As part of this effort, the committee has tasked itself with understanding and comprehensively addressing the fears unionists hold of a united Ireland.
The thinking is that this engagement, and the plans that may stem from it, should be carried out before a border poll becomes a reality.
Daly argues that recent history shows just how important that is:
You must learn the lesson of Brexit, which is that you don't have a referendum and tell everybody what the future will look like. What you do is talk about all the issues of health, education, housing, jobs and opportunities, but you also look at the issue of identity.
These efforts are already underway and Daly says he has been meeting with unionists of different backgrounds who have shown a willingness to engage on the issues.
He says that while most unionists do not aspire to a united Ireland or anything like that, there are pragmatic elements that value at least preparing for it should that be the will of people north and south of the border.
Brexit has seen also seen these discussion become more common, he adds.
"There's a middle ground there. I was in Glencree on Tuesday at a cross-community meeting, unionist and republican and there is this kind of small u unionist who are kind of going: 'You know we probably would be better of staying in the EU.' "
Ulster
The commitment to engage with unionists to assess their "fears and concerns" was part of a detailed report published by the committee in August of last year.
It was the first report of the Joint Committee on the Implementation of the Good Friday Agreement and focused on the impact of Brexit and the prospect for a united Ireland.
Unionist fears and concerns were stressed to the committee by Dr James Wilson, a freelance lecturer who specialises in the field of unionism and loyalism.
In his submission to the committee, Wilson outlined that, aside from economic arguments, much of the opposition of northern protestants to Irish unity "has been based on fear".
Wilson stated that these fears are "real and powerful" and broken down into three parts:
Fear of dispossession, fear of retribution, and fear of assimilation into an alien Gaelic culture that eliminates their ethno-cultural diversity as British/Ulster Scots.
The retribution element he addresses relates particularly to members of British security forces who served during the Troubles. It's estimated that there are 300 unsolved murders involving former members of the security forces during that period.
"The belief of post-unity retribution still lingers amongst former soldiers, policemen and prison officers, even though the vast majority never went to bed plotting to kill anyone," Wilson said during his submission.
Wilson outlined that unionists also fear a literal dispossession of the lands that came under the possession of protestants during the Plantation of Ulster and in the following centuries.
#Open journalism No news is bad news Support The Journal

Your contributions will help us continue to deliver the stories that are important to you

Support us now
Daly agrees but points out that there is no single branch of unionism. Among unionists there are working class people, farmers and business people, all of whom may have different priorities.
Asked whether he feels unionists would accept a united Ireland if that was the decision north and south, Daly points to a 2010 survey which found that 82% would accept such a scenario.
The remaining 18% he describes as "fight or flight", with some unionists choosing to leave Ulster and others perhaps resisting the transition.
In order to help prepare for that, the committee has also heard the expertise of Michael R. Ortiz, who was senior policy advisory in the Obama White House, about how best to guard against the rise of unionist radicalism following a united Ireland.
Daly argues that the best way to do so is to provide opportunities for disadvantaged loyalists, whom he says are already being left behind by their representatives.
"It's about giving jobs and opportunities, education and hope and making sure that there's a society where they have a future," Daly says.
"And at this moment in time, regardless of the referendum, the most disadvantaged communities in Northern Ireland are the ones being left down by the DUP. The loyalist communities are being ignored and know they're being ignored."
Clarification: An earlier version of this article quoted Senator Mark Daly as using the term "small new unionist" when he had said "small u unionist". The article has been amended to reflect that clarification.