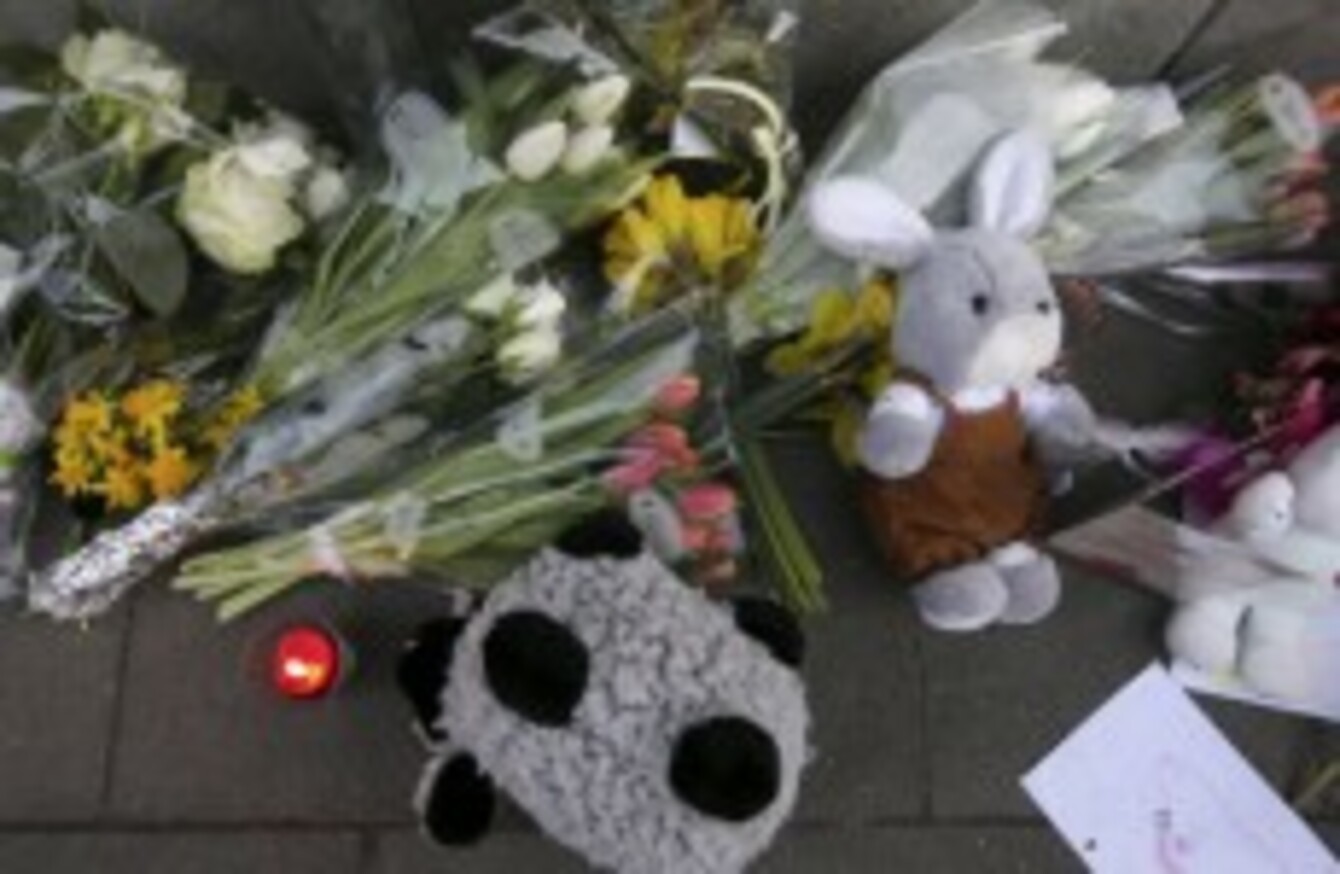 Flowers and tributes are placed outside the Sint Lambertus school in Heverlee, Belgium
Image: Yves Logghe/AP/Press Association Images
Flowers and tributes are placed outside the Sint Lambertus school in Heverlee, Belgium
Image: Yves Logghe/AP/Press Association Images
A BUS CARRYING more than 50 tourists crashed into a concrete wall in a Swiss Alps tunnel last night, killing 28 people.
Most of the victims were Belgian and Dutch children returning from a ski vacation to Val d'Anniviers. BBC reports relatives of the victims have flown to Switzerland with many still unsure whether their children are dead or alive.
Swiss police have confirmed that the vehicle was not speeding and everyone was wearing seat belts.
The bus was carrying students, who were all about age 12-years-old, from two different Belgian schools – Stekske primary in Lommel, near the Dutch border, and St Lambertus in Heverlee, near Leuven.
It it crashed shortly after 9pm on a highway near the southern town of Sierre, Switzerland.
The horrific accident in the short Tunnel de Geronde left the front of the bus mangled and a number of people were trapped inside. Twenty-two school children and six adults, including the driver were killed.
Police said 21 of the dead were Belgian and seven were Dutch.
A further 24 children were hospitalised. Of the injured, 17 are Belgian, three are Dutch, one is German, one is Polish and two others have yet to be identified. None have life-threatening injuries.
Authorities were still trying to work out how a modern bus, a rested driver and a safe tunnel could add up to such a tragedy.
A Swiss prosecutor said video cameras in the tunnel captured the accident. Olivier Elsig, prosecutor for the canton of Valais, told reporters the children on the bus were wearing seat belts, no other vehicle was involved and it was not speeding.
Speaking at a news conference Wednesday in Sion, the capital of Valais, he said investigators were looking at three possible causes for the crash – a technical problem with the bus, a health problem with the driver, or human error.
He said the seatbelts wouldn't have helped much due to the severity of the crash and an autopsy will be performed on the driver.
"We will examine everything to find out what happened," Elsig promised.
"My first thoughts go to the victims and their families," said Belgian Prime Minister Elio Di Rupo, echoing the words of King Albert.
Calling a day of mourning, he described today as "a black day for our country, all Belgians share our immense sadness".
Swiss President Eveline Widmer-Schlumpf also flew to Sion to pay her respects to the victims, survivors and rescue officials. The Swiss parliament held a minute of silence for the victims.
Widmer-Schlumpf assured Belgium her country would do everything in its power to support the injured and the families of the dead. A crisis centre has been set up for families.
The two other buses that were hired by the same group have returned to Belgium safely.
Earlier today, the European Parliament observed a minute's silence.
-Additional reporting by AP