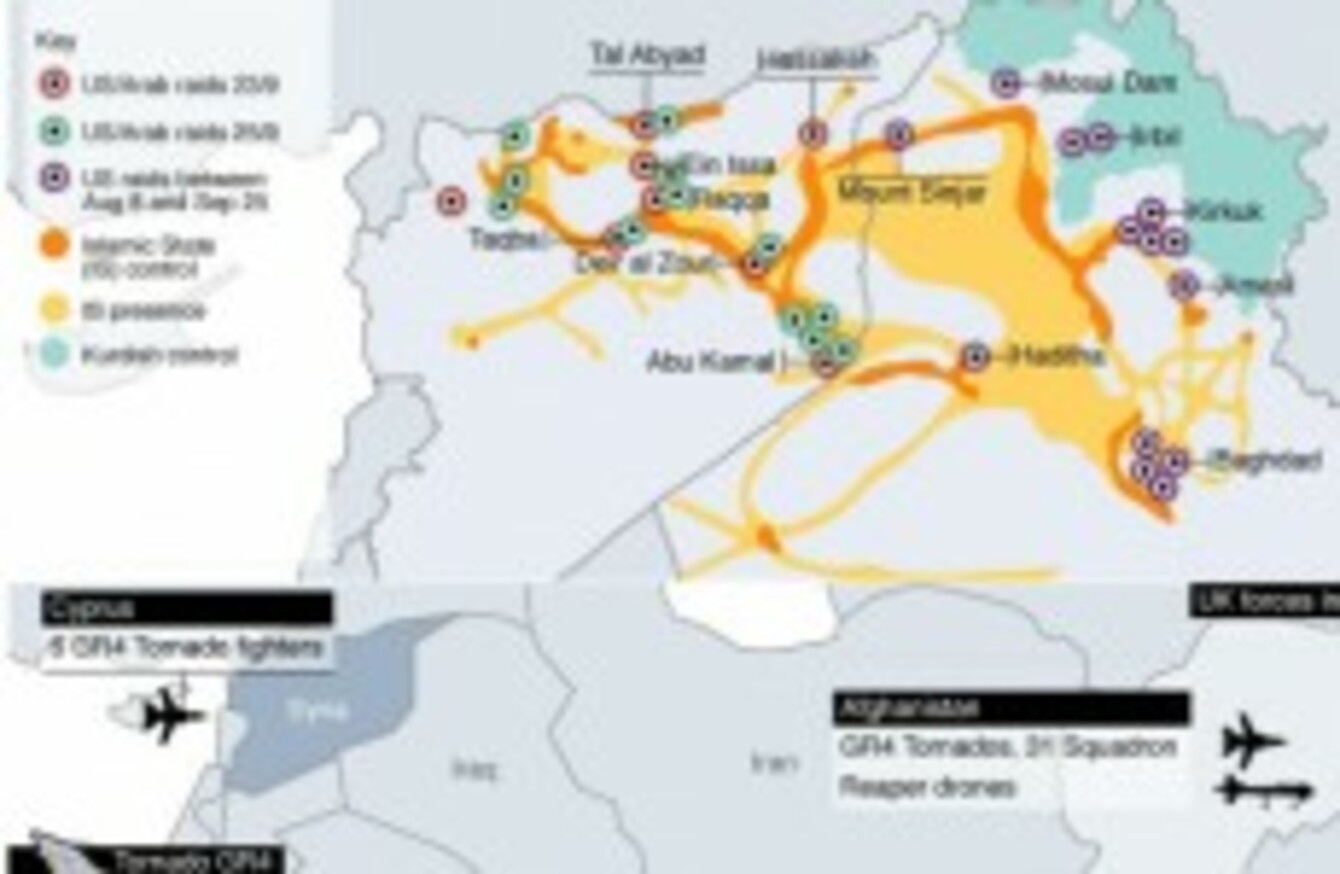 US/Arab air strikes in Syria and US strikes in Iraq
Image: PA
US/Arab air strikes in Syria and US strikes in Iraq
Image: PA
US AIRCRAFT WERE flying "near continuous" bombing raids against Islamic State militants in Syria, officials said late Friday, after Britain and two more EU nations agreed to join the US-led air armada.
The mission is now similar to US-led air raids undertaken in Iraq, with "near continuous" combat flight operations over Syria, a senior US defense official said.
"I can confirm US air operations are ongoing in Syria," the official added.
Belgium, Britain and Denmark earlier approved plans to join the war in the air, but Washington warned that up to 15,000 "moderate" rebels would need to be trained and armed to beat back the militants in Syria, where they have set up their de facto capital.
The Pentagon said air strikes — which continued for a fifth day in Syria — had disrupted lucrative oil-pumping operations that have helped fund the militants, but that a final victory, perhaps years away, would need local boots on the ground.
The US also plan to train and arm 5,000 Syrian rebels as part of the effort, although the top US military officer, General Martin Dempsey, said a force of between 12,000 and 15,000 would be required to recapture "lost territory" in eastern Syria.
The general said defeating the IS group would take more than air power and that "a ground component" was an important aspect of the US-led campaign.
"We believe the path to develop that is the Syrian moderate opposition," he said.
The White House welcomed the new European countries recruited to the Iraq operation, who are expected to add a total of 19 fighter jets in the air campaign over the country.
That would free up more US air power to strike targets in Syria, where American jets are already flying with warplanes from four allied Arab countries.
Britain's House of Commons voted by 524 to 43 to back a motion authorizing air strikes in Iraq.
British Defence Secretary Michael Fallon said there would be no "immediate military action" but that it would be a "long, drawn-out campaign."
He welcomed "a lot of support" for military action in Syria as well, during a sometimes heated parliamentary debate.
Among the naysayers, opposition Labour MP Rashanara Ali, a spokeswoman on education, said she was stepping down from her post in the shadow cabinet in order to abstain from the vote.
"Too many mistakes have been made over the last decade and far too many people in conflict zones have had to pay a high price for misconceived actions by the UK and other countries," Ali said in a letter to party leader Ed Miliband.
Ahead of the vote, Prime Minister David Cameron told lawmakers that IS must be confronted.
"This is not a threat on the far side of the world. Left unchecked, we will face a terrorist caliphate on the shores of the Mediterranean," Cameron said.
#Open journalism No news is bad news Support The Journal

Your contributions will help us continue to deliver the stories that are important to you

Support us now
Britain and France have so far ruled out launching strikes in Syria but London "reserved the right" to intervene there in case of an imminent "humanitarian catastrophe."
Source: Associated Press/YouTube
Washington wants to build the broadest possible coalition including Sunni Arab allies to tackle IS, which has captured large areas of Syria and Iraq and declared an Islamic"caliphate."
But it has explicitly excluded Bashar al-Assad's Syrian regime in Damascus, favoring instead moderate rebel factions fighting both the government and IS extremists.
This led to criticism of the operation from Russia, whose Foreign Minister Sergei Lavrov told reporters at the United Nations that the US-led strikes are illegal unless coordinated with Syria — a Moscow ally.