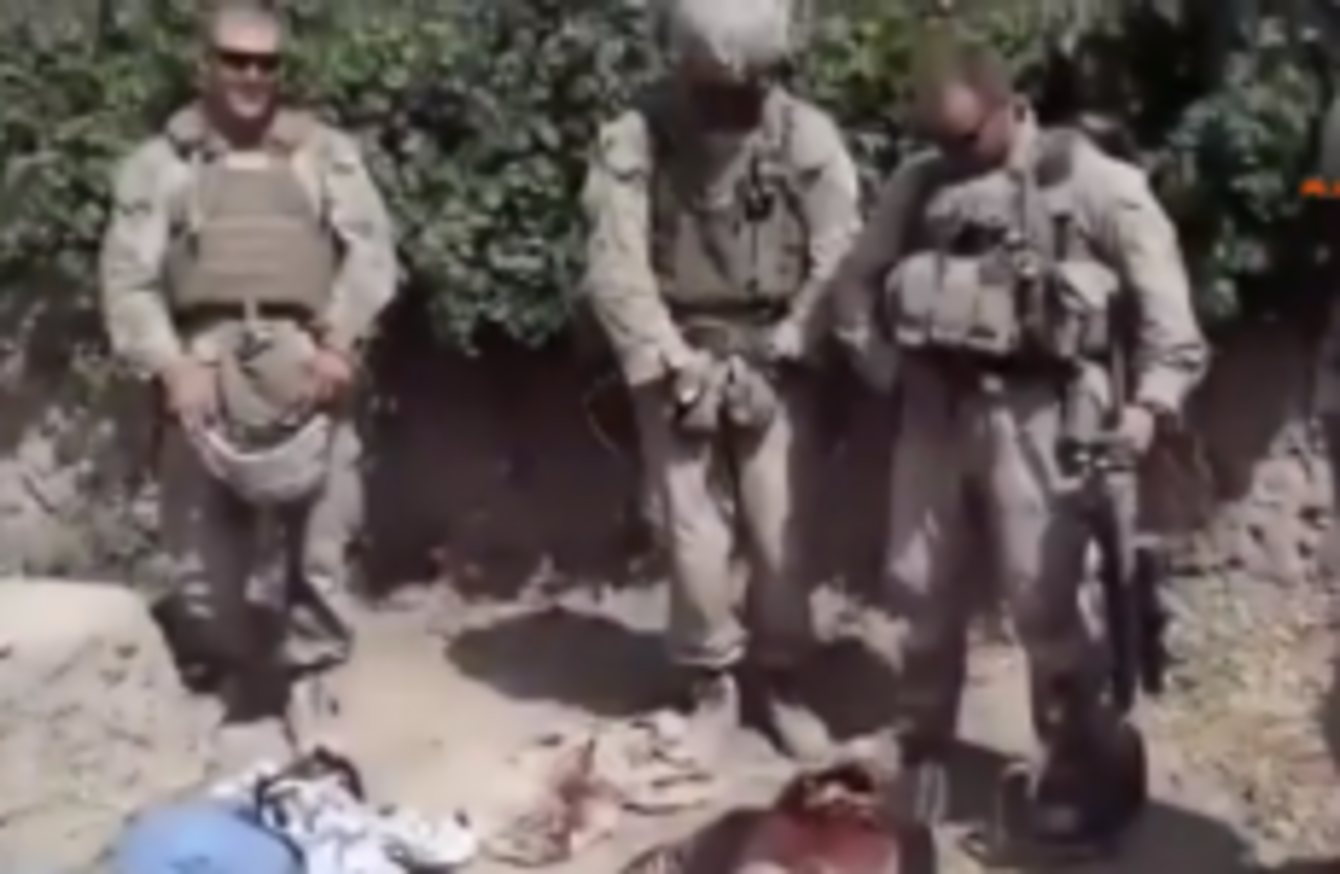 US DEFENCE SECRETARY Leon Panetta has telephoned Afghanistan president Hamid Karzai and promised a full investigation into a video which appears to show four US Marines urinating on the corpses of Taliban fighters — a video both men condemned as deplorable.
In a public statement, Panetta said such behaviour is "entirely inappropriate for members of the United States military" and that those responsible will be held accountable.
The video – posted online earlier today – shows men in Marine combat gear standing in a semi-circle over three bodies.
Officials said they had not yet verified the video's origin or authenticity, but had no evidence to doubt what it was.
(Warning: This video, naturally enough, contains material which some readers may find upsetting.)
(YouTube credit: Karimerro)
"It clearly appears to be to us what it appears to be to you — troops urinating on corpses," Pentagon spokesman John Kirby told reporters.
The video was roundly denounced in the US and Afghanistan alike: Karzai called it "completely inhumane"; the Afghan Defense Ministry called it "shocking"'; the Taliban issued a statement accusing US forces of committing numerous "indignities" against the Afghan people.
"First they killed the Afghans with mortars, and they then urinated on their bodies," Taliban spokesman Zabiullah Mujahid said of what is shown in the video. "We strongly condemn this inhumane action by the wild American soldiers."
Panetta said the actions, if confirmed, were inexcusable.
"I have seen the footage, and I find the behavior depicted in it utterly deplorable. I condemn it in the strongest possible terms," Panetta's statement said. "Those found to have engaged in such conduct will be held accountable to the fullest extent."
Secretary of State Hillary Rodham Clinton expressed "total dismay" at the video and said it was "absolutely inconsistent with the standards of behaviour that the vast majority of Marines hold themselves to."
Although the urination video purports to show Taliban fighters, not civilians, it is likely to resonate with those opposed to the US presence and to peace with the US-backed Karzai government.
- Pauline Jelinek and Robert Burns