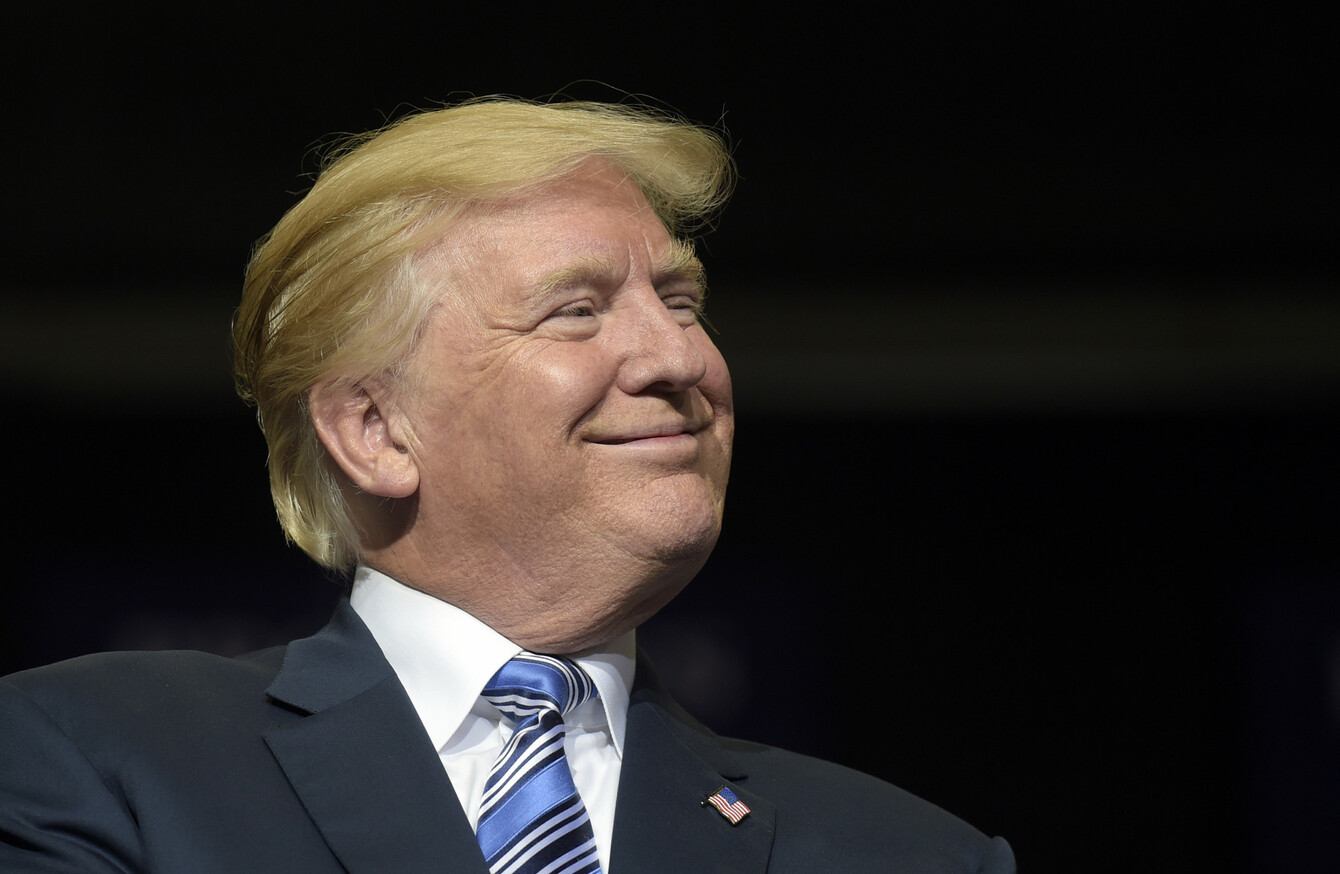 Image: Susan Walsh via PA images
Image: Susan Walsh via PA images
PROPOSALS TO reform the US immigration system could half the number of legal migrants admitted to the country – but how will these changes affect Irish people?
This week, President Donald Trump threw his weight behind efforts to give English speakers priority for US residency cards and cut the number of migrants admitted to the country.
The proposals would reform the process of obtaining a US green card by introducing a points-based system favouring skilled anglophone workers.
TheJournal.ie spoke to Edwina Shanahan, managing director of visafirst.com to find out how Irish people might be affected should the legislation be passed.
'Of course, it will benefit us'
While no policy has been implemented and it's difficult to determine the exact implications, Shanahan said the points-based system could be beneficial to Irish people.
The points-based system is currently operated in Australia, New Zealand and Canada, which choose immigrants based on their skill sets, their work experience, and their English language skills, as opposed to a green card lottery system.
"If you're looking at the likes of Australia, they have a points-based system whereby they have a list of occupations that they know are in shortage in their country. Depending on the country, some will give different occupations a different amount of points," Shanahan explained.
"These countries will also give the amount of work experience you have a number of points, and your English language level a number of points.
We're native English speakers so of course, it will benefit us.
Standing in the Roosevelt Room flanked by Senators Tom Cotton and David Perdue earlier this week, Trump said that the United States had admitted too many low-skilled workers and claimed they were taking jobs from Americans.
Pointing to the benefits of a Canadian or Australian-style points-based system, he said:
This competitive application process will favour applicants who can speak English, financially support themselves and their families, and demonstrate skills that will contribute to our economy.
Trump said the new system if approved, would "help ensure that newcomers to our wonderful country will be assimilated, will succeed and achieve the American dream", while also protecting "struggling American families".
Shanahan said:
"If what he's suggesting is that applicants for permanent residency can apply based on their English level, their skill set, qualifications and work experience, I would think it's a good thing for Irish people because most Irish people finish second-level education and go on to third level, be it a trade or a profession."
Impact for Irish illegals 
Shanahan voices concerns that the proposed changes could be "devastating" for illegal Irish immigrants living in the US, however.
She suggested that, if the proposals were to be brought in, illegal Irish immigrants currently in the US looking for an option to get residency would find it impossible to prove the work experience they gained during their time in the US so far.
"If you're in America working as an illegal migrant and you have worked in the construction industry for the last three years and you wanted to put that experience on your application for residency, you couldn't do that," she said.
Likewise, Shanahan suggested that the points-based system would put some illegal immigrants in the US, who may not have many skills, against people from around the world who may have the skills needed.
All in all, Shanahan said it's impossible to anticipate how these proposals could affect Irish illegals because "no one has a breakdown of the skill sets of the illegal Irish in America".
The legislation has only a slim chance of passing in Congress but gives the White House an opportunity to show Trump's base supporters that he is trying to live up to his hard-line promises.
Critics say that the proposals would actually result in falling wages, by slashing the number of migrants creating jobs.
The National Academy of Sciences studied two decades of data and found the impact of immigration on the wages of American-born workers to be "very small".
The academy also concluded that "immigration has an overall positive impact on long-run economic growth in the US", although first-generation immigrants do place more of a burden on state resources.
Previous immigration crackdowns
Earlier this year, the Trump administration announced that it is cancelling an Obama-era policy to allow millions of illegal-immigrant parents of children born in the US to stay in the country.
The 2014 policy, known as DAPA, for Deferred Action for Parents of Americans and Lawful Permanent Residents, aimed to help the families of so-called "dreamer" children stay together free from the threat of deportation.
But the Department of Homeland Security announced it was rescinding the policy with the support of the Justice Department. At the time of the announcement, DHS Secretary John Kelly explained the move saying "there is no credible path forward to litigate the currently enjoined policy".
Trump has made tackling illegal immigration from Latin America a key plank of his politics.
He has promised to build a "wall" on America's southern border with Mexico and tackle violent Hispanic gangs at home.
But the effort to curb legal immigration is unlikely to be universally welcomed by business leaders or within the Republican Party.
Cotton first introduced the proposals in February to the Senate, where they have been stalled ever since.