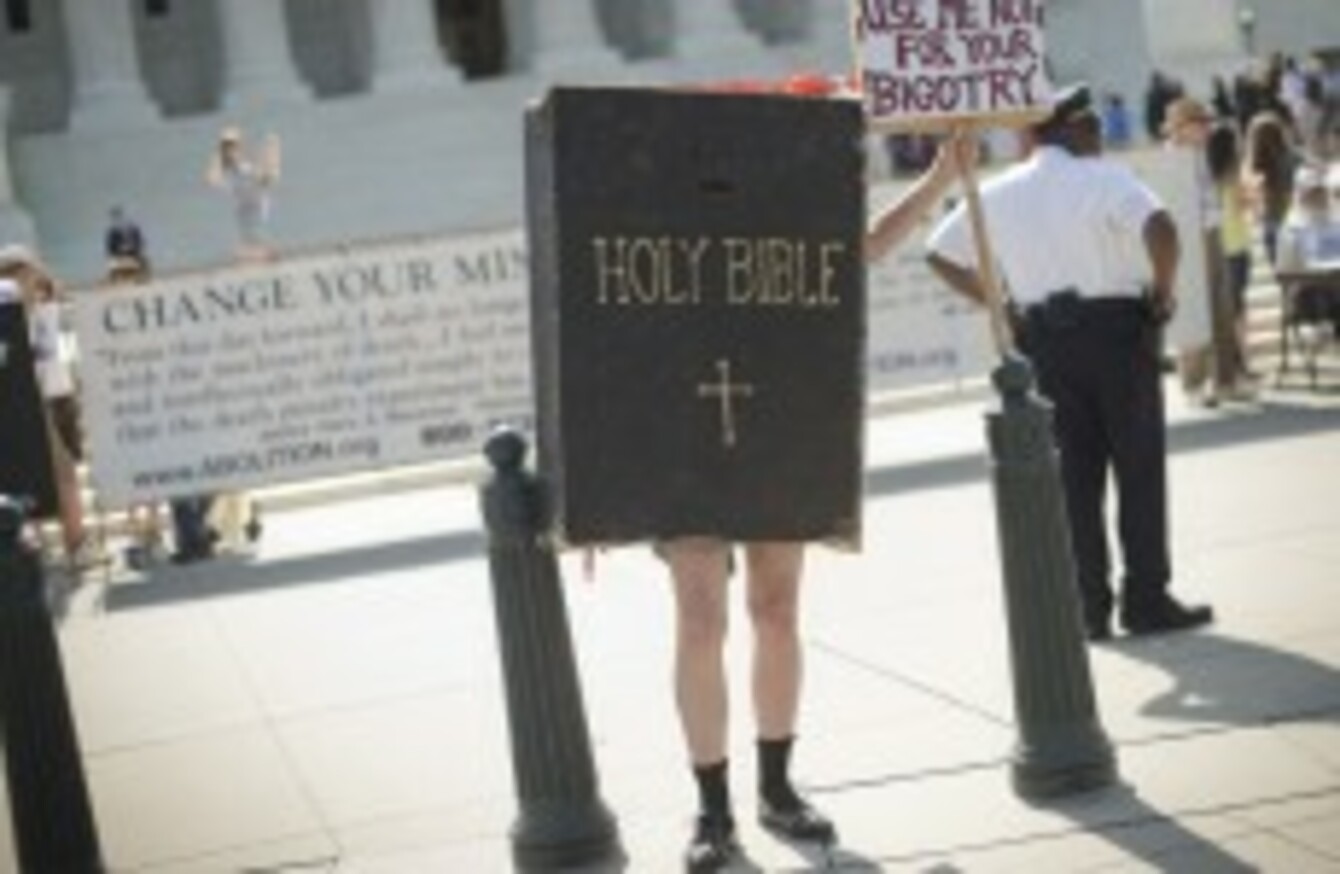 Demonstrator dressed as the 'Bible' stands outside the Supreme Court.
Image: AP/Press Association Images
Demonstrator dressed as the 'Bible' stands outside the Supreme Court.
Image: AP/Press Association Images
REPUBLICANS CALLED IT a win for religious freedom. The decision of the Supreme Court, they said, is further evidence that the country's new health care law is deeply flawed.
The claims of victory arrived almost immediately after the high court ruled yesterday that some companies need not provide contraception to women as required by President Barack Obama's signature domestic policy achievement. Yet there's a risk for the GOP in crowing too loudly.
Republicans for years have tried to make inroads with two groups that tend to favour Democrats: women and younger voters. And as popular as the court's decision will be with the Republican base, it's likely to be just as unpopular this year and into 2016 with those who depend on insurance to pay for birth control a group that includes women and younger voters.
"The thought of your boss telling you what kind of birth control you can and can't get is offensive and it certainly is motivating to women to vote," said Cecile Richards, president of Planned Parenthood Action Fund, which plans to spend several million dollars this year to campaign for Senate candidates.
The Supreme Court ruled 5-4 that some companies can hold religious objections allowing them to opt out of health law's birth control coverage requirement. While the ruling does not address the heart of the Affordable Care Act, it's a setback for Democrats and amplifies a longstanding argument from conservatives that the law they call "Obamacare" intrudes on religious liberties as part of a larger government overreach.
"This is a clear and decisive defeat against Obamacare and a victory for the rights of all Americans," Republican National Committee Chairman Reince Priebus said in a fundraising appeal distributed less than three hours after the Supreme Court ruling.
But Republican leaders such as Priebus were careful to avoid mentioning the impact on women and their reproductive rights, underscoring the delicate balance the GOP must strike as it works to improve its image among women.
The party is still recovering from a series of insensitive comments made by GOP candidates in the 2012 election, including Missouri US Senate candidate Todd Akin, whose campaign crumbled after he said women's bodies were able to avoid pregnancy in cases of "legitimate rape."
"Republicans have to be careful about not appearing as though they're anti-contraception. This is a constitutional issue," said Katie Packer Gage, a GOP strategist whose firm advises Republicans on navigating women's issues. "We have to be very, very cautious as a party."
Polls suggest that most people — and a larger majority of women — think for-profit companies should be required to cover the cost of birth control. A Gallup survey conducted in May found that 90% of Americans, including 88% of Republicans, see the use of birth control as morally acceptable.
Democrats said the ruling would shine a spotlight on access to birth control and dovetail with a strategy by the party to mobilize female voters on issues such as raising the minimum wage and supporting pay equity for women.
Fewer young women typically vote in midterm elections compared with presidential years and polls show they're particularly disengaged from this year's races.