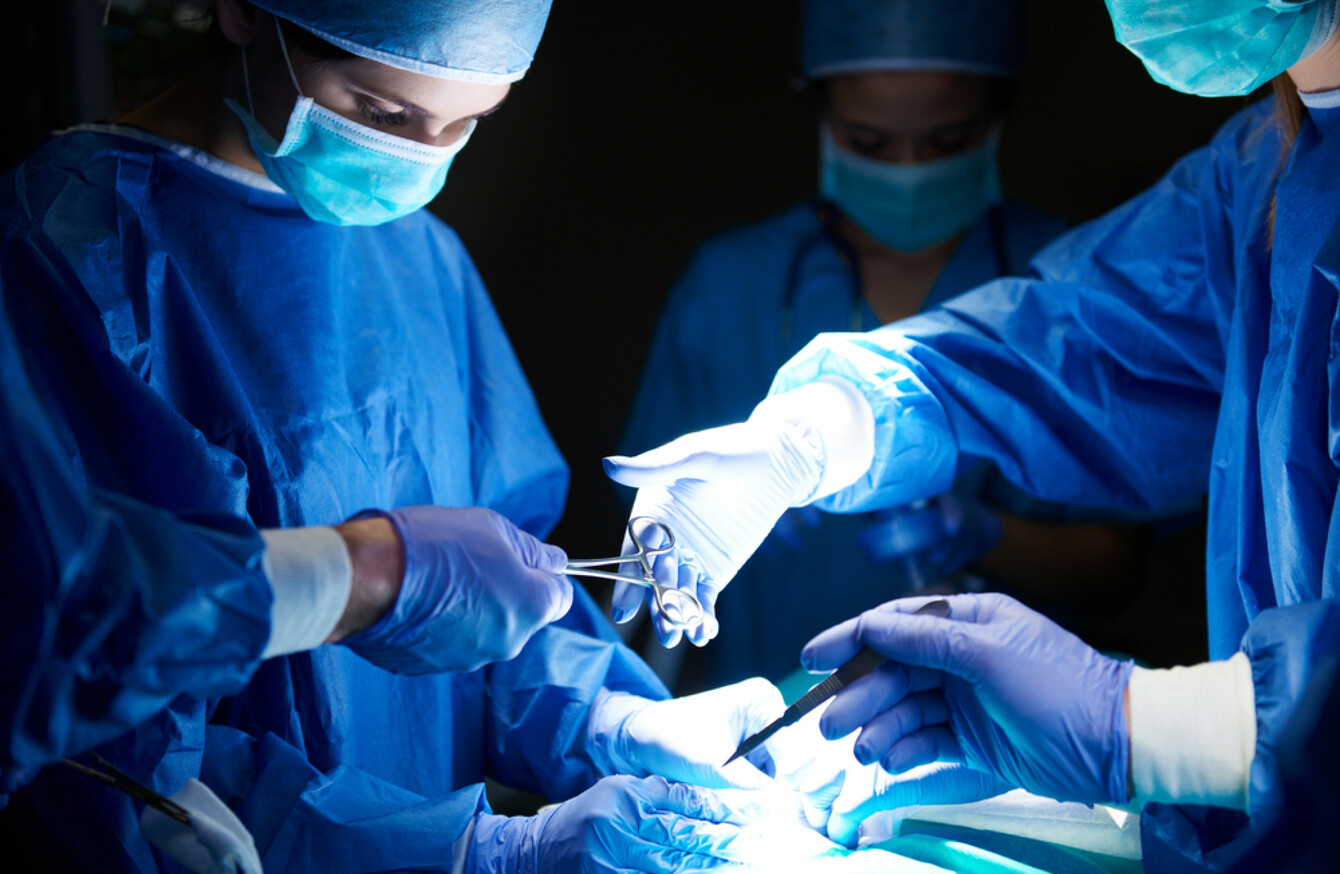 Image: Shutterstock/gpointstudio
Image: Shutterstock/gpointstudio
A CONSULTANT IN the UK has said complications women suffered following surgeries which used vaginal mesh implants were often ignored by their doctors.
Sohier Elneil is a consultant urogynaecological surgeon at University Hospital, London.
She has carried out hundreds of vaginal mesh removal procedures on women who have suffered debilitating complications, including a small number of Irish women.
There is international scrutiny now surrounding these devices, which are made from a type of plastic called polypropylene.
They are used in surgeries to treat two conditions women can develop following natural childbirth: stress urinary incontinence and pelvic organ prolapse. These procedures have been carried out on women in Ireland since the late 90s and are still performed today.
The Chief Medical Officer is currently compiling a report on the use of transvaginal mesh implants in Ireland.
Speaking to TheJournal.ie, Elneil said complications she has come across in patients she has treated include chronic pain, urinary tract infections and bladder overactivity.
"With lots of patients this has been ignored, not because [medical] colleagues didn't care necessarily, they just didn't think there was a connection," she said.
TheJournal.ie has previously highlighted issues experienced by a number of Irish women who have had these procedures. One woman, 65-year-old Margaret Byrne, described how the vaginal tape had "cut through" her vagina.
Source: TheJournal.ie/YouTube
Banned in the UK and Australia
Elneil's comments come as The Guardian this week revealed new draft guidelines from a UK health watchdog recommend that one of the vaginal mesh implant operations to treat prolapse should be banned.
The leaked draft guidelines from the National Institute for Health and Clinical Excellence (NICE), state that implants for prolapse should only be used in the context of research. They do not address the use of mesh implants for incontinence.
Products used to treat pelvic organ prolapse were also banned by Australia's devices regulator. This week the Therapeutic Goods Administration said the move followed a review of the latest international studies and an examination of the clinical evidence for each product supplied in the country.
It said it believes the benefits of using these products to treat prolapse "do not outweigh the risks".
It also said it considers that there is a lack of adequate evidence for it to be satisfied that the risks to patients are outweighed by the benefits of certain mesh procedures to address stress urinary incontinence.
However, the Australian regulator is not removing mid-urethral slings – the most commonly used devices in Ireland – from the market.
Gold standard
"I think the trouble is this sort of therapy became the gold standard for many people. It became difficult for people [surgeons] to offer anything else because they were told this is the way forward," Elneil said.
"I think that's why we've had a difficulty in getting people to stop using it, because people didn't have alternatives to offer. In the old days you would have alternatives."
She said many surgeons in the UK have not had full training and so are unable to offer the older alternatives.
For example, urinary stress incontinence in the UK – and in Ireland – was previously treated with a surgery called colposuspension, which involves the use of sutures to attach tissue on the site of the urethra to a supportive tissue behind the public bone.
This procedure has a similar success rate (70-85%) to the mesh sling operation. It also has similar complications afterwards and a longer recovery time.
When asked if she believed colposuspension was a safer procedure than the mid urethral sling procedure (which uses mesh), Elneil said it is "safer in that you're not leaving a piece of prosthetic plastic in the vaginal area".
"As the complications have become clear, we know now that we have to go back to the old days. It's sad in a way, but that's the way it is," she said.
#Open journalism No news is bad news Support The Journal

Your contributions will help us continue to deliver the stories that are important to you

Support us now
Removal
Although the mesh procedures, particularly the mid-urethral sling operation to address incontinence, is a quick procedure with minimal recovery time, the surgery to remove the mesh when a woman suffers complications is considerably more invasive and risky.
The mesh devices are designed to be permanent and so natural tissue grows into them. Removal is a complex procedure – sometimes multiple procedures – and it can sometimes be too dangerous to take it all out.
There is also a risk that other organs can be damaged if nearby tissue has become embedded in the mesh. In Irishwoman Margaret Byrne's case, she suffered a perforated bladder during her removal surgery.
Elneil has carried out hundreds of these surgeries.
"I've had quite a few Irish women over the last few years, I have around five or six that are on the books that I have looked after," she said.
In response to recent parliamentary questions from Sinn Féin TD Louise O'Reilly, the HSE said a "small number of subspecialisturogynaecologists" in Ireland have experience in removing mesh and dealing with complications, and "have been doing so for several years".
When questioned by O'Reilly in the Dail on the issue last month, Health Minister Simon Harris said he had asked his Chief Medical Officer to examine the use of transvaginal mesh devices.
"I very much take extraordinarily seriously if there's anybody in this country who is experiencing any pain or suffering or difficulty as a result of a procedure that they've had here or indeed abroad."
He asked that any women who have experienced issues with these devices come forward, adding "no woman should be suffering or left in pain".
If you've been affected by this issue, we want to hear your story. Get in touch at michelle@thejournal.ie.