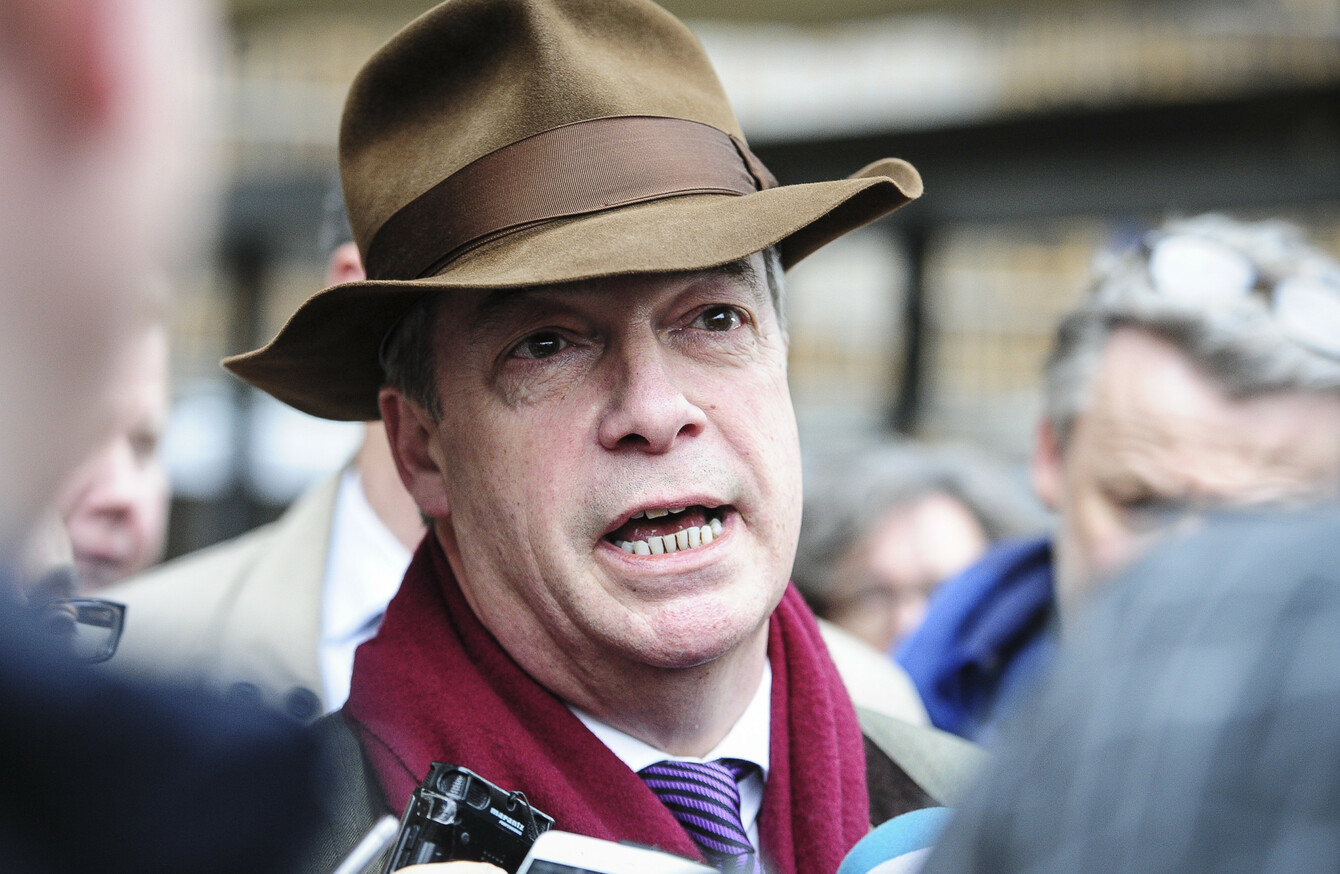 Image: Wiktor Dabkowski/PA Wire
Image: Wiktor Dabkowski/PA Wire
NIGEL FARAGE BRANDED Leo Varadkar a "European unionist" as he attacked the Taoiseach's speech in Strasbourg.
Varadkar had addressed the parliament this morning and had shared with the MEPs his vision for Europe – citing the North's special relationship with the EU, banking regulations as well as corporation tax.
But responding to the speech, Farage said that Varadkar was being used as a political pawn and that Ireland was, for once, useful to the big countries in making Brexit as convoluted and as difficult as possible. Farage added that "small countries normally count for nothing".
He also said that the sanctity of the Good Friday Agreement and the border issue was never put in danger by Brexit. But he argued that Varadkar and the EU have been using the border question as an excuse to keep trade restrictions at a minimum.
Farage then accused Varadkar is working with Tony Blair and Nick Clegg to get a second Brexit referendum – a claim shouted down by various MEPs in response.
Addressing these comments, Varadkar told Farage: "I come from a country of 4.5 million people and I was sitting around the table as an equal and that isn't the way Europe used to work.
"I'm not naive to think it could have the power or importance such as Germany but I know we have a voice."
Varadkar described the unique position the North finds itself with regards to Brexit – how the majority in the six counties voted to remain and that the majority of the then-elected MLAs in Stormont wanted to remain in the customs union.
He said that it is likely that the majority of people living in the North will remain European citizens after Brexit, because of their "unique status as dual Irish/British citizens under the Good Friday Agreement".
He said the Brexit breakthrough achieved before Christmas means that the United Kingdom has guaranteed that, whatever its future relationship with the European Union, a hard border on the island of Ireland will be avoided.