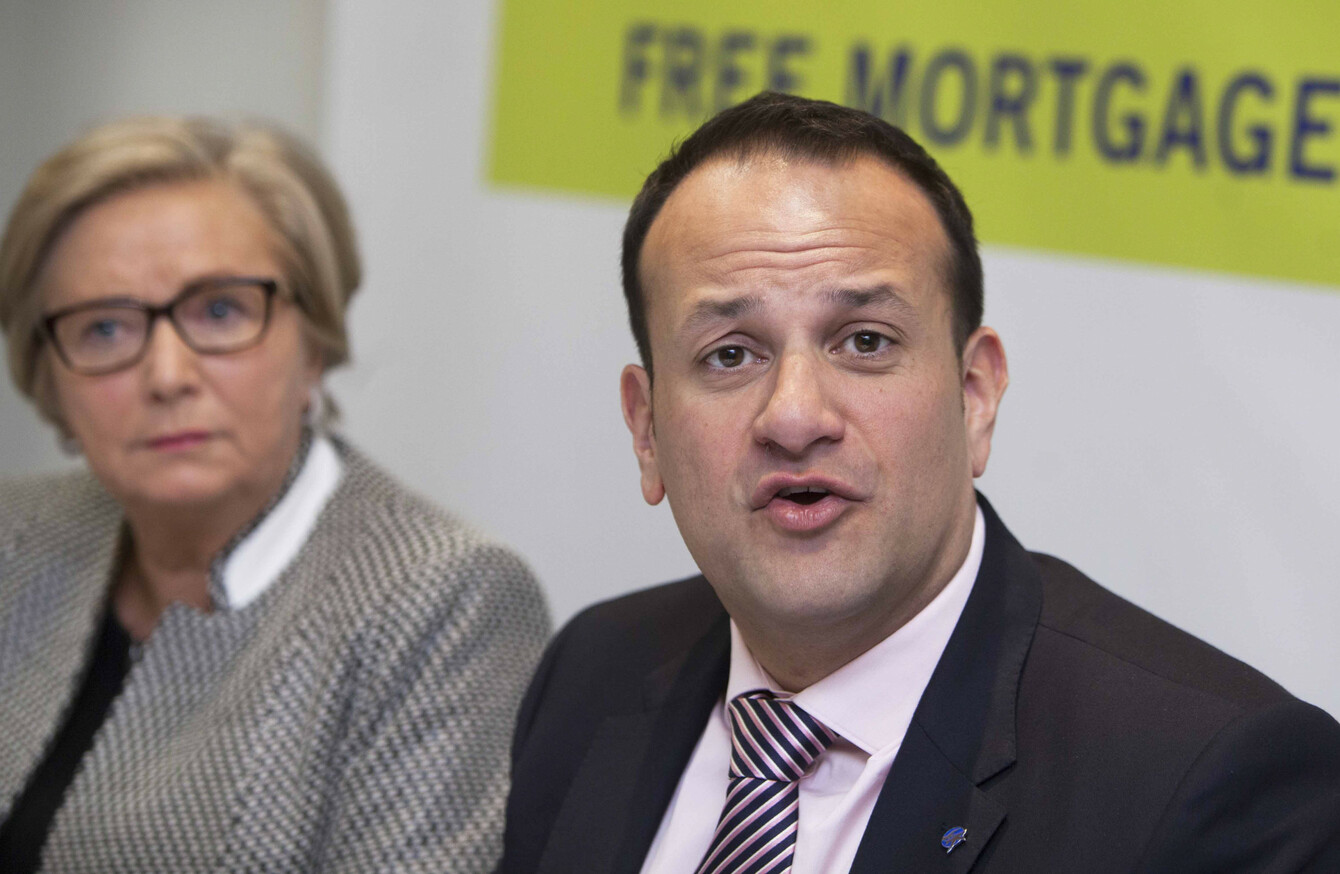 Image: Rolling News
Image: Rolling News
Updated at 12.30pm
CRUNCH TALKS BETWEEN Taoiseach Leo Varadkar and Fianna Fáil leader Micheal Martin have concluded for today but contact between the pair is to continue over the weekend.
The talks are designed to solve the impasse between the parties as Fianna Fáil seeks to force Tánaiste Frances Fitzgerald into stepping down.
This afternoon's meeting was said to have produced "a good exchange of views" but no resolution has yet been reached.
This morning, Varadkar said Fitzgerald has "done nothing wrong" and he again reiterated his support of her position.
Speaking at the opening FemFest, a National Women's Council event celebrating women, Varadkar said that Fitzgerald was an "honourable and distinguishable politician".
He said that he read Fitzgerald's maiden Dáil speech yesterday, in which she spoke of the role of women in Irish society. He said that for a quarter of a century, she has been championing issues of importance with women.
Varadkar made his comments after Fianna Fáil announced it was seeking the resignation of Fitzgerald after it was revealed this week that she ignored an email sent to her in May 2015 regarding garda whistleblower Maurice McCabe.
He questioned what message women would be given if "we bow to sacrifice an honourable woman her career without giving her a fair hearing".
Speaking this afternoon on RTÉ's Saturday With Claire Byrne, Fianna Fáil's justice spokesperson Jim O'Callaghan said: "The only way we can prevent a general election is for the Tánaiste to consider her position."
There have been suggestions that Fitzgerald may temporarily step aside until the new year when the Charleton Tribunal could discusses the matter.
Asked about this potential compromise, O'Callaghan said:
I think the Tánaiste stepping aside in reality is a resignation. The Tánaiste will then have an opportunity to go then after that, if she did resign, to the Disclosures Tribunal.
Fine Gael is standing by Fitzgerald and speaking on RTÉ's Six One News last night, Varadkar said that he would not throw Fitzgerald under the bus.
Varadkar last night warned that if Fitzgerald does not step down by Tuesday that a general election is imminent. He did not rule out accepting Fitzgerald's resignation if it was offered.
He said this morning: "I won't be seeking her resignation and I hope that does not happen."
I think there's a real injustice here in people calling her to resign in these circumstances.
I don't want to see the Dáil, our parliament, turned into a jury and I don't want to see a good woman who I think has done an enormous service in Irish public life, who has been a real asset to Irish politics brought down in this way. I don't think it would be right.
"I hope this will not be my last engagement as Taoiseach," Varadkar said.
Uncertainty
If Fianna Fáil follow through with the no confidence motion that was confirmed yesterday morning, the confidence and supply agreement ends and the government loses its majority vote in the Dáil.
This morning, Sinn Féin president Gerry Adams said that regardless of what Fianna Fáil does, Sinn Féin will go ahead with its motion of no confidence next week. Adams said the only thing that will prevent this is the Tánaiste stepping down.
"There is a dysfunctionality at the heart of this government. Frances Fitzgerald, as Minister should have intervened," Adams said.
"This is the same dysfunctionality that is evident in their complete failure to tackle the crisis in housing and the growing crisis in our hospitals. Enough is enough."
Losing this majority guarantees a general election. If the parties stick to their guns, the only way an election could be avoided now is if Fitzgerald resigns.
Speaking last night, Varadkar said if this was to happen his preference would be an election before Christmas.
- With reporting by Rónán Duffy