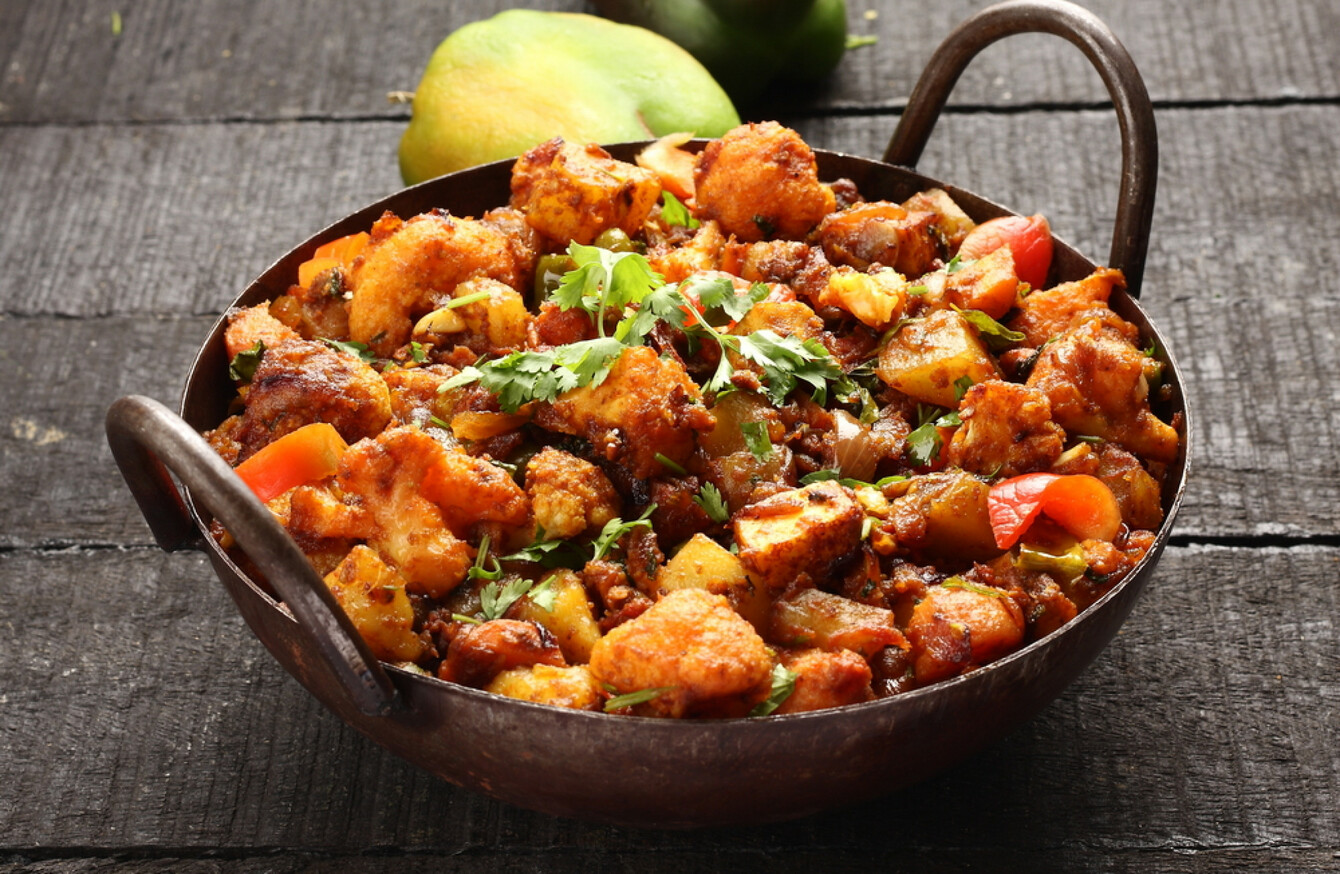 Image: Shutterstock/sta
Image: Shutterstock/sta
CURRY IS ONE of Ireland's favourite dishes, and with an abundance of delicious flavours, why wouldn't it be! Curry is big on flavours, usually quick to make, and a great way to use up vegetables that are in the fridge.
The word 'curry' originates from India, and was a term used to describe a sauce containing a variety of herbs and spices. These days, it is used to describe many varieties of dish, from Thai red curry to Chinese satay.
In its most authentic form, the spices used are whole and ground just before cooking. But now we have the advantage of being able to buy many delicious spices like cumin, turmeric and garam masala already ground and ready to use. So, what are you waiting for, why not skip the takeaway next weekend and make your own delicious home made curry instead!
1. Potato and Cauliflower Curry, from Nadia Lim: Aloo gobi, or potato and cauliflower curry, is an Indian favourite, and is delicious served as a main meal or a side. The recipe creator Nadia suggests serving this with some raita, chapatis and a fried egg – delicious! (For simple instructions on making raita and chapatis, see here and here).
2. Halloumi Summer Curry, from the Little Green Spoon: This recipe is labelled as a summer curry, but we could eat haloumi all year long! Bursting with fresh, fragrant flavours and nutrient rich vegetables, this would make a perfect midweek meal.
3. Aubergine, Tomato and Turmeric Curry, from Emma Cannon: 
Aubergines have a meaty texture and absorb flavours very well, so they're great for bulking up veggie curries. This recipe is full of nourishing ingredients and contains turmeric, which is known for its natural anti-inflammatory properties.
4. Vegan Thai Red Curry, from Sandhya's Kitchen: Made with coconut milk and lots of veggies, this recipe can be made from start to finish in under 30 minutes. Garnish with some coriander and extra chilli flakes if you like it hot!
5. Malaysian Vegetable Curry, from The Wandering Matilda: Slightly spicy, sweet and bursting with spices, this curry is perfect for any occasion. As with many one pot recipes, it will taste even better reheated the next day, so make extra and keep some for lunch!
6. Tofu and Peanut Butter Curry, from Vegan Sandra: Rich, creamy and fragrant, this makes for the perfect Friday night "fakeaway". Add in whatever veg you have in the fridge and serve alongside some egg fried rice for a deliciously satisfying meal.