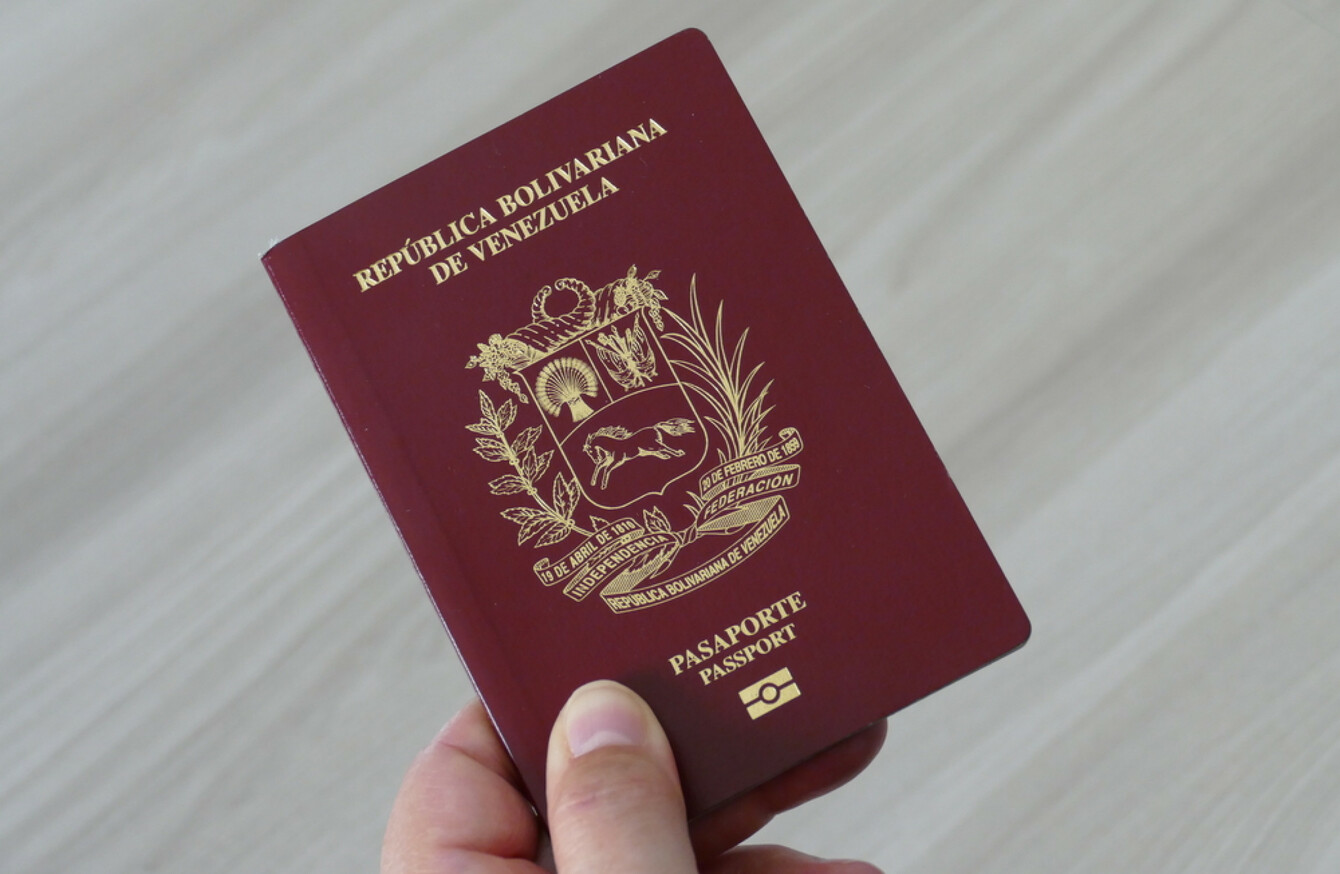 Image: Shutterstock/cjmonzon
Image: Shutterstock/cjmonzon
MANY VENEZUELANS IN Ireland with expired passports are living in a state of limbo, unable to travel because of a printing shortage in their country.
Over the past year, thousands of emigrated Venezuelans across the world have been waiting for renewed passports, trapped in a situation that has put their visas at risk and that has stopped them from travelling.
Venezuela's socialist president Nicolás Maduro has been in office since 2013. His government has driven the country into what many are calling a humanitarian crisis. Dozens have died in protests in the capital of Caracas and food supplies have become scarce. Many emigrated Venezuelans are terrified of returning home.
In October, Maduro signed emergency legislation that permitted the extension of expired Venezuelan passports by two years, alleging that the delay in passports being issued was because of a shortage of paper at the national passport agency.
The two-year extension, which can be obtained from any Venezuelan embassy in Europe (of which there are none in Ireland), allows expired passports to remain valid for visa purposes.
However, Venezuelans have expressed their anger, fear and uncertainty surrounding the conditions of this new extension.
One Venezuelan woman living in Galway, Dayana Maltese, told TheJournal.ie while she has gained the status of an Irish citizen, her boyfriend Antonio applied for a passport last May and has yet to receive a new one.
To obtain the two-year extension, Antonio would have to travel to one of the embassies in France, Belgium or Germany. He cannot do this because his passport has expired since May.
To be able to travel to one of the embassies in Europe to obtain the two-year extension, Venezuelans in Ireland must do so before their passports expire. Of course, this poses a significant problem for those whose passports expired before the announcement of the extension in October.
There is also another grave implication for Antonio if he decided to opt for the extension – that application would cancel out his current application for a new passport.
"If you accept the extension, your whole process will be cancelled. You won't get a refund for your passport and you'll still have to pay the fee for your extension. It's crazy, it's like you're paying double," Maltese told TheJournal.ie. 
Those who spoke to TheJournal.ie said they don't feel comfortable applying for the extension from the Embassy as it will prevent them from obtaining a valid passport.
Another Venezuelan living in Ireland, Rossana, told TheJournal.ie: "It's my right to have my passport. It's my right to travel, to be a normal person and I don't have that. I deserve a normal passport."
Rossana's passport has been expired since May 2017. She applied for a new one on 7 January 2017 and has yet to obtain it.
She explained that in order to get the two-year extension, there must be space within the expired passport for a stamp from the Embassy (stamps may not be covered by extra ones). Of course, as many Venezuelan expired passports have been used to travel and obtain visas for years, most don't have much, if any, space left for stamps. Rossana hasn't applied for a two-year extension for this reason.
"If you want to travel, you also have to apply in Ireland for a re-entry visa, which would take another page of your passport. I've been out of Venezuela for four and a half years, so my passport is completely full. You're very limited, you need a new passport," Rossana said.
Travel restrictions
Those who aren't in a position to obtain a two-year extension to their passport, and even those who have obtained the extension, have been left in a situation where they are fearful of, or unable to travel out of Ireland.
While Maduro's government has said that the extension allows Venezuelans to travel with expired passports, some have said they are still afraid of doing so, for fear of what other nations' immigration offices will make of expired passports.
Those who have not received the two-year extension are not permitted to travel.
"We had tickets to go to New York on holidays because my family are there as well, but we had to cancel," Maltese said.
"It is very upsetting because you lose your money, your plans and your holiday. It was the same for our holiday last August, we couldn't take our yearly holiday because we had no passport," she said.
Rossana is married to an Irishman, which has made her situation slightly different than others. Because she is married to an EU citizen, she is currently permitted to apply for a travel pass for €180. However, she said she's too afraid to do so.
"I wouldn't be comfortable to travel with a travel pass when my Venezuelan passport is expired. I feel afraid to do that," Rossana told TheJournal.ie. 
I wanted to go home this Christmas to be with my parents. I haven't seen them in three years, but I simply couldn't because I don't have a passport.
Alongside the travel implications, both Rossana and Maltese said that the expired passports have caused an array of other issues, such as trying to secure a job.
"I'm applying for my mortgage, for example, and if you give your passport as ID it's expired and nobody understands that," Rossana said.
"I'm not allowed to travel to go home to see my family. I'm just stuck here in Ireland."
Other issues with expired passports 
Between the mismanagement of Venezuela's economy and the steep fall in oil prices, the government has a severe cash flow issue. Because of this, a goods shortage is at crisis level as the country dives deeper into chaos every day.
A lack of money has led to food shortages. Oftentimes, basic food supplies don't get delivered to stores and when they do, they're scarce. Venezuelans are left with no choice but to queue from the early hours of the morning before stores open in an attempt to get to the supplies before they run out. This has been a major driving force behind the dozens of protests that have taken place in the country in recent months.
Because of this situation, Venezuelans across the world are terrified of returning home and bank on their valid visa to keep them in their new country of residence.
Giving a glimpse into life in Venezuela, Maltese said: "My whole family had money before but now it's very difficult. They have lost weight, I can see that they're skinny and just bones.
"I have a cousin who has cancer and he can't find treatment. The whole family is suffering because you know you can lose someone because of not having the treatment."
It's a very serious humanitarian crisis.
The Venezuelans who spoke to TheJournal.ie said that the Irish Naturalisation and Immigration Service (INIS) has been somewhat understanding of those who are not in a position to extend their passports by two years, and have offered some a six-month extension to the validity of their visas – a Garda Immigration Card.
The six-month Garda Immigration Card extension still does not, however, allow Venezuelans to travel, unless they have a valid passport.
In a statement to TheJournal.ie, the Department of Justice said: "The Department will adopt a case-by-case position as far as renewal of registration is concerned, on the basis that persons with Venezuelan passports are already legally present here would have a Garda Immigration Card so that we would be able to verify identity.
"To the best of our knowledge, we have not been presented with anyone at registration with a difficulty."
Maltese said: "We wrote to immigration in Dublin about our problems. They sent us a letter to say they would give us an extension for six months, but that it's up to your government to have your papers up to date."
Antonio, Maltese's partner, received a letter from An Garda Síochána following his correspondence with INIS, which has been seen by TheJournal.ie.
It read:
You are required by Section 9(2) of the Immigration Act 2004 to, inter alia, produce a passport or other document by an authority recognised by the Irish Government establishing your identity and nationality.
You are required to make reasonable and formal efforts to obtain a National passport and to show that it has been formally and unreasonably refused. The provision of original correspondence from the relevant Consular Authority is an essential component in the provision of evidence of your application
However, you can be registered with An Garda Síochána for a period of six months to allow you to obtain your National passport.
Antonio received a letter from the Venezuelan embassy to confirm that he had applied for a passport on 16 May 2017.
The letter also confirmed that the passport is issued in Venezuela but it has not yet arrived at the Consular Office.
Like others who have gone through this process, his six-month Garda Immigration Card extension was then granted.
However, there is no certainty to when the printing backlog in Venezuela will be resolved and it remains unclear if the passport will reach the embassy within the six month period.
"The situation is really out of hand. It's worse than what we ever thought it could be," Maltese said.