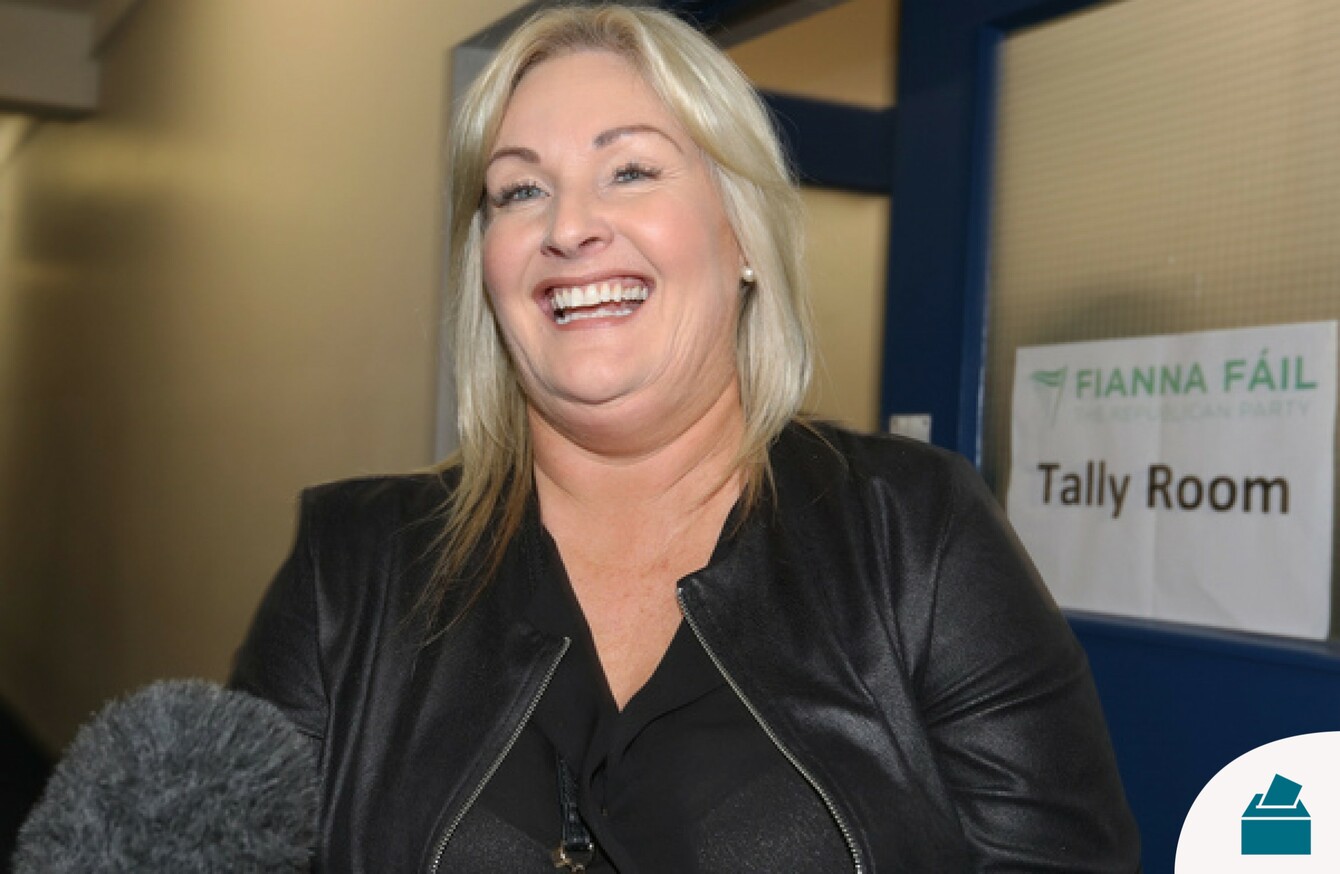 Verona Murphy speaking to media at the Wexford count centre following November's by-election.
Image: Eamonn Farrell/RollingNews.ie
Verona Murphy speaking to media at the Wexford count centre following November's by-election.
Image: Eamonn Farrell/RollingNews.ie
Updated Jan 14th 2020, 10:35 AM
TWO HIGH-PROFILE independent candidates have announced their candidacy for the upcoming general election, former TD and MEP Marian Harkin and controversial by-election candidate Verona Murphy.
Harkin will contest for a seat in the Sligo-Leitrim constituency where she held a seat between 2002-2007.
Murphy is set to run in Wexford where she finished in third place in the recent by-election. 
Murphy was dropped from the Fine Gael ticket for the upcoming general election following a controversial by-election campaign in which she sustained criticism for a series of comments about migrants. 
Speculation has been rife that she would instead run as independent candidate and Murphy told TheJournal.ie that she would make a formal announcement today. 
The New Ross standard newspaper in Wexford also reported this morning that she will run for one of the five Wexford seats as an independent candidate.  
Murphy's Facebook page was updated last week to say that her office was open each day and it lists her as a "Dáil candidate". 
Murphy previously said her comments about immigration were "misrepresented in the media" and were based on security concerns.
She reiterated that stance this morning while speaking on RTÉ's Today with Seán O'Rourke programme. 
"Let me tell you Seán, I am not a racist. I have been continually misquoted by everyone, including yourself at times. I raised the security issue and that issue stands. 16 undocumented illegal migrants arrived at the back of a trailer in Rosslare airport and nobody can tell us where they are. Nobody can tell us who they are. And nobody can tell us why they were here," she said. 
Murphy said she does not want to reduce immigration into this country but that she wants to stop it being done illegally. 
"I want legal migration, I want illegal migration stopped it's absolutely heinous," she said. 
Wexford
Fianna Fáil's Malcolm Byrne topped the poll in the Wexford by-election and took the available seat with Murphy receiving the second-highest first preference vote in the November poll, finishing in third place. 
As well as Byrne, Fianna Fáil are also running James Browne TD and Councillor Lisa McDonald in Wexford.
Fine Gael are running two current TDs for re-election, Michael D'Arcy and Paul Kehoe.
Labour leader Brendan Howlin is the other sitting TD in the constituency.
Yesterday, it was announced that Seanie O'Shea is to contest the general election in Wexford for Independents 4 Change. O'Shea has campaigned alongside former TD and now MEP Mick Wallace since he entered politics in 2011.
Sligo-Leitrim
Harkin confirmed that she's running for the Dáil again in an interview with Ocean FM, saying that she has the "energy, commitment and belief" to represent the area.
As well as being a TD for the area, Harkin served as an MEP for 15 years and will be a bring a formidable campaign team to the election. 
There had been suggestions that Harkin could run as a Fine Gael candidate but she said today that she sees herself as an independent. 
"I have full respect for party politician. I am an independent, I have always been an independent and that's it. It's no more, no less and less. That doesn't make me better or worse than anybody else. It's just how I conduct my politics," she said. 
#Open journalism No news is bad news Support The Journal

Your contributions will help us continue to deliver the stories that are important to you

Support us now
Asked whether she would support a government in exchange for becoming a minister, Harkin said that politics was "the art of the possible".
The question is, how can you best deliver for your region or the people that you represent? I have no idea who's going to be the bigger party, I have no idea of what grouping will be put in place after the next election. But I do know that I want to be part of it and I want to play a strong role.
"I cannot tell you what that role is, because nobody knows and I don't know. But I want to be in the middle of it," she added.
Monaghan
Sinn Féin's only MEP Matt Carthy has confirmed that he will seek the Sinn Féin nomination to contest the upcoming general election in Cavan-Monaghan.
Carthy's name will go before a reconvened constituency convention will take place this coming Thursday evening in the Hotel Errigal, Cootehill.
Speaking today Matt Carthy said: "Caoimhghín Ó Caoláin has been an outstanding representative for Cavan Monaghan and a pivotal and important leader within Sinn Féin, especially since his election to the Dáil in 1997.
"In the first instance I want to ensure that his legacy of hard work and dedication to the people of this constituency is maintained following his planned retirement from elected office.
"I am hopeful that this Thursday Sinn Féin members will re-affirm their previous decision to allow Pauline Tully and I to contest the General Election to win two seats."
Elsewhere in the constituency, Fianna Fáil TDs Marc MacSharry and Eamon Scanlon will be defending their seats as will Sinn Féin's Martin Kenny. 
Fine Gael are running former TD and current Senator Frank Feighan with Councillor Thomas Walsh as a running mate.