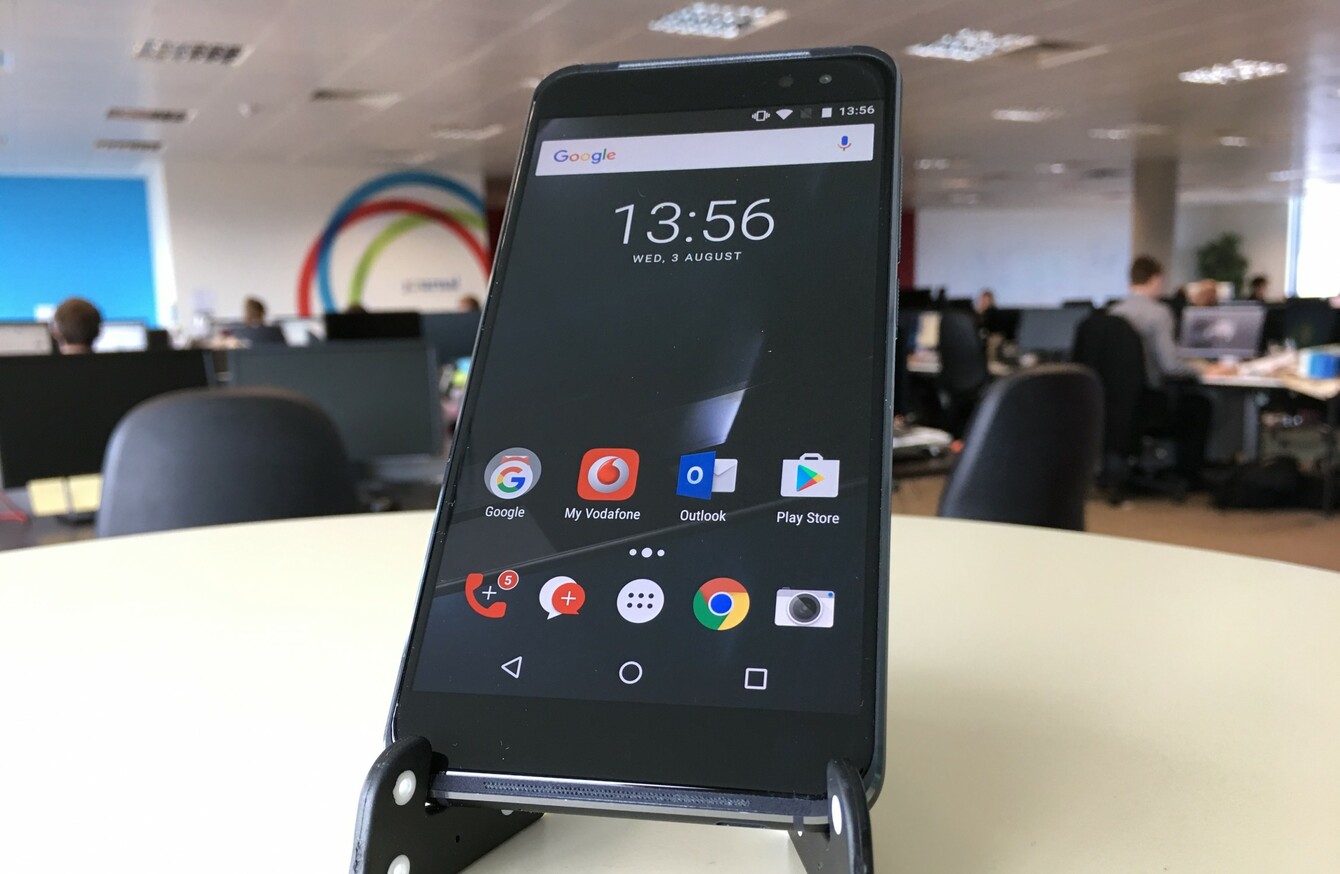 Score: 7.75/10
Verdict: Although it doesn't excel in one main area, Vodafone has put together a great all-rounder smartphone.
WE HAVE NEVER been more spoilt for choice when it comes to cheap phones. From the OnePlus range to Motorola, the sheer number of good devices out there for lower prices means it's difficult to go wrong.
Another name to add to that list is Vodafone, which impressed with the cheap but very cheerful Smart Ultra 6, a large phone which specs that went above and beyond its price range.
That has been followed up with a more premium device, which is higher in price and specs. And for the most part, it succeeds.
Platinum by name
If you're going for a name like Platinum, you want to have the design, hardware and software to back it up. For the most part, the design is good, even if it's not exactly eye-catching. With an aluminium bezel and glass backing, it's a middle-ground between budget and premium styles.
The volume buttons and power button are placed on the right-hand side while a dedicated shutter button for the camera is on the left. All of them have ridges so you can identify them pretty easily if you have to fumble around in your pocket, although it does detract from the style somewhat.
The fingerprint scanner is located in the centre just underneath the camera lens. While it's responsive, its small size can sometimes mean you spend a little longer than expected positioning your finger correctly.
Keeping things simplified 
Since it's a Vodafone device, it was inevitable that it would include its own mandatory apps and widgets on the device. Thankfully, these are kept to a minimum and while you have to use the likes of Call+ and Messages+, that's as far as it goes in making you use its services.
The help widget is probably one of the more annoying inclusions since it's based on around phone tips and offers, but you can replace the Vodafone launcher with the Google one instead so it's a minor inconvenience.
The phone runs on Android Marshmallow with few changes made to it, a wise move from Vodafone. Of the different features it brings with, easily one of the best is Doze which helps prolong battery life when it's not in use. Generally, we got a day and a half to two days of use from it which is pretty good going.
It also has a great 5.5-inch AMOLED screen which doesn't rival the big players but gives a good account of itself.
And everything is responsive. Apps load up quickly, you can play the likes of Dead Trigger on the highest graphical settings without too much trouble, and slowdown is almost non-existent.
The chipset it uses isn't the latest version, but you wouldn't notice it unless you like to be at the bleeding edge.
Candid camera
Like all modern phones, it feels like their success hinges on whether the camera is good. The Platinum does give a good account of itself although it won't be threatening Samsung's Galaxy S7, the HTC 10 or Apple iPhone 6s anytime soon.
Double-clicking the shutter button boots up the camera pretty quickly and under normal lighting situations, it handles the situation well. There are small problems with it, anything low-light and it struggles to fit in detail and at times, it can take a moment or two trying to focus on the subject you tapped on, but overall performance is satisfactory.
#Open journalism No news is bad news Support The Journal

Your contributions will help us continue to deliver the stories that are important to you

Support us now
After using it, you feel like the camera interface could have done with a little more thought. Changing modes requires you to swipe left-to right to move right, which goes against most smartphone interfaces, while the inclusion of four modes for the front.
The shutter button, while not essential, felt a bit stodgy making the double-click to wake function harder.
The front-facing camera is of similar quality, and includes a forward-facing flash and beauty mode slider (a now obligatory feature) for smoothing out your skin.
IMG_20160729_075513

IMG_20160801_105601

IMG_20160801_112411

IMG_20160801_105752

IMG_20160803_123157

IMG_20160803_123257

IMG_20160803_123330
Should you buy one?
An obvious drawback is it's locked to Vodafone so if you're on any other network, you're out of luck unless you switch, but the Platinum 7 manages to be a good all-rounder that is more than the sum of its parts. It doesn't excel in any one place, but it doesn't need to when it gets most things right.
If there's a quibble, it doesn't match the same value for money the Ultra Smart 6 offered, but you still get is an attractive mid-range phone that isn't quite premium but is worth considering.
Pros
- Great hardware for the price.
- Keeps bloatware to a minimum.
- Consistent all-rounder.
Cons
- Locked to Vodafone network.
- Is a bit cheap-looking.
- Camera isn't great in low-light situations.
The Smart Platinum 7 costs €399 on PAYG (Free – €99 on bill pay) and is available in Vodafone.