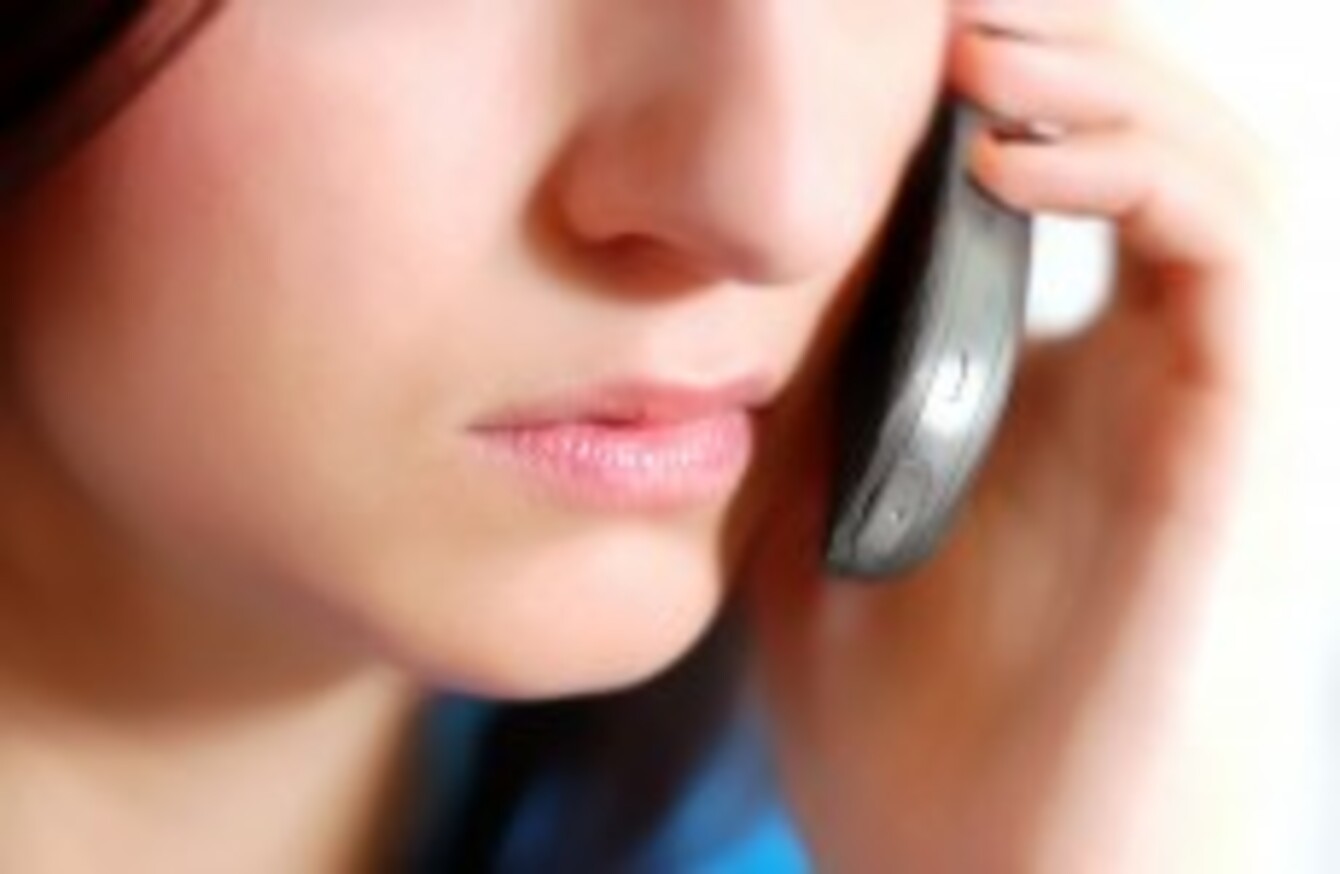 Image: woman on phone via Shutterstock
Image: woman on phone via Shutterstock
"MOST PEOPLE JUST want an ear, sometimes you will be the only person who they will tell their story to."
Stephanie Lord has been volunteering with the Dublin Rape Crisis Centre for about a year. She works both over the phone and by attending the sexual assault treatment unit at the Rotunda Hospital with clients.
"I have such admiration for people who call the line – it's such a brave thing for them to do – to pick up the phone and talk to a stranger about this experience in their life."
Sometimes an elderly person will call the line to tell you about something that happened to them as a child.
DRCC says the volume of calls it experiences can be dramatically increased in the wake of a high profile case. "Hearing other people's stories can be a trigger for many first-time users of our service."
One of the most highly publicised cases of 2013 was Fiona Doyle's forty-year quest for justice. DRCC said: "Her bravery in waiving her anonymity and challenging the lenient sentence handed down to her father resonated with callers and empowered many people to speak of their own abuse for the first time."
One such caller explained how he had been sexually abused by his grandfather but never talked about the abuse because he was certain he would not be believed.
Another client of the DRCC said: "When I first came to the centre, I had thought it was only for women who had been raped, and not for men like me who had not suffered rape but had suffered years of sexual abuse and neglect.
The relief I got was enormous when I was told the abuse wasn't my fault.
Importance of Volunteers
The Dublin Rape Crisis Centre says it could not offer such a wide range of services without the ongoing support of its volunteers.
It has a dedicated team of more than 70 specially-trained volunteers. Lord told TheJournal.ie:
It's rewarding to do it and it's nice to know you can do something useful. It's really good to actually be part of a service that helps people – it's just a great thing to be a part of.
"Every call is different, some people just want information about services, some people call who are not victims themselves and they want to talk about how they can support a person they care about.
"I would definitely recommend it for people who have the time and think they would be able to do it."
One client said:
I read once that we can't fix or heal another's pain, but only witness it. Thank you for being my witness, for being present and helping me to be present also.
Different Services 
The organisation has a number of areas where volunteers are needed. Telephone volunteers provide a confidential listening and support service and are specially trained to listen carefully and to give support and information.
Volunteers can also support women and men who are attending the sexual assault treatment unit in the Rotunda Hospital in Dublin. They explain the procedures involved and offer support to those who require it.
The Dublin Rape Crisis Centre also accompany victims of sexual violence to court hearings, Garda Stations and Tribunals.
The legal process can be daunting and court hearings, etc, are often difficult and confusing so the volunteers offer support and information to clients who are going through this process.
The organisation also has an outreach programme as part of its ongoing education and awareness campaign – specially trained volunteers visit schools, and community groups, for example, and provide information on and promote awareness of all aspects of sexual violence.
How to get involved 
DRCC client: Even when my case was at its lowest point, your advice helped me to stand up straight and hold my head high, and remember I'm a person with rights too.
The Dublin Rape Crisis Centre is currently recruiting for volunteers and the closing date for applications is Friday 26 September.
If you are living in the (01) telephone area, are over 25 years of age and interested in volunteering, you can download an application form on the Dublin Rape Crisis Centre website here.
CEO of the DRCC, Ellen O'Malley Dunlop, told TheJournal.ie that there's an assessment before the training where people are interviewed to see if they would be suitable.
The training is on for four weekends from Friday evening through to Sunday. There are two full weekends, a break weekend and then another two.

The commitment is two years and we don't ask anybody to do over that because of the nature of the work.
Lord spoke to TheJournal.ie about her experience of the training: "It's really good. It's quite intense and it can be very heavy but the trainers are superb, they're very good at making sure everyone is dealing with what we are doing and everyone is mentally equipped for this work.
"During the training you deal with all aspects of rape and sexual assault and the level of support is fantastic and you get a mentor 'buddy' at the start and by the time you complete the training you're ready for it.
"There's a phone line there and there's always someone for us to call as volunteers. If you have a particularly hard call, you can always give them a call and it's great to have that support."
You can call 01 661 4911 or email volunteerservices@rcc.ie or reception@rcc.ie for any further information about volunteering.
Anyone affected by this story can call the Dublin Rape Crisis Centre's national 24 hour helpline on 1800 77 88 88.