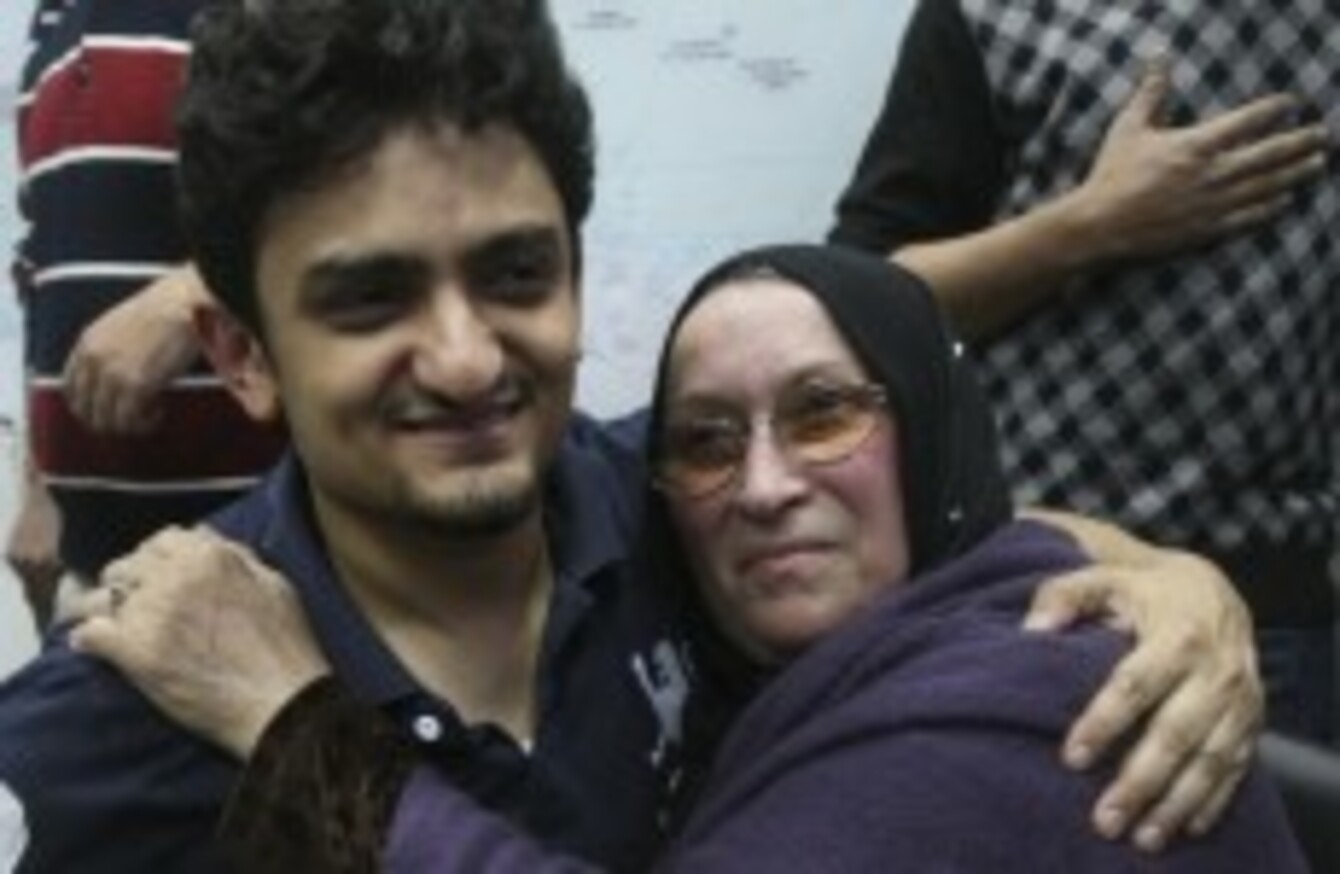 Ghonim with the mother of Khaled Said in Egypt in February 2012
Image: AP Photo/Ahmed Ali
Ghonim with the mother of Khaled Said in Egypt in February 2012
Image: AP Photo/Ahmed Ali
THE COMPUTER ENGINEER who helped spark revolution in Egypt with a Facebook page has said that online activism can evoke change – if you can engage people with a cause.
Wael Ghonim, who told the Dublin Web Summit today that he "meet more politicians than geeks" these days, created a Facebook page in protest at the torture and death of a fellow Egyptian at the hands of police in Alexandria. The "We Are All Khaled Said" page gathered 100,000 followers in just four days in early 2011. Ghonim asked people to protest peacefully in the streets and was taken into police custody for 11 days.
Upon his release in February 2011 the Nobel Peace Prize nominee continued to call for removal of the Mubarak government and addressed a public protest in Tahrir Square. The fall of Mubarak, said Ghonim today, was "not a Facebook revolution" but a "people's revolution". He said:
I believe the leadership by charisma is going into decline and leadership by empowering people will rise.
Ghonim, aged 31, said he had employed some of his knowledge about digital marketing, picked up in his time as an engineer for Google, to engage others in the Facebook campaign and ensure that it transferred to the streets. "It was very collaborative," said Ghonim, explaining that every decision to meet or protest publicly was done after conducting a survey among followers of the page.
This survey was conducted on a low-cost website called Survs.com, run by "just two guys". Ghonim said:
People who work in media and people who work in technology are the change agents in this world. I'm sure those two guys would never have known that their service was used in Egypt for democracy and participation.
So-called clicktivism – where online users express a desire for change – is not necessarily without teeth, he said.
Those who are online are not zombies, they are actual human beings. All it takes is to convince him that it is important to act. Another thing is to find a way that interests them – that's why surveys are important.
(Wael Ghonim at today's Web Summit in the RDS. Image: WebSummits/Flickr)
Ghonim also attributed the uprising in Egypt to the social and political context in the area at the time, "the Tunisian uprising, the forged elections in Egypt… these also sent people to the streets". He added: "A lot of people think an activist is someone who distances himself from people. That's why I made the Facebook page mainstream."
Maya Baratz of ABC News said at the summit that the Arab Spring had seen the voices of ordinary people become a tool for journalism, giving the news a "360-degree angle".
Ghonim has written about his experiences in Egypt in 2011 in a new book, Revolution 2.0. All proceeds are to go to an education and poverty-fighting charity in Egypt.