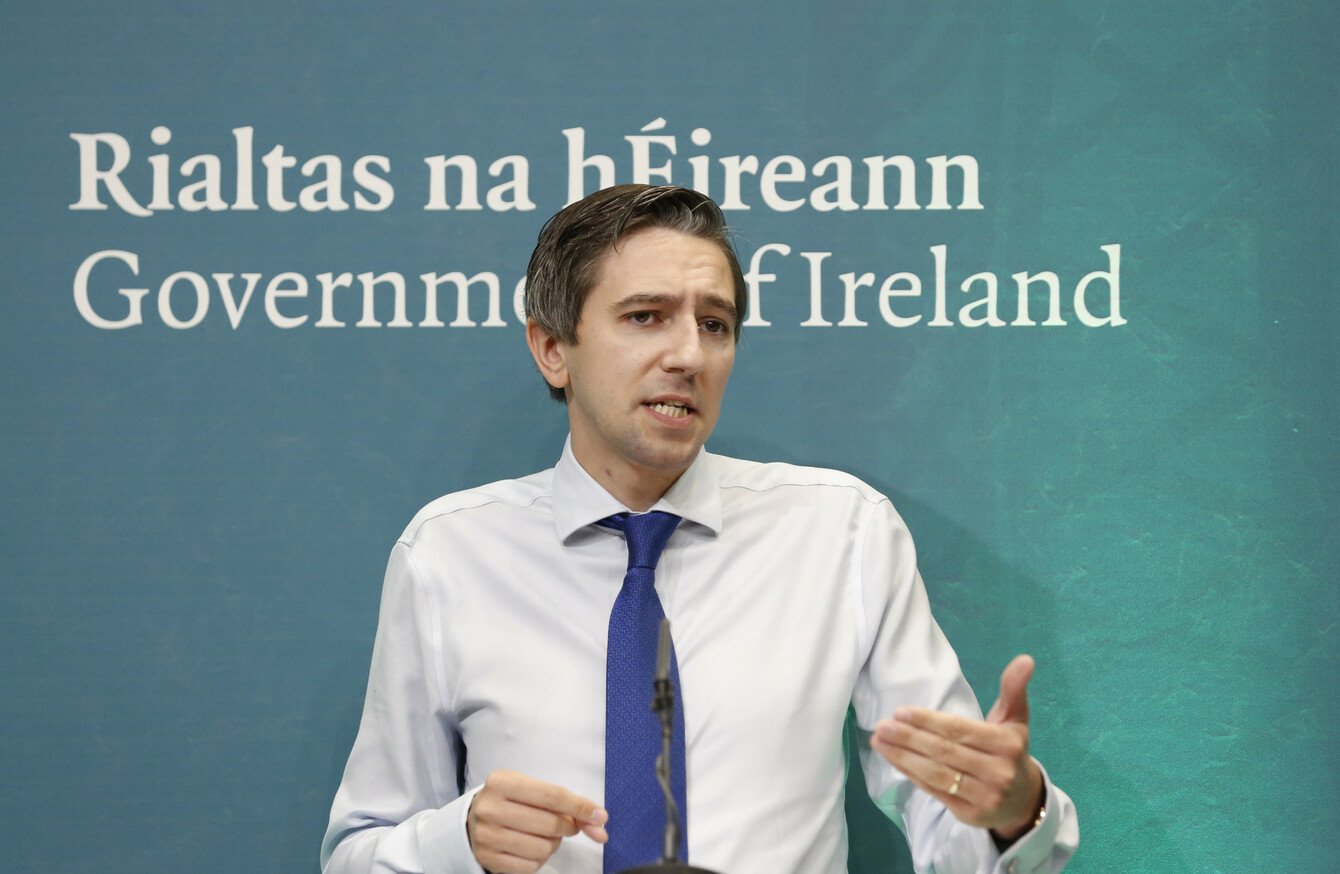 Health Minister Simon Harris
Image: RollingNews.ie
Health Minister Simon Harris
Image: RollingNews.ie
A WAITING LIST guarantee policy is to be established next year so patients will know how long they can expect to wait for an operation.
Speaking at the launch of Sláintecare implementation strategy – which is the cross-party plan to overhaul the Irish health service over ten years – Health Minister Simon Harris admitted that people are waiting too long on waiting lists.
The plan sets out an ambitious target of waiting lists being no longer than 12 weeks.
An analysis of various health waiting lists, obtained by Fianna Fáil's deputy leader Dara Calleary, shows there were nearly one million patient appointments outstanding in the first half of the year.
While the minister said there is no single solution to solve this problem, the plan is to develop a guarantee system for patients which will set out a time period or target, so people are not left in limbo with no indication as to when they might get an appointment.
Waiting list guarantee times
"If you are an Irish person waiting for a hip operation, a knee operation, or a cataract operation – how long should you have to wait? How can we guarantee that it will be delivered? We are going to look at underpinning that with legislation," said Harris, adding:
The Sláintecare plan wants to get to a waiting list guarantee of 12 weeks, if you or I were sitting in Scotland a number of years ago and they said they were going to do that, I'm sure a lot of people in the media would understandably have said well that will never happen. But it did, they did it through a number of measures we're going to take here, including trying to do more in the community.
It is understood the government is looking to introduce legislation to underpin the guarantee scheme to ensure there is accountability and consequences set out in law for those that fail to deliver on the wait time targets.
Explaining the thought process behind it, Harris said:
"If you are going to work tomorrow you don't ask how many cars are on the M50 – you ask how long you are going to be on the M50 to get to work."
No shows for hospital appointments not helping 
Waiting lists is a priority, said Harris, who pointed out that nearly half a million outpatient appointments were missed last year. While he was keen to point out that is most likely not the fault of the patient, but the appointments system itself.
My own sense is that it's due to the lack of proper data, actually tracking people. When people quote global waiting lists figures, that could be one patient on a list a number of times with a number of doctors… I believe that far too many patients are on waiting lists for too long, I believe we have a significant waiting list challenge and we need to accept it.
But I do believe there is a responsibility on the opposition … we cannot have a situation where somebody believes everybody in this country will wait 18 months for an operation. Far too many are, I'm determined to drive that down, but the majority of people are waiting less than nine months and a significant proportion are waiting less than three months.
In addition to tackling spiralling waiting lists, the long-term plan sets out key actions over a ten-year period.
Expanding access to more people 
One of the key actions is reviewing the eligibility in which a person can access health services in Ireland.
Harris said it is about "making sure no one today decides not to access healthcare because they can't afford it – that is not a system we can stand over. Sláintecare talks about low-cost or no cost and we need to grapple with what is a fair eligibility".
This will include a review of the GP contract, as well as a review of the GP visit card income threshold, which determines if someone can get one, and if that can be expanded so more people can avail of it.
The minister has already stated previously that GP fees of €55 or €60 to see a doctor are too expensive.
Detangling private practice from public hospitals
The minister was also very clear that he wants to "detangle" the private sector from public hospitals.
"I am one person, I am the minister of health, but I have a clear view. It is not equitable of fair that you can access healthcare in our public hospitals on the basis of your ability to pay. That's what I believe, but let's be very clear, private health insurance in public hospitals generates significant income for the public health service."
It is a view that many in the health service will "line up" to shoot down the idea, said the minister, but he added that he believes one way to increase capacity is freeing up beds in public hospitals that are being used by private patients.
#Open journalism No news is bad news Support The Journal

Your contributions will help us continue to deliver the stories that are important to you

Support us now
"I don't accept this is beyond us. I mean, why are we happy to be outliers on this – this is not normal. I sometimes think we have convinced ourselves in this country that this is the norm… It is not going to be straightforward or easy but it is certainly right that Sláintecare asks us tease it out, report on it and publish it."
Compo for doctors?
The minister was also questioned about the cost of such a drastic move, particularly the cost and possible compensation that might be paid to doctors who have it contained in their contracts that they can use public hospitals for private practice.
Harris said the word compensation is the wrong word, stating that an expert group has been tasked with looking at the costings.
"Is it true to say that if we wanted to disentangle private practice from public hospitals it would require contract negotiations from consultants? Yes it would. Are we making those decisions today? No we are not. We have asked an expert group chair to do his work. He will report back this year, we will publish it and bring it to Government to inform our decision-making process.
"It will require new contracts but we should not and I will not allow us to be talked into a position whereby this is not doable. In other countries, this is the norm…. I believe the majority of clinicians want to be able to work in the health service where they have access to theatres, beds where they can do their job," said Harris.
The minister said today is a significant day for the healthcare system in Ireland, however, criticisms were levelled at him that the implementation plan is not fully costed.
So, what is it all going to cost? 
The minister said he agreed with UCC economist Brian Turner's assessment that by the end of ten years there will be an increase in the health budget of roughly about €2.6 billion per year.
"I think that's right, if you consider the fact that the health budget increased by 5% this year," he said, adding however, that there will require significant contractual negotiations with many stakeholders in the health service and in some instances require significant procurement and tender."
One thing the minister did say about costings is that there will be no additional taxes place on people to fund the new plan.
"There are no proposed tax increases, much of this will be covered by a growing economy to deliver the resources needed for a proper health service that we all want."