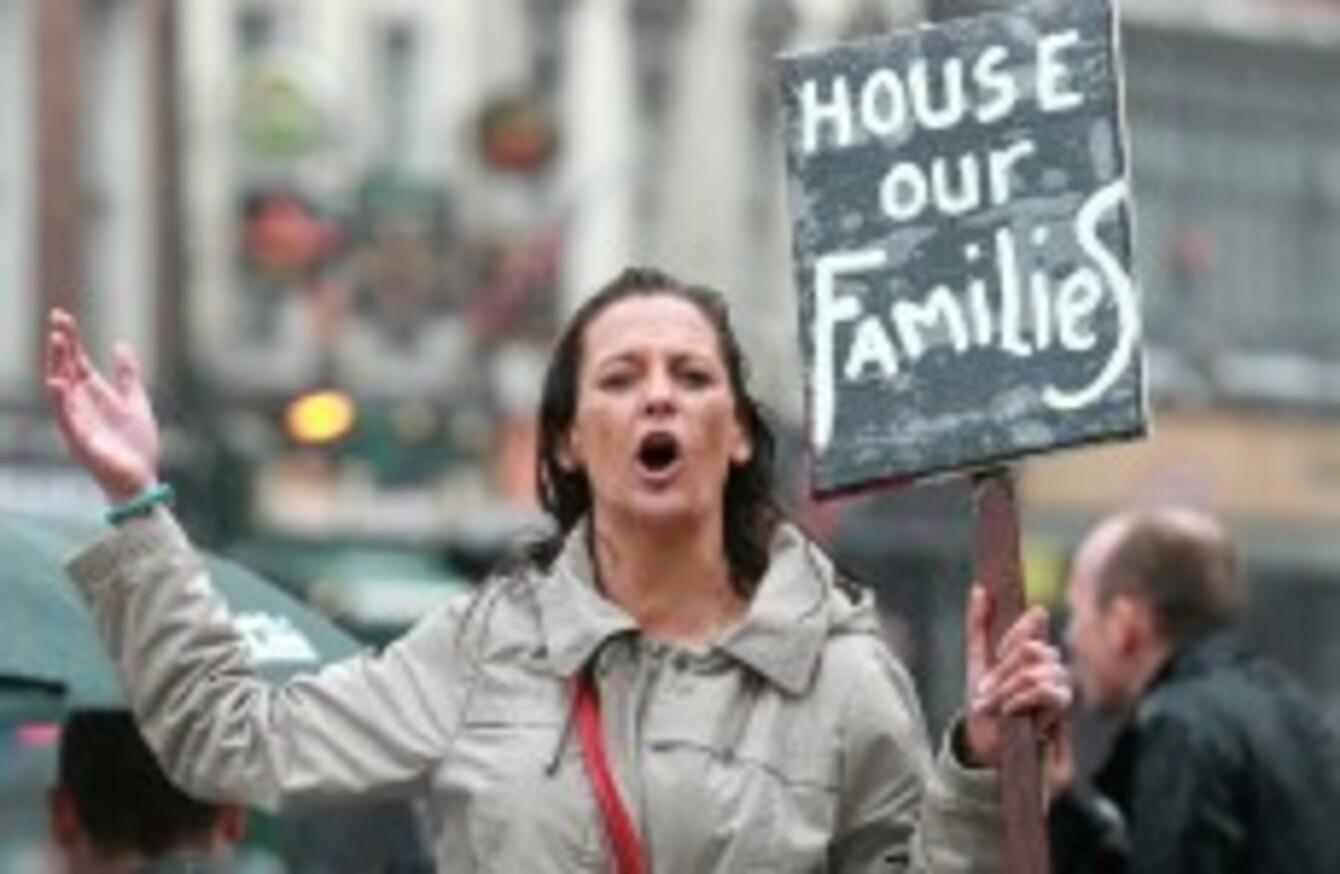 Protests by families who are in homeless accommodation.
Image: Laura Hutton/Photocall Ireland
Protests by families who are in homeless accommodation.
Image: Laura Hutton/Photocall Ireland
THE GOVERNMENT'S €400 million-plus cash windfall from its new water charges should be funnelled into more social housing – rather than handed back in tax relief.
That recommendation came from the Economic and Social Research Institute (ESRI) as it called on the government to deliver a "neutral" Budget and invest its extra money instead of saving it or give it back to taxpayers.
The institute used its quarterly economic report to recommend that €500 million in extra revenue, most of which would come from the controversial water fees, should go to social housing.
It said the "multiplier effect" of the investment would help sure up Ireland's economy as it continued in recovery mode.
One of the report's authors, Kieran McQuinn, said up until recently economists thought a "significant fiscal correction" was needed to bring the Budget under its deficit target, but the better-than-expected outlook meant the money should go to public housing.
"This would help to consolidate growth while also tackling one of the most pressing economic and social concerns at this point namely, the supply side of the residential property market," he said.
The €500-million figure is the same amount Focus Ireland recently said the government should spend on building thousands of new homes to tackle the growing homelessness crisis.
About 90,000 people are currently on the waiting list for social housing, but only about 6,000 new units are expected to be built this year.
Back to surplus as early as 2016
Meanwhile, the ESRI again upped its economic forecasts, becoming one of the only main research bodies to predict Ireland's GDP would grow even faster in 2015 than next year.
It expects the 2014 figure to hit 5% and for growth to further accelerate the next year to 5.3%.
Based on the new predictions, the ESRI said the government could bring its budget under a 3% deficit target next year without any more austerity moves and it would even deliver a surplus in 2016.
Finance Minister Michael Noonan has previously said the government was targeting a "broadly neutral budget" to meet its deficit target.
READ: Builders are not happy with the government's new social housing plan
READ: 'Don't try to choke off the recovery with more austerity'