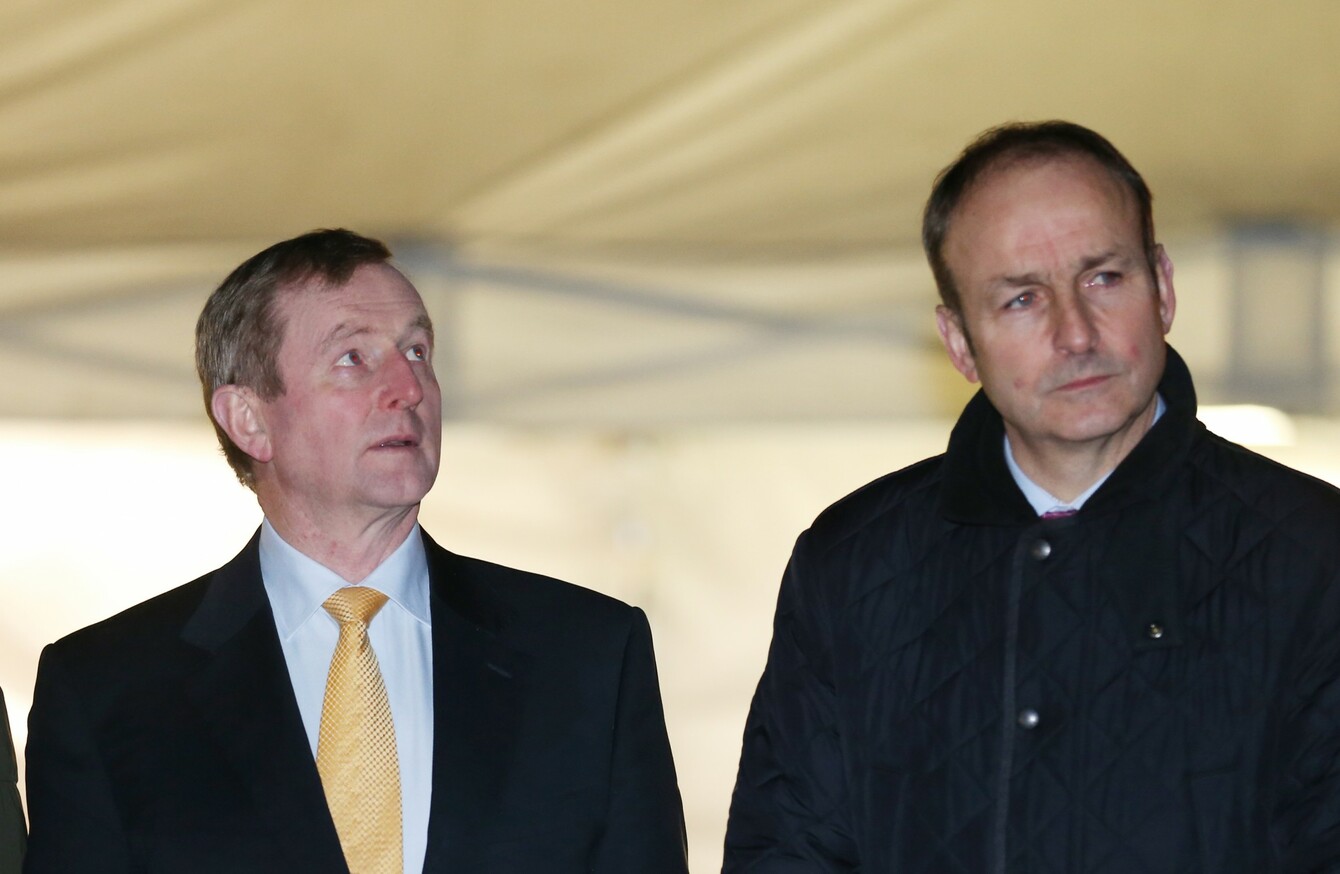 Image: Sasko Lazarov
Image: Sasko Lazarov
Updated at 9.45pm
TALKS ON THE formation of a new government have ended for the evening – but a number of fundamental issues still remain to be resolved.
Fianna Fáil's Deputy Jim O'Callaghan told the media that issues include housing, children and water, RTÉ reports.
Taoiseach Enda Kenny and Fianna Fáil leader Micheál Martin talked over the phone tonight, and have agreed that they will talk again tomorrow, a Fine Gael spokesperson confirmed.
However, the party is not commenting on the talks.
Earlier today Minister Leo Varadkar said that progress had been made in the talks.
Irish Water
At talks yesterday, the issue of Irish Water was not discussed. This is despite it being the major sticking point for the two parties, with both refusing to budge on their policies.
Fianna Fáil wants Irish Water abolished and water charges suspended, meanwhile Fine Gael wants the utility to remain in place.
A deal is on the table that would see Irish Water move from a commercial entity to a state agency, with generous allowances to be introduced.
However, both sides are unhappy with the compromise to their policies.
Meath Fianna Fáil TD Thomas Byrne told RTÉ's Today with Sean O'Rourke show earlier today that no deal had been reached on Irish Water.
He said said it's doubtful that an agreement will be reached if they don't suspend water charges for five years – as per their general election policy.
He denied there was any split in the party between senior and junior ministers on the issue.
Byrne said he believed there are a lot more important issues on the agenda – such as homelessness. He criticised Fine Gael for spin, stating that it is not helpful.
The independents
Independent TD John Halligan said the independents are effectively operating in a void – having been left out of the Fianna Fáil and Fine Gael talks.
He told RTÉ's News at One that he would have liked an update on the talks, as even if a deal is reached between the pair, they will have to come back to the independents for support.
The independents have a list of items they want in exchange for support.
Halligan said it came down to securing a 24-hour cardiac care unit to be restored at Waterford General Hospital, which serves 500,000 in the south east.
He said he is meeting Health Minister Leo Varadkar on Monday. "If they don't change their mind – I'm out," he said.
Even if an agreement on the six or seven issues standing between Fine Gael and Fianna Fáil are agreed upon this weekend, the Independent Alliance said they still reserve the right to make amendments to the agreement, if some of their key issues are omitted from the plan.
Referendum 
One independent TD said that "there needs to be a referendum on the ownership of Irish Water."
Speaking to TheJournal.ie, independent TD Michael Collins said the only way to sort out the issue of Irish Water is to hold a referendum on its ownership.
Collins said the only way for a deal to be struck is for both parties to agree that once a minority-government is formed, a referendum be held immediately.
The situation at the moment is the two main political parties do not want to budge on the issue.
Collins said it was the only way to restore any sort of public confidence in the utility.
I think that will be the only long term solution here. It is sad that is has to come to this.
He said while campaigning on the doorsteps he found Irish Water was one of the main issues.
#Open journalism No news is bad news Support The Journal

Your contributions will help us continue to deliver the stories that are important to you

Support us now
A tax too far
"People don't mind paying their way and paying their bills… but it was one tax too far for the people." Collins said he agreed with the proposal that families be given a generous allowance of water usage, and once that is breached, charges could kick in.
We need to give the people their say However, I am pretty sure I know what they will say in relation to Irish Water.The mess is there, and now it's been left in the politician's lap to sort out.
One FG source said a referendum on Irish Water would be "very acceptable".
Fine Gael TD Alan Farrell said he is on the record as stating that he would not be opposed to a referendum on the ownership – but said he did not think it was relevant or central to the debate that was ongoing at the moment.
He said he had reservations about the utility being made a state agency as it would mean that it would only be answerable to the Department of the Environment and not to the Dáil directly.
"I don't want the department running it," he said. Farrell said one needs only to look at the past at how the department oversaw local authorities and water services to see why.
Farrell said it was now "time to move from the impasse".
The question 
The idea of holding a referendum on Irish Water is not a new one – it was first proposed by the Green Party at the height of the public backlash against water charges, in October of 2014.
"The only way to ensure that Irish Water isn't privatised in the future is to enshrine the public ownership of public water resources in the constitution," Greens leader Eamon Ryan wrote in an article for this website last year.
A referendum on public ownership of the utility would provide absolute, 100% certainty for the future.
Ryan originally signed-off on the introduction of water charges as part of bailout negotiations during the FF-Greens government. However, during his candidacy for the European Parliament, the former minister said he only signed up because he thought Labour would veto them once in power.
Speaking to Newstalk yesterday, Labour's Willie Penrose said he thought there should be referendum on water to ensure Irish Water is "never privatised".
With reporting by Daragh Brophy and Aoife Barry