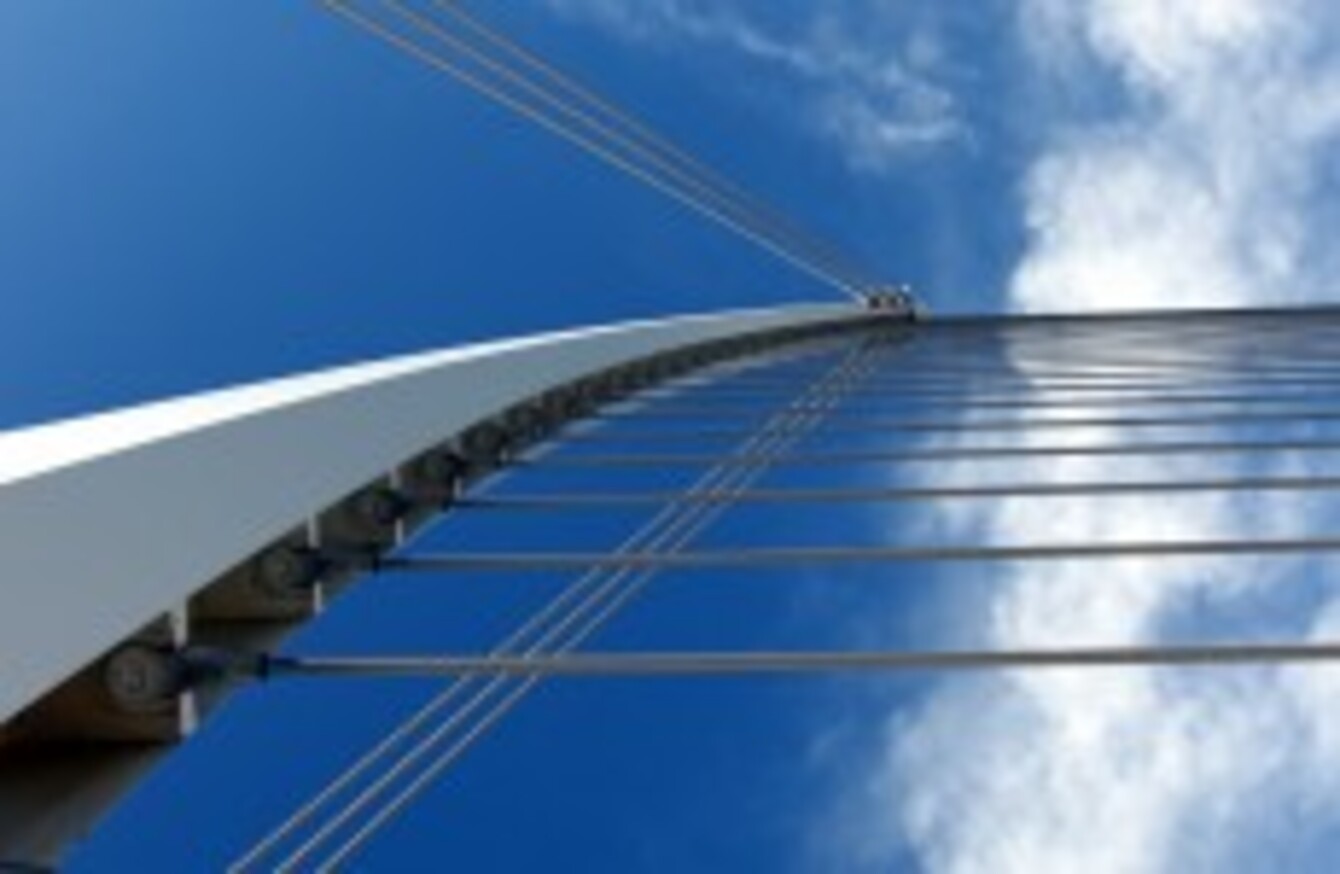 A (rare blue) skyward view of the 48-metre high Samuel Beckett Bridge.
Image: Mark Stedman/Photocall Ireland
A (rare blue) skyward view of the 48-metre high Samuel Beckett Bridge.
Image: Mark Stedman/Photocall Ireland
EVERY WEEK, TheJournal.ie offers you a selection of statistics and numerical nuggets to help you digest the week that has just passed.€
€7,329 – the amount of money the State has forked out for each individual e-voting machine (including storage costs) purchased by the Government back in 2002. The 7,504 machines were scrapped by a Tullamore recycling company this week.
1,720 – the number of babies that were born to girls still in their teens during 2011. That number represents a 44 per cent decrease over a decade. The average age of Irish mothers in childbirth is now 31.8 years.
840 - Jacks were born in Ireland last year, while 596 newborn girls were called Emily. With 78 and 68 nods respectively, Daithi and Daisy also squeezed into the Top 100 list.
99 – the percentage of people who admit to logging onto one or more of their social networking profiles while on holiday. No rest for the tweeters.
79 - Peter O'Toole's age on the occasion of his retirement.
520 – the number of bodies buried at Srebrenica this week, 17 years after the massacre which saw the Bosnian town lose 8,000 of its men and boys.
€8 – the amount, on average, the HSE says it spends on preparing a hospital meal for a patient. The agency was responding to a newspaper article that claimed it spent as little as €2 per meal, comparing the food to a McDonald's Happy Meal.
23 – the number of years that Kevin Bakhurst had spent working for the BBC before being poached by RTÉ to fill its vacant managing director of news and current affairs role.
123,696 - that is how many arrest warrants are still outstanding in Ireland, according to the Minister for Justice who assured the Dáil that most do not relate to violent or serious crime.
€20,000 - the amount of money raised by a nine-year-old girl for her father's online business. But Neil and Niamh Gallagher aren't finished yet – the Arranmore Island family want to raise at least another €62,000.
2 - of the 11 men that sat (terrifyingly, inexplicably) on a steel beam high above the skyscrapers of Manhattan to create one of the most iconic pictures of all time hailed from the Galway village of Shanaglish. See that image in a different light here and discover more of the background story here.
#Open journalism No news is bad news Support The Journal

Your contributions will help us continue to deliver the stories that are important to you

Support us now
2 – is also the record-breaking number of women that Saudi Arabia will send to the London Olympics later this month. It will be the first time the Muslim kingdom will send ANY female athletes to the Games.
€170 – the amount of money robbed from an 86-year-old woman as she walked down a street in Kilkenny city on Monday. A 35-year-old Polish national was subsequently charged with the crime.
€118, 000,000,000 – Ireland's expected debt levels for next year. That's €118 billion in English.
13 - the number of investors involved in a High Court dispute which led to Health Minister James Reilly's name being entered in Stubbs Gazette over a debt of €1.9 million.
24 km - the maximum width of a fifth moon found by US astronomers near Pluto.
300 – the number of interested parents who emailed a pageant organiser who was having trouble finding a venue for an Irish 'Toddlers in Tiaras'-style beauty event.