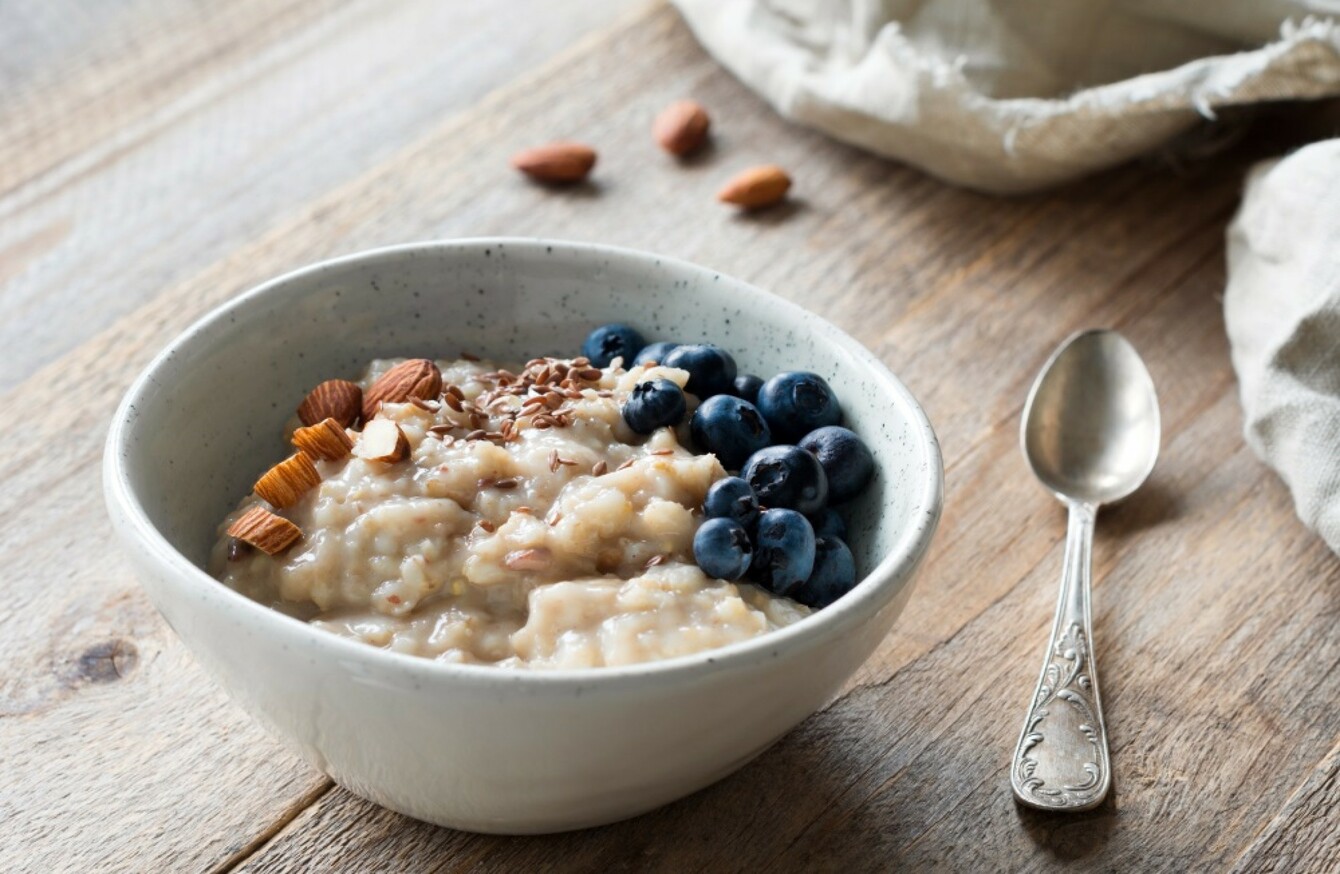 Image: Shutterstock
Image: Shutterstock
STARTING YOUR MORNING with a balanced breakfast gives you a solid headstart on the day. You're satisfied, you're energised, and can power through to lunchtime with ease.
But when you've slept through your alarm, a grocery shop is overdue and you need to get out the door fast, that balanced breakfast moves speedily down the priority list.
To help you on those weekdays where you're stuck for time but still want something that'll leave you feeling nourished and ready for what lies ahead, here are 6 breakfast ideas that can be put together in a few minutes. Some of these can even be prepped the night before, so all you'll need to do is grab and go.
1. Instant Bircher Museli, from Deliciously Ella: If you have porridge oats, yoghurt and milk to hand, this speedy twist on bircher will take you all of two minutes to prepare. Ella adds apple, sunflower seeds and raisins to hers, but you could swap in berries, sliced banana or a sprinkle of nuts – whatever you have available.
2. Apple and Cinnamon Porridge, from Donal Skehan: Adding grated apple to your morning porridge gives another layer of texture and flavour, as well as getting part of your five a day in. Donal makes his on the hob, but the add ins would work just as well with quicker microwaved oats.
3. Chickpea Scramble, from Well and Full: For a vegan take on scrambled eggs, mash up some rinsed and drained chickpeas, add turmeric, salt and pepper, and sautée gently (with some diced onion if you have time). A satisfying hot breakfast that takes under ten minutes.
4. Two-Ingredient Banana Pancakes, from Hurry The Food Up: The word 'pancakes' might already sound too elaborate for a weekday, but Hurry The Food Up has streamlined this recipe into a ten-minute process from prep to plate. Mash your bananas, whisk in two eggs, and dollop the mixture onto a hot pan. These are great with a sprinkle of cinnamon.
5. Five-Minute Omelette, from Danilo Alfaro at The Spruce: With a non-stick pan, and a bit of egg-whisking, making a weekday omelette involves only a few minutes on the pan. Danilo adds mushrooms and greens here, but you could add sliced ham, tomatoes or any other toppings you have in the fridge.
6. Overnight Swiss Museli, from What Lisa Cooks: Before there was overnight oats, there was swiss museli – basically the same thing, but with the essential addition of grated apple or even apple juice. This keeps in the fridge for a few days so make a big batch and your breakfasts are sorted for the week.