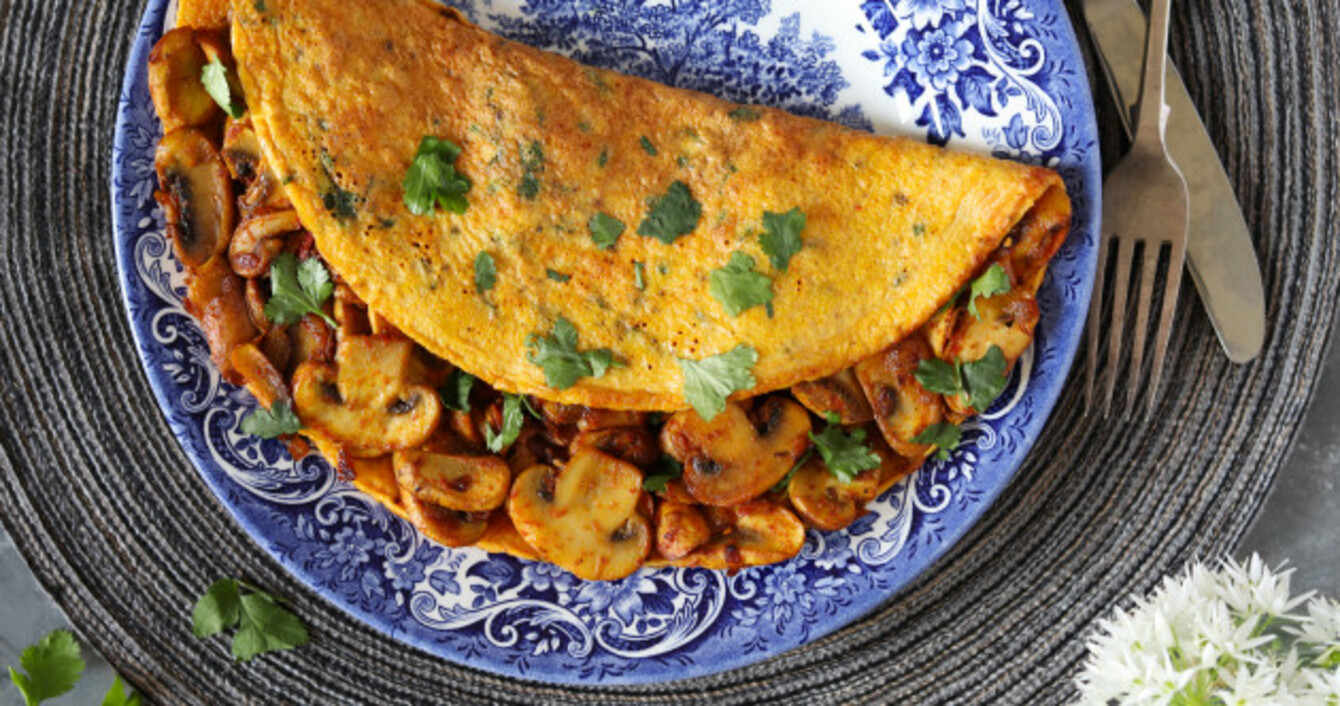 Image: Shilpa Razniewska
Image: Shilpa Razniewska
WHEN YOU DON'T wake up to the alarm blaring, it means the weekend is finally here. And that means more time to laze around in bed.
Perhaps after that first cup of coffee, the next thing you want is a delicious breakfast – but one that you don't have to spend half of the day cooking.
Luckily, there are plenty of breakfasts that involve minimum effort, but no compromise on satisfaction. And many of those breakfasts involve eggs. 
Here are two egg dishes that are simple to make and oh-so-tasty. With minimum hassle these delicious recipes can be enjoyed for breakfast or brunch.
Mushroom Stuffed Masala Omelette
Serves one but can be doubled
Do not underestimate the omelette. From French to Mexican to Indian they can be made more than one way – the possibilities are endless.
This particular recipe is inspired by Indian flavours, for something more exotic than just a plain one. Add green chillies if you can handle heat, or for a milder version you can use paprika. Even the mushrooms are sauteed in fragrant Indian spices for extra flavour.
First up, a few tips for making that perfect omelette:
Omelettes are at their best when cooked one at a time and served right away.
Always get the fillings ready first – since an omelette cooks very fast the filling has to be ready before making the eggs.
For an evenly cooked omelette, whisk the eggs in a bowl so that they are well combined with no lumps of egg white 
Ingredients
For the eggs:
3 medium eggs
1⁄4 tsp turmeric powder
1⁄4 tsp ground cumin
1⁄4 tsp ground coriander
1⁄4 tsp red chilli powder
A few sprigs of fresh coriander, leaves and stalks, finely chopped
For the mushrooms:
300g button mushrooms, thinly sliced
One small onion, finely chopped
1⁄2 tsp ginger and garlic paste or one clove of garlic and half an inch of fresh ginger grated
1⁄2 tsp ground turmeric powder
1⁄2 tsp ground cumin
1⁄2 tsp ground coriander
1⁄2 tsp red chilli powder or paprika
1 tbsp sunflower oil
A knob of butter to fry
Method
Add the sunflower oil to a non stick pan and fry the onion until translucent – about two to three minutes. Then add the ginger and garlic paste and fry for another minute.
Add the mushrooms and fry until all the water from them evaporates, about five minutes. Then add all the spices and fry for two minutes on medium heat and set aside.
In a bowl beat the egg using a wire whisk, until both white and yellow are
combined smoothly. Add the spices and chopped coriander and mix well.
Heat a non-stick pan on medium-high heat and melt the butter. Add the beaten eggs and turn the pan around so the eggs are evenly distributed all over. Reduce the heat to low, put a lid on, and let it cook for a minute. 
Now add the mushroom mixture over half of the omelette, fold the omelette into half and gently slide it on a plate, garnish with more chopped coriander (optional) and serve immediately.
Poached Eggs with Asparagus and Smoked Salmon
Serves 2
Another simple, tasty and posh brunch is this easy recipe. Perfectly steamed asparagus, topped with smoked salmon and a gorgeous poached egg is a match made in heaven – and makes a very impressive breakfast.
Probably your very first thought is 'I can't poach an egg!' but if you follow these few tips you will see it is actually super easy. Once you know how to do it you can enjoy them in so many ways, add them as a topping on a sourdough toast with sliced avocados or just by themselves, get creative with it.
Take this dish to a the next level by adding hollandaise sauce. Use 1⁄2 cup of light mayonnaise, 1⁄2 tsp of dijon mustard, 4 tsp of fresh lemon juice and 2 tbsp of unsalted butter. Whisk them all together and season with salt and pepper. Even a simple pesto or piri-piri sauce works well!
First, a few tips for that perfect poached egg:
Always make sure the eggs you are using are super fresh. Fresh eggs have thicker white near the yolk, which helps to hold that round shape as they cook.
Add vinegar to the water. This will help the whites to set faster.
Crack the eggs in a glass bowl or ramekin before tipping into the boiling water – it makes is so much easier to slide it into a pan.
The saucepan of water should be at least 5 cm deep, it helps the white to be contained.
The cooking time has to be three to four minutes, this gives enough time for the whites to cook with the yellow still runny.
Creating a whirlpool will help the white to wrap around the yolk. Slowly tip the egg into the center of the whirlpool and watch the magic happen.
Ingredients
200g asparagus tips or two packs
1 tbsp extra virgin olive oil
Splash of water
Salt and pepper to season
2 fresh eggs
1 tsp of vinegar
100 grams good quality smoked salmon
Chopped spring onion to garnish
Method
Heat extra virgin olive oil on a non stick pan. Add the asparagus tips into the pan
and saute for about a minute or two on medium heat. Add a splash of water, cover
with a lid, reduce the heat to low and let the asparagus cook, for about four to five minutes. Then set aside.
Bring water to boil in a medium saucepan, the water should be at least five centimetres deep. Add a teaspoon of vinegar to it and bring it to a gentle simmer. Using a spatula, stir to create a whirlpool.
Crack the eggs in a small glass bowl or ramekin. Holding the eggs just above the simmering water, very gently slip the eggs into the saucepan, whites going first and then the yolks. Let it simmer on medium low heat for three to four minutes. Use a slotted spoon to remove the egg and set aside on a kitchen towel.
On a plate arrange the cooked asparagus, then the smoked salmon, and add the poached eggs on top. Serve with garnished chopped spring onions.