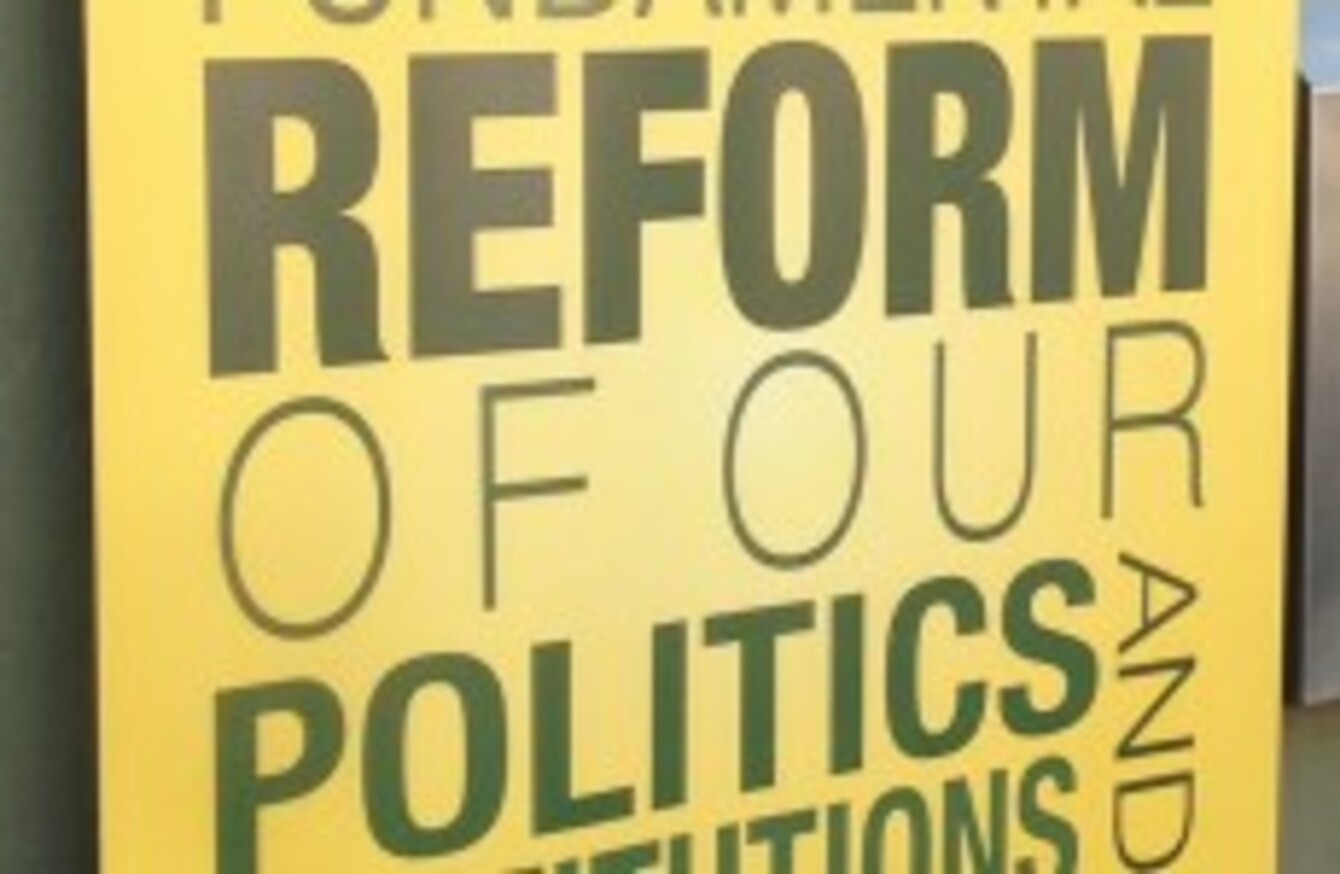 The theme of this year's MacGill Summer School
Image: Hugh O'Connell/TheJournal.ie
The theme of this year's MacGill Summer School
Image: Hugh O'Connell/TheJournal.ie
WITH THE DÁIL in recess politicians, academics and commentators from across Irish society found themselves at a bit of a loose end this week.
Thankfully there was something to keep them occupied in the picturesque village of Glenties in Co Donegal which played host to the annual MacGill Summer School this week.
For the past 34 years organiser Joe Mulholland has attracted the big names and this year was no exception with the Tánaiste Joan Burton and senior ministers like Frances Fitzgerald and Leo Varadkar all making their way north this week.
There were plenty of other familiar faces like Micheál Martin, Lucinda Creighton and Mary Lou McDonald and several heavyweight academics and political commentators.
They were all there to talk about various offshoots of the main question: 'Without fundamental reform of our institutions can we meet the challenges ahead?'
Talk of reforming the civil service, the political system and the way in which Ireland is governed dominated, but what did we learn? Here's a run down…
1. Everyone loves Leo
The new Health Minister graced us with his presence on Tuesday night and gave a stirring and leader-like speech, but his ears must have been burning on Monday as there was widespread praise for the straight-talking Fine Gael minister.
Political pundit Noel Whelan hailed him for his honesty, saying: "I would watch Leo the lion." The audience applauded heartily as they had done earlier when management consultant Eddie Molloy hailed him as a "straight talker".
Varadkar's appeal has grown sharply in recent months particularly when he came out and praised the garda whistleblowers as 'distinguished' – as distinct from 'disgusting' – starting a chain of events that would lead to the departures of Martin Callinan and Alan Shatter. He's in a honeymoon phase at Health, but will it last?
2. Lucinda is still on the fence
On Tuesday, Lucinda Creighton returned to a familiar theme on the failings of Irish political culture. But all everyone wanted to know was is she on the cusp of starting a new party? There were plenty of hints but nothing definitive.
The former Fine Gael minister talked about the a closing 'window of opportunity' to start something while at the same time saying that a party in Slovenia formed six weeks before an election there and secured nearly 40 per cent of the vote. 'Will she be part of a new political movement?', she was asked at an impromptu doorstep. "Maybe" she replied. The guessing goes on.
3. Frank-ly speaking Flannery could be a problem for Fine Gael
Battered and bruised from his battles with the Public Accounts Committee, Flannery arrived in Glenties with a few things to say. While his speech did not touch on his PAC troubles (He did discuss them with the media afterwards) it did contain some pretty insightful stuff about the malaise Fine Gael finds itself in.
"One of the worst I ever saw," was how he described the party's local election campaign, criticising the failure to set the agenda. Flannery said working for Fine Gael again is "becoming a less attractive option by the day" and there's no doubt the party wanted to distance themselves from his lobbying controversies.
But could they do with listening to his advice? He may yet prove a thorn in the FG side if he continues to make public comment in the coming months given the respect he commands as the mastermind behind its 2011 electoral success.
4. He hasn't gone away you know
Former tánaiste and justice minister Michael McDowell emerges from retirement from political life every now and again to have a pop at the current government. You'll remember last year he was front and centre of the campaign to save the Seanad and at MacGill on Monday night he hit out at the government's plans to reform An Garda Síochána.
In short, McDowell doesn't like the idea of an independent policing authority, comparing it to the HSE in that it would allow the government to "divest itself of responsibility and distance themselves from blame". Current justice minister Frances Fitzgerald sat listening and said he had raised some "serious questions". McDowell had also earlier said the circumstances surrounding her appointment as "murky at best".
The former Progressive Democrats leader appeared on Newstalk to expand on his views the following day indicating that he won't be staying quiet as the government goes about reforming the guards.
5. Ireland has a very skewed sense of left and right 
Source: GavanReillyTodayFM/SoundCloud
Independent TD Stephen Donnelly had an interesting take on what is left wing and what is right wing in Ireland during a debate on Monday. He bemoaned the fact he has been consistently painted as a right wing TD.
"Right wing in Ireland seems to mean you're pro business and anti poor people. Left wing seems to mean you're pro-community and anti business, which is complete nonsense," he said.
He said what left and right actually mean and what they are used as in Ireland are two different things. Perhaps the main reason for this is that Ireland doesn't really have an explicitly left/right divide particularly among its political parties.
6. Garth makes it to Glenties 
Given that the Garth Brooks saga convulsed the nation for weeks on end, it was no surprise that the matter was raised briefly at the summer school this week despite one moderator calling for a bar on all talk of the country singer on day one.
Noel Whelan made the mildy intereting point that Fine Gael and Fianna Fáil had both secured more votes than Garth had sold tickets for his cancelled Croke Park gigs while Sinn Féin and independents got 'a near Garth'.
But that's enough now lads.
7. O'Sullivan makes her pitch 
The acting Garda Commissioner Noirín O'Sullivan arrived at Glenties with a sizeable entourage on Tuesday evening but she was warm and engaging and gave a speech that was very much motherhood and apple pie even though she explicitly denied it was anything of the sort.
In short, O'Sullivan was making her pitch for the role of commissioner on a permanent basis. She talked about the force not being broken but certainly being hurt and damaged and said all the right things about reform, about listening to whistleblowers, and about making the gardaí the best of its kind in the world.
Ultimately the appointment of her successor will come down to whether the government needs to be seen to have an outsider or is happy to stick with a woman (the first in the guards' history) who is making all the right noises so far.
8. The grand coalition? 
Leo Varadkar and Micheál Martin both gave the clearest indications yet that neither Fine Gael nor Fianna Fáil would be prepared to go into coalition with Sinn Féin after the next election. In her response, Sinn Féin's Mary Lou McDonald suggested it was time that the two Civil War parties "kiss and make up" while Frank Flannery said coalition between FG and FF is "destiny".
A lot can happen between now and 2016 (or maybe earlier?) but it's clear that the talk of a grand coalition between the two big beasts of Irish politics will not go away.
9. We've heard it all before
All week we heard plenty about what's wrong with way the institutions of the State operate and we heard some potential solutions, but the truth is that we've heard similar stuff every year at the MacGill summer school.
It is the definition of a talking shop as enlightening and as constructive as it can be.  As management consultant Eddie Molloy, a veteran of the summer school, pointed out on Monday: "A feature of our calamities in Ireland is that we keep doing them."