Image: Adam Peck/PA Archive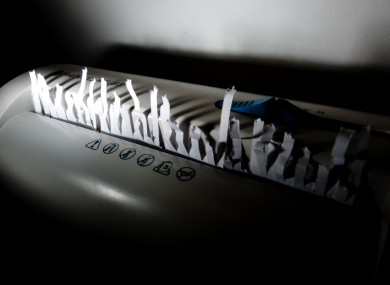 Image: Adam Peck/PA Archive
COUNT STAFF around the country are currently opening and sorting around 1.5 million ballot papers cast by Irish voters in yesterday's referendum, with the early indications seeming to favour a Yes result.
But this morning someone asked us – 'What happens to the ballot papers afterwards?' Good question, we thought, so we checked it out.
It turns out that after the counts have been completed, the votes are bagged up and quickly ferried off by the Defence Forces to an area determined by the national Returning Officer.
Given that the national returning officer in this case – and in pretty much every recent example – is a staff officer at the Department of the Environment, the ballots are therefore stashed in a secure environment in Department HQ at Custom House.
Under the terms of the Referendum Act, 1994 (Section 38(4), to be precise), these ballots are then held under lock and key for a minimum of six months.
This is to satisfy another legal issue, through which the High Court can issue an order allowing individuals to inspect ballot papers – though such orders can only be issued if the Court believes an inspection is needed in order to prosecute an electoral offence.
So unless the High Court has given such an order, or the referendum's Returning Officer believes an order could be on the way, the ballot papers are then 'destroyed', in line with the Referendum Act 1994.
A press officer at the Department of the Environment told us this morning that the services of an industrial shredder are then summoned, with the ballot papers then "pulped".
So now you know.