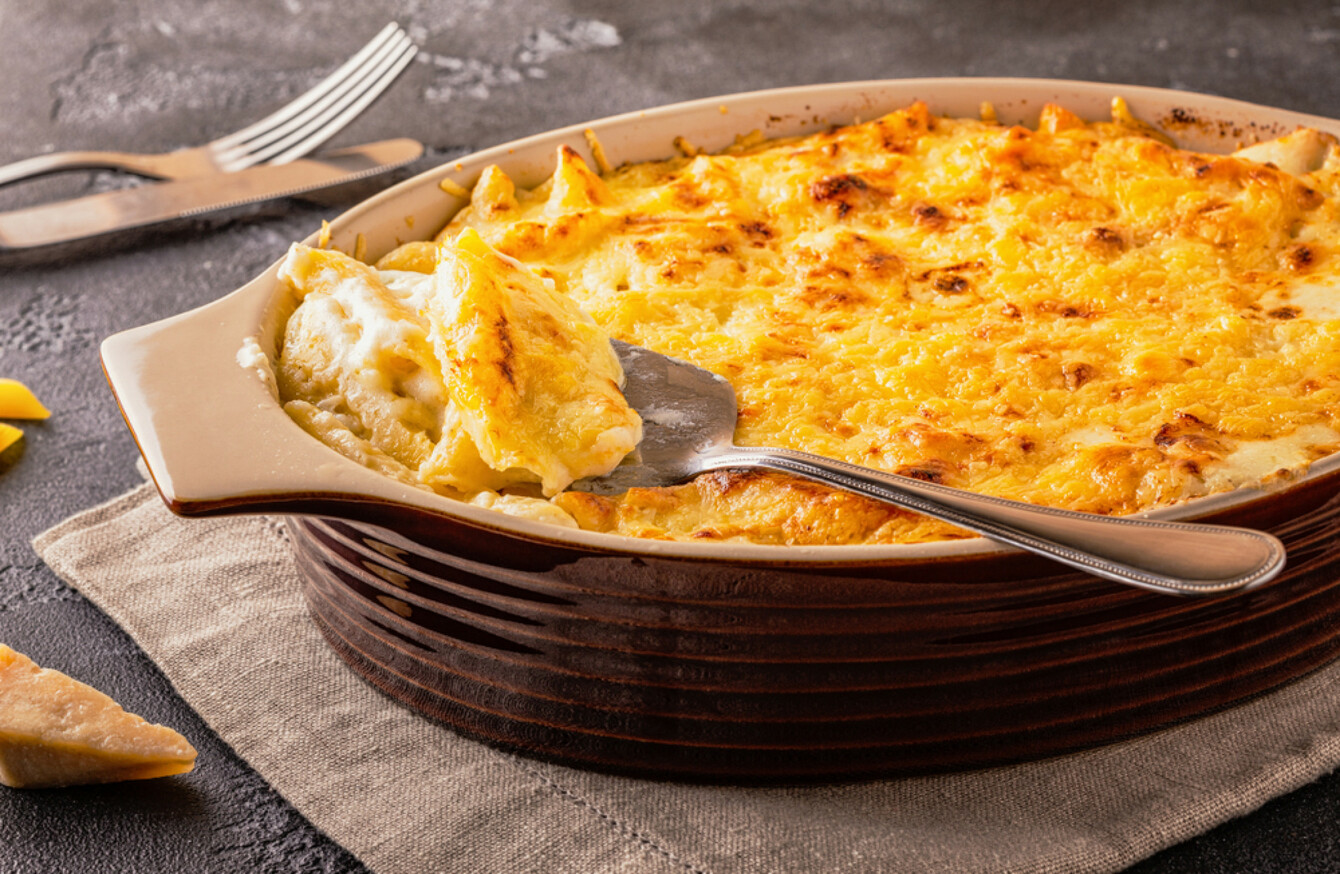 Image: Shutterstock/Tatiana Bralnina
Image: Shutterstock/Tatiana Bralnina
EVEN THE BIGGEST cheese lovers can find themselves overbuying for the Christmas cheeseboard, and having lots left over. After all, there are so many delicious cheeses available at our fingertips that it can be hard to resist buying that extra block of mature blue or creamy camembert.
While we love having some cheese in the fridge to nibble on, there's lots of creative ways give those odds and ends a new purpose. If you do find yourself with leftover cheese, our selection of recipes below will give it a new lease of life!
Mac and cheese: Is there anything nicer on a cold evening than creamy, straight-from-the-oven mac 'n' cheese? Start off by preparing your macaroni according to pack instructions, then drain and set aside. In a saucepan, melt some butter and gently fry garlic until soft. Add 2 spoonfuls of flour and mix until combined with the butter and garlic, then pour in a pint of milk, and stir in a teaspoon of mustard.
Make sure to keep whisking so that the sauce doesn't go lumpy then, once thickened, grate in whatever cheese you have, and once melted add in the pasta. Tip everything into a baking dish, top with some more grated cheese (and breadcrumbs if you have any) and bake for 15 minutes. Serve with crusty garlic bread!
Cheese fondue: This is a perfect recipe for any get together and a delightful way to use up an assortment of leftover cheese! In a fondue pot (or heavy bottomed pan), whisk together a spoonful of cornflour, a clove of crushed garlic and 2 glasses of wine, and cook over a medium heat until smooth and combined. Add in whatever cheese you have leftover (to make up 500g) and continue to whisk until melted and thick. Serve as it is or transfer to a serving dish, and serve alongside some bread, raw veggies and baby baked potatoes. Delicious!
Four cheese pizza: Cheese and bread is a truly magical combination so what better way to use up the remnants of a leftover cheeseboard than with a four cheese pizza?! Begin by brushing a ready made pizza base (or make your own if you have the time) with some garlic infused olive oil or a spoonful of pesto.
Then it's a matter of simply arranging the cheese. Try to opt for a combination of textures if you can, creamy mozzarella is always a good place to start and blue, parmesan and brie also make great toppings. Bake until the pizza crust is golden and top with some dried chilli flakes.
Sundried tomato and cheese tart: Lay out some ready rolled puff pastry onto a baking sheet and, using a knife, score the pastry into rectangles. Prick the pastry with a fork and scatter over some leftover cheese (goats cheese or brie work really well here – or a combination), chopped sundried tomatoes, pepper, and a drizzle of olive oil. Bake in a hot oven for about 20 minutes until the pastry is golden, then top with some rocket that has been dressed in balsamic vinegar. Serve straight away while the cheese is still melting.
Cheesy broccoli and cauliflower bake: A delicious vegetable bake that is perfect for a side or main dish. In a large saucepan, parboil the cauliflower and broccoli for 5 minutes until al dente, then drain and place in an oven proof dish.
In the same pan, make a roux by whisking equal amounts of butter and flour, then whisk in one pint of milk and stir until the sauce is smooth. Add in a mixture of grated cheese and stir, then pour over the broccoli and cauliflower, and top with some more grated cheese and breadcrumbs. Bake in a hot oven for about 20 minutes until the sauce is bubbling and serve.