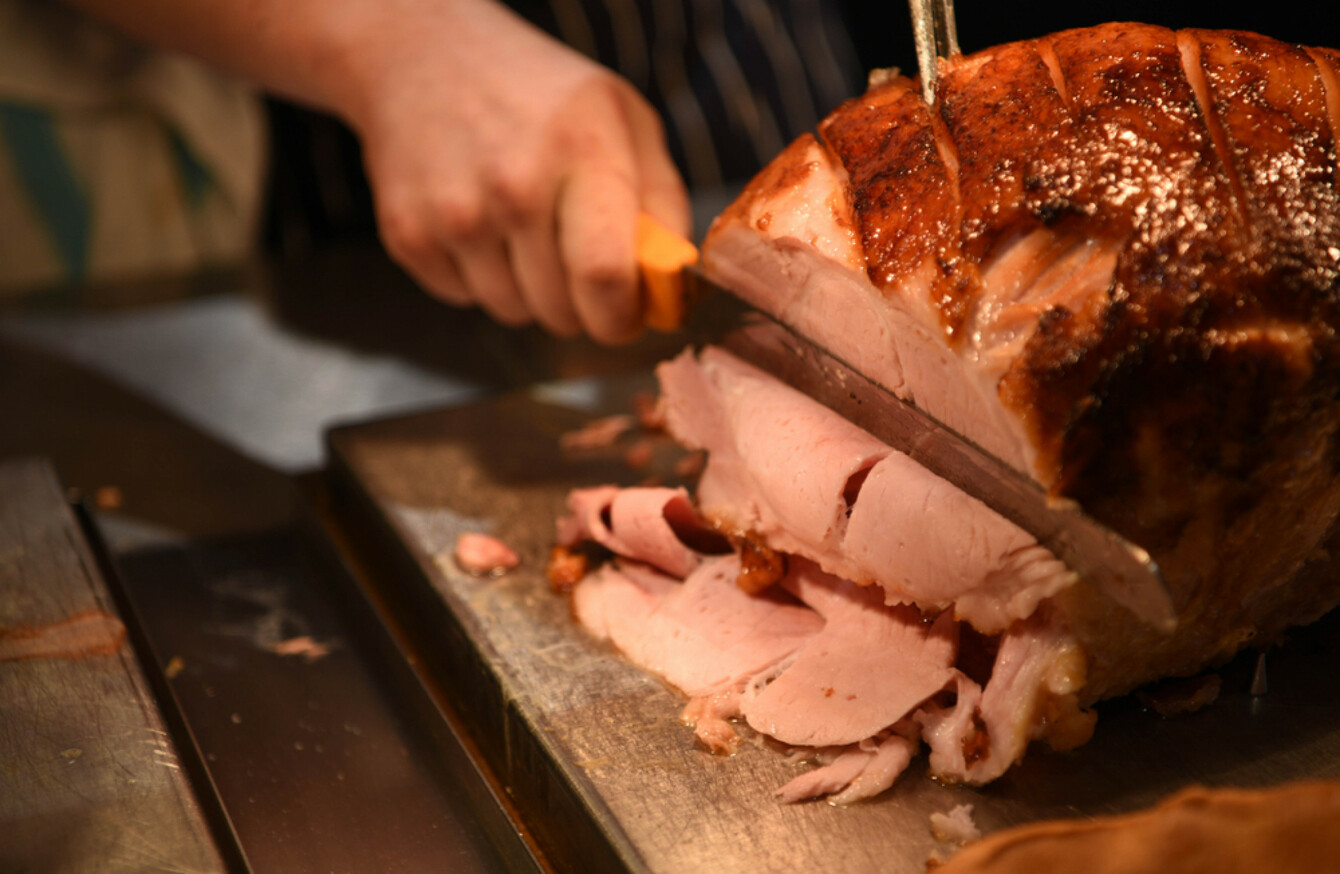 Image: Shutterstock/Emma Adams Photography
Image: Shutterstock/Emma Adams Photography
WE'VE ALL BEEN in that position where we have a mountain of ham left over after Christmas dinner, and the thoughts of three days of ham curry and sandwiches just isn't filling us with joy.
While we look forward to nothing more than a freshly cooked ham sambo with all the trimmings, we've gotten a little more creative with some delicious recipe suggestions that will shed a whole new light on your leftovers.
From curry to pasta bakes, leftover ham lends itself to a huge array of tasty recipes. When it comes to storing leftover cooked ham, Safefood recommends covering the meat and storing it in the fridge within two hours of cooking – and that once refrigerated, it should be used up within three days. 
Festive ham bake: Start by making a roux by mixing butter and flour together in a saucepan. Add in a pint of milk and a heaped spoonful of wholegrain mustard and simmer until the sauce has thickened. Remove from the heat, season and grate in some cheddar cheese followed by chopped ham, whatever leftover veggies you also have and some frozen peas.
Pour into a baking dish and top with breadcrumbs and more cheese. Bake for half an hour until the sauce is bubbling. Served with some mashed potatoes, this is a seriously comforting supper.
Pea and ham soup: Heat butter in a saucepan and gently fry some chopped onion, garlic and cubed potatoes and thyme. Add in a pint of chicken stock and simmer until the potatoes are tender. Add in frozen peas, half of the leftover ham and bring to the boil again.
Remove from the heat and, using a hand blender, process until the mixture is smooth. Shred the remaining ham and add it to the blended soup, returning to the heat for a few minutes until the ham is fully heated. Serve with fresh crusty bread and a dollop of creme fraiche.
Ham frittata: A protein-packed lunch that will keep you full for hours! Heat some oil in an ovenproof frying pan and gently fry some red onion until soft. Add sliced ham, then pour over a few eggs and allow for the eggs to set. Top with some grated cheese and finish under a hot grill. Eat straight away or keep in the fridge for a breakfast on the go the following day.
Ham tortilla bake: While you might not immediately think that ham would lend itself well to a Mexican-inspired supper, once you've tried this your perception will most definitely change!
Grease a round pie dish or cake tin with butter and lay down a tortilla wrap. Top with cooked ham, salsa (or passata), a spoonful of kidney beans and one or two spoonfuls of sour cream. Repeat this process until all of the ingredients are used up, then top with some more salsa and grated cheese. Bake in a hot oven for 30 minutes and serve with jalepenos, rice and some extra sour cream.
Freeze it! So you've REALLY overestimated the size of your ham? If there's absolutely no way you'll get through it (even if it's all you eat for the next two days) it might be worth freezing it for later. There is nothing worse than good food going to waste, so decide early on if you think there's far too much to use up.
Cut up the ham and divide it into portion sizes, wrap it up in a freezer friendly ziplock bag, and pop it into a sealed container in the freezer. When reheating, make sure the ham is piping hot, and ensure it's reheated only once.