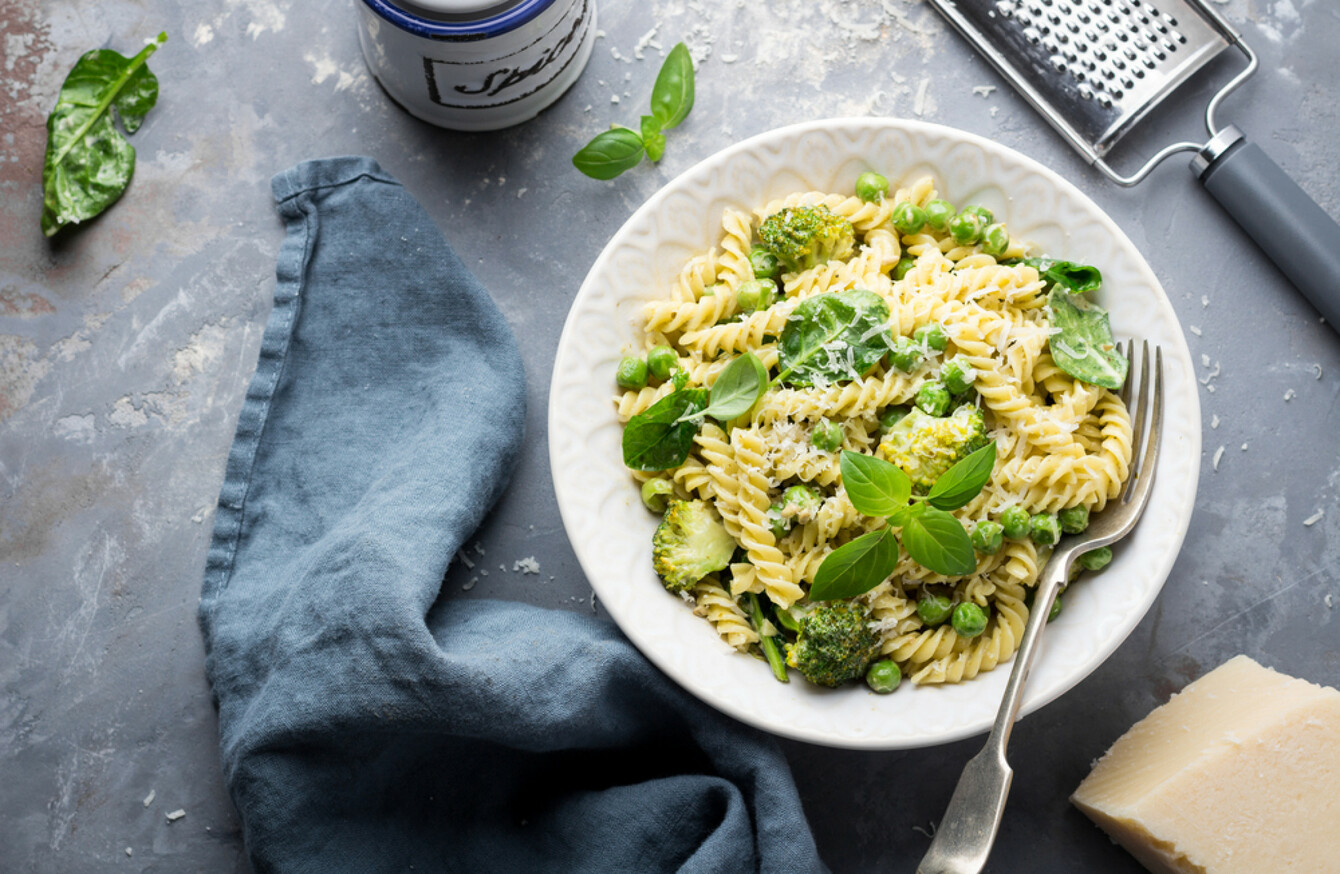 Pea pasta with parmesan.
Image: Shutterstock/Irina Goleva
Pea pasta with parmesan.
Image: Shutterstock/Irina Goleva
PEAS COME INTO season during the summer months, but opt for the frozen variety and you can eat these little gems of goodness whole year through.
As summer veg goes, peas freeze incredibly well, retaining both taste and nutritional profile. They're generally frozen within a few hours of being harvested and picked, and so retain their high levels of fibre and protein. 
If your use of frozen peas to date has involved boiling them up to serve with a Sunday roast, it's time to expand your thinking. Peas can easily hold their own and be used as the main ingredient in any lunch, dinner or even a weekend breakfast.
From soups to pesto, this is a robust and versatile little pulse. Read our favourite ways with peas below…
1. Zesty pea pesto pasta with parmesan
Pea pesto is an easy and delicious alternative to regular pasta, and freezes really well. Cook 200g frozen peas in boiling water for 2 minutes, then drain well and set aside to cool. Add the cooled peas to a food processor along with a bunch of mint, a clove of garlic, lemon juice, a handful of pine nuts and a generous grating of parmesan cheese. Blitz until combined, adding some olive oil to loosen the mixture. Cook pasta of your choice according to pack instructions, then toss the pasta in the pesto mixture. Serve with some more parmesan and a drizzle of olive oil.
2. Pea and mint fritters
Wonderfully quick to make, pea fritters are a great option for lunchboxes, a quick supper or weekend brunch. Add a cup of peas, two eggs, a cup of flour, a teaspoon of baking powder, mint, and seasoning to a food processor and blitz until just combined, then transfer to a bowl. Fold in another cup of peas, and leave the mixture in a fridge until ready to use. Heat some olive oil in a pan, and ladle in spoonfuls of the batter. Fry on each side for about three or four minutes, until golden. Serve topped with a poached egg, or leave in the fridge for lunch or supper the next day. 
3. Pea houmous
Cook the peas by bringing them to a quick boil and removing from the heat, then drain and allow to cool. Once cooled, add to a food processor along with garlic, the juice of half a lemon, half a tin of cannellini beans, a splash of olive oil, tahini and salt and pepper. Blitz, then add in a spoonful of water, or more if required, and blitz again. Serve with pitta breads, raw carrot sticks, or tortilla chips for a healthy and delicious snack.
4. Creamy pea soup
Heat some olive oil in a pan and gently fry chopped onion, potatoes and garlic for about ten minutes. Add in some chicken or vegetable stock and simmer for a further ten minutes until the potatoes are cooked through. Add in frozen peas, fresh mint and fresh parsley and bring to a boil, then remove from the heat immediately. Blend with a hand blender, then stir through a few spoonfuls of cream (or coconut milk for a non dairy version), and serve.
5. Pea, bacon and goat's cheese salad
Cook peas according to pack instructions, then plunge into cold water to cool. Drain, stir in a squeeze of lemon juice, and set aside while you prep the rest of the ingredients. Fry some bacon lardons in a pan and set aside. Chop up some red onion, cucumber, cherry tomatoes and add to the peas, along with some rocket and the cooked bacon. To make the dressing stir together greek yogurt, mayonnaise, white wine vinegar and chopped mint. Stir the dressing through the pea mixture and serve.