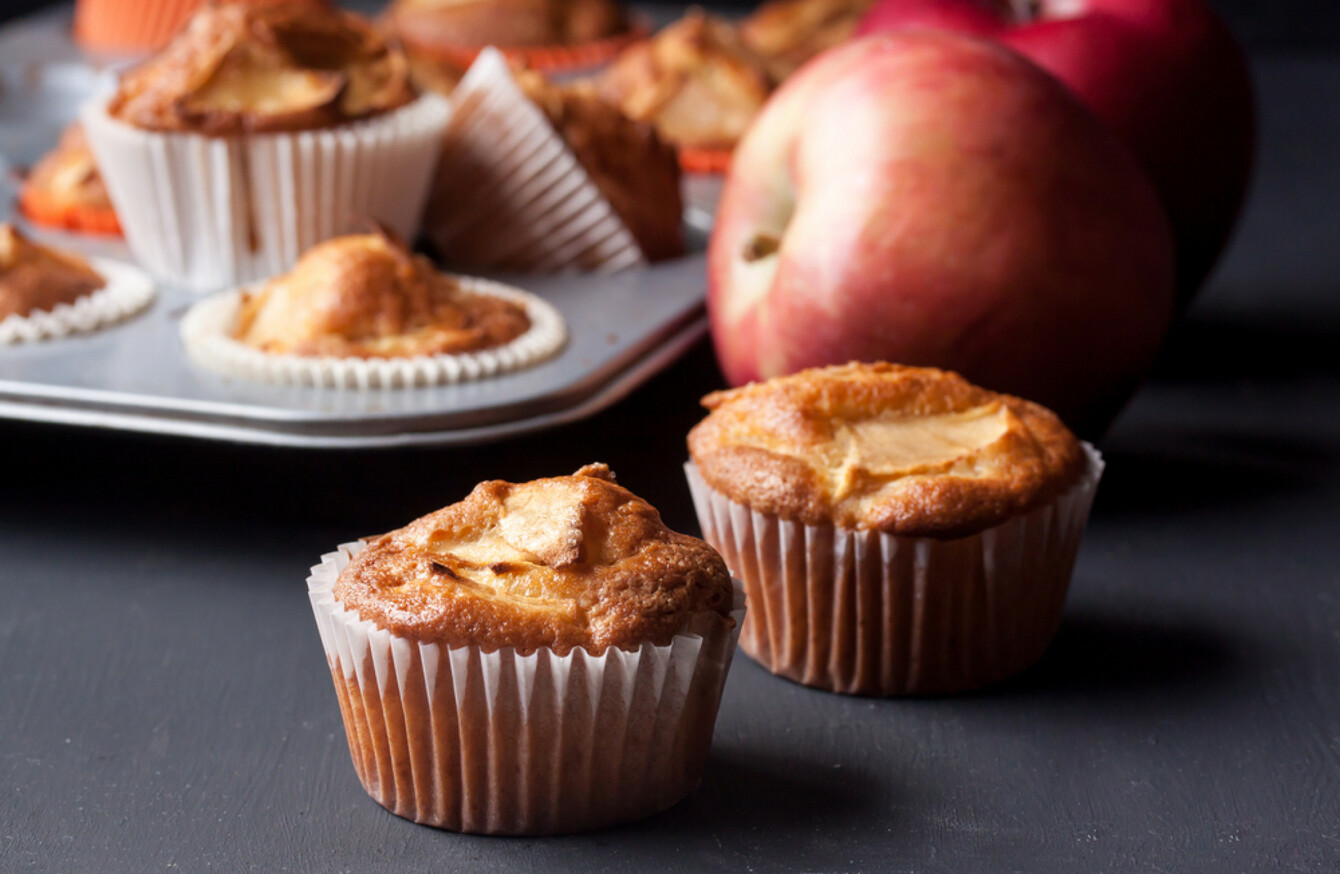 Image: Shutterstock/bernashafo
Image: Shutterstock/bernashafo
AUTUMN IS DESCENDING upon us, and with this comes apple season. As well as being at their seasonal best, they're much cheaper in the shops. When it comes to storing apples, although it might be tempting to add them to the fruit bowl, they last much longer when stored in the fridge.
If you find yourself with some leftover apples that are losing their crunch and might be a bit blemished, don't bin them. There's lots of sweet and savoury ways to use them up and make then the star of the show at your table! Below are just a few of our favourites.
Apple breakfast muffins: Fruity and filling, these apple breakfast muffins are great for a grab and go breakfast or mid-morning snack. They also make for a good sweet treat for kids and freeze very well.
In a big bowl, sift 300g wholegrain flour with 1 tsp cinnamon, a pinch of salt and 2 tsp baking powder. Mix in 2 beaten eggs, 220ml milk, 3 grated apples, 4 tbsp honey, and 100g melted unsalted butter. Fold the mixture until everything is well combined, making sure not to over mix. Divide into muffin cases in a muffin tin and bake for 25 minutes until a skewer comes out clean.
Sausage and apple casserole: This delicious and warming recipe is great for this time of year when (we hate to say it) the evenings are getting shorter and we're craving comfort food! As well as being tasty, this is a very budget friendly recipe, and uses mostly store cupboard ingredients. In a large pot, fry some sausages until brown. Scatter over a thinly sliced onion, cooking until soft and caramelised.
Next, add in 2 apples that have been sliced, along with some rosemary. Stir until the apples start to brown, then add in a heaped tablespoon of wholegrain mustard, a half pint of stock, and simmer on a low heat for 20 minutes, until the sauce has thickened. Serve with homemade mash for a delicious midweek supper!
Apple chutney: Although we hate to mention the C word, your Christmas self will thank you for it – now is the ideal time to make winter chutneys. As well as making great gifts, a jar of chutney is incredibly versatile and makes a great addition to a cheeseboard, sandwich or eaten with cold meat.
Roughly chop the following ingredients and add all of them to a pot; 1 kilo of apples, 3 onions, 250g brown sugar, 230g sultanas, 230g cider vinegar, 1 tsp grated ginger, a pinch of salt and a pinch of mixed spice. Slowly bring to the boil until the sugar has dissolved, then cook on a low heat for a further 90 minutes. Allow to cool, and store in sterilised jars in a cool dark place, where they will happily last up to a year.
Pork chops with apples: This is a really tasty dish and one that can be put together and left to slow cook, so it requires very little attention! Start off by seasoning pork chops and frying until browned, then remove from the pan and set aside. Turn down the heat, add a chopped onion and 3 or 4 apples cut into wedges, and allow to soften.
Add the chops back to the pan along with a glass of apple juice and a heaped spoonful of wholegrain mustard. Cover and place in the oven for 2-3 hours at 120°C. Serve with green beans and baby potatoes.
Apple tarte tatin: This classic French dessert requires only a few ingredients and is guaranteed to impress. Roll out some ready made puff pastry and set aside. Melt 100g of caster sugar in an oven-proof pan, and once golden, add in 75 g butter, a pinch of cinnamon and sliced apples; cook for 10 minutes.
Once the apples have started to soften, top with puff pastry and bake for 25 minutes at 190°C until the pastry is golden and crisp. Serve hot with some vanilla ice cream for a very indulgent sweet treat!