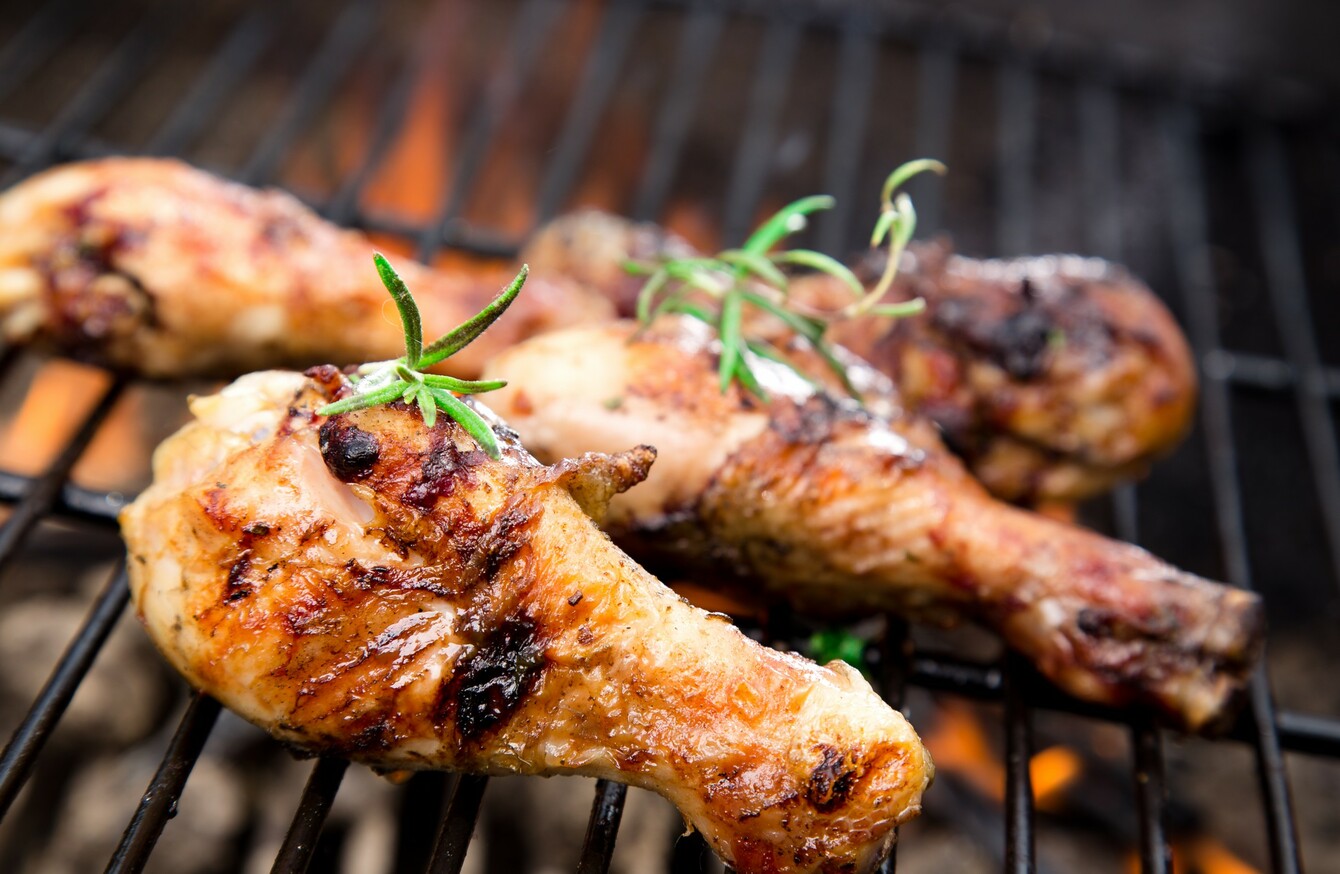 Image: Shutterstock/Lukas Gojda
Image: Shutterstock/Lukas Gojda
THIS THURSDAY July 4, millions of Americans will celebrate the country's 243rd anniversary of independence. The national holiday is celebrated with parades, family gatherings, fireworks, and of course, food, in communities and cities all over the United States.
While we might not be taking things that far, in the spirit of July 4 we're thinking up all things BBQ related so you can have a get together of your own.
There are lots of simple things that can be done to make your usual BBQ that bit more impressive. An overnight marinade can transform chicken, steaks and pork chops, and chargrilled vegetables like peppers, aubergine and courgette also make a delicious addition (these also work out great when marinaded in olive oil, lemon juice and fresh herbs!).
From the staples like homemade burgers to a zingy corn salad, check out our BBQ essentials below.
BBQ chicken drumsticks: For the marinade, mix together tomato ketchup, soy sauce, a squeeze of orange juice, paprika, seasoning and brown sugar in a large bowl. Add the drumsticks to the bowl and toss until they're fully covered in the marinade, then cover with cling film and allow to marinade for at least a few hours or, ideally, overnight.
Cook for 30 minutes on a hot BBQ, turning regularly to ensure the chicken cooks evenly. Always ensure chicken is fully cooked by cutting into the thickest part before serving.
Potato salad: No BBQ is complete without a classic potato salad. Boil some baby potatoes in salted water for about 20 minutes, or until cooked through. Drain thoroughly and allow to cool. This process can be done a day in advance, keeping the potatoes wrapped in tinfoil and stored in the fridge overnight.
To make the dressing, mix together two heaped spoonfuls each of mayonnaise and olive oil, along with seasoning and a teaspoon of wholegrain mustard. Finely chop some spring onions and gherkins, and add these to the dressing.
Slice the cooled potatoes in half and toss in the dressing until fully coated, then top with some more chopped spring onions and chives. Looking for something a little different? Why not try this sundried tomato, butterbean and spinach potato salad by The Honest Project.
Homemade burgers: In a large bowl, mix together minced beef (or lamb), a quarter of an onion (very finely chopped), a spoonful of BBQ sauce or ketchup, seasoning, half an egg, and a cup of breadcrumbs.
Mix well together, then use your hands to shape into patties. Set aside in the fridge until you're ready to cook, then BBQ for about 5 minutes on each side, until well cooked and the juices run clear. Serve in a bun with all of the trimmings!
Charred corn salad: While charred corn adds a great flavour to this salad, you could also use frozen or tinned corn if you're short on time. Grill a few corn on the cob on the BBQ over a very high heat, until they're just about charred (you don't want to burn them).
Slice to remove the kernels from the stalk, and add them to a bowl. Chop a red onion, and add this to the bowl along with some roughly chopped tomato and diced avocado. Stir through a dash of olive oil, the juice of half a lime, sea salt and a pinch of cayenne pepper.
For some extra fresh flavour, we love the addition of nectarine in this recipe by Madeleine Shaw. Serve straight away, topped with fresh coriander. Add some crumbled goats cheese on top if you're looking to make this extra impressive!
Homemade lemonade: No BBQ is complete without a refreshing, homemade jug of lemonade. One of the best things about making your own is that you can control the sweetness level, so it can be as tangy or sweet as you like.
First wash six lemons in warm water, then zest and cut in half. Place the zest in a large heatproof jug, then pour over 1.5 litres of boiling water, and 2 heaped tablespoons of sugar. Stir until the sugar has dissolved, then squeeze in the juice of the lemons.
Test the sweetness, adding more sugar is desired, then set aside to cool for a few hours. Once cooled, strain to remove any sugar particles or pips, and chill until ready to serve. Serve on lots of ice, with some fresh mint leaves.