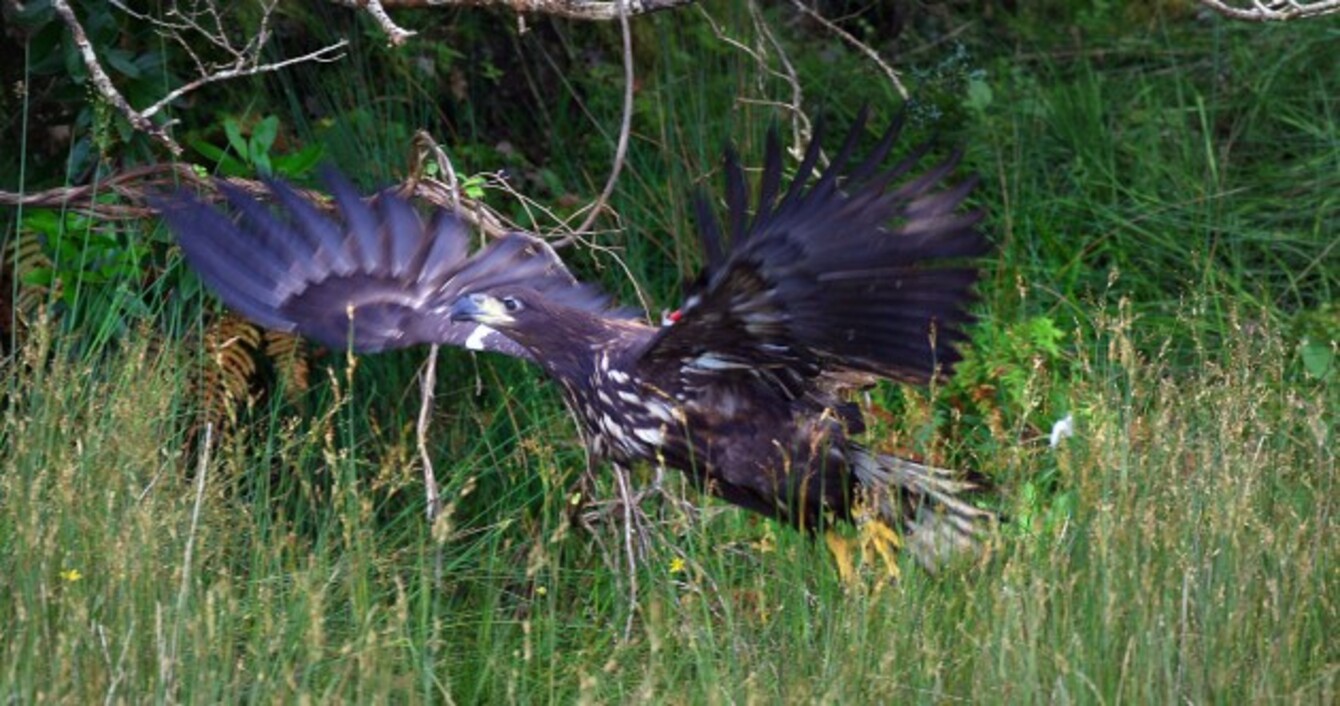 A white-tailed eagle juvenile.
Image: Valerie O'Sullivan
A white-tailed eagle juvenile.
Image: Valerie O'Sullivan
WHITE-TAILED EAGLE chicks have fledged from nests in three counties this year.
A total of six chicks at five nests fledged in Kerry, Cork and Galway making 2016 the most successful year to date for the reintroduction of this once extinct eagle.
Eight pairs nested and laid eggs this year, with five of them rearing chicks. To date 13 white-tailed eagle chicks have fledged from nests in the wild in Ireland since the first successful nesting on Lough Derg near Mountshannon, Co Clare, in 2013.
The reintroduction programme began in 2007 with the release of 100 Norwegian eagles in Killarney National Park in Kerry.
"We are thrilled that the pair of white-tailed sea eagles in Glengarriff has finally managed to fledge a chick. It's been a long wait, not just for Co Cork, but the pair themselves" said local National Parks and Wildlife Service conservation ranger, Clare Heardman.
This is third time lucky as they very sadly lost a young chick in 2014 and then an almost fully grown chick last year after it swallowed some crow feathers. Things didn't go smoothly this year either as their chick grew slowly and took much longer to leave the nest than would be expected. However, he's been flying around the bay for six weeks now and looking strong. His parents are still feeding him, but before the year is out he'll become independent and leave the area.
"The local community, especially the harbours' ferrymen, have taken this young eagle to heart, so they'll be sad to see him go. However, we look forward to hearing reports of him from around the country as he goes on his travels and eventually finds a mate and his own territory to settle in," she said.
It is hoped that in the near future, the first Irish-bred white-tailed eagles will start to pair up and nest, achieving a milestone for the project.
However, chicks produced by the original Norwegian birds released in Killarney are likely to form the core of the new population for many years to come.