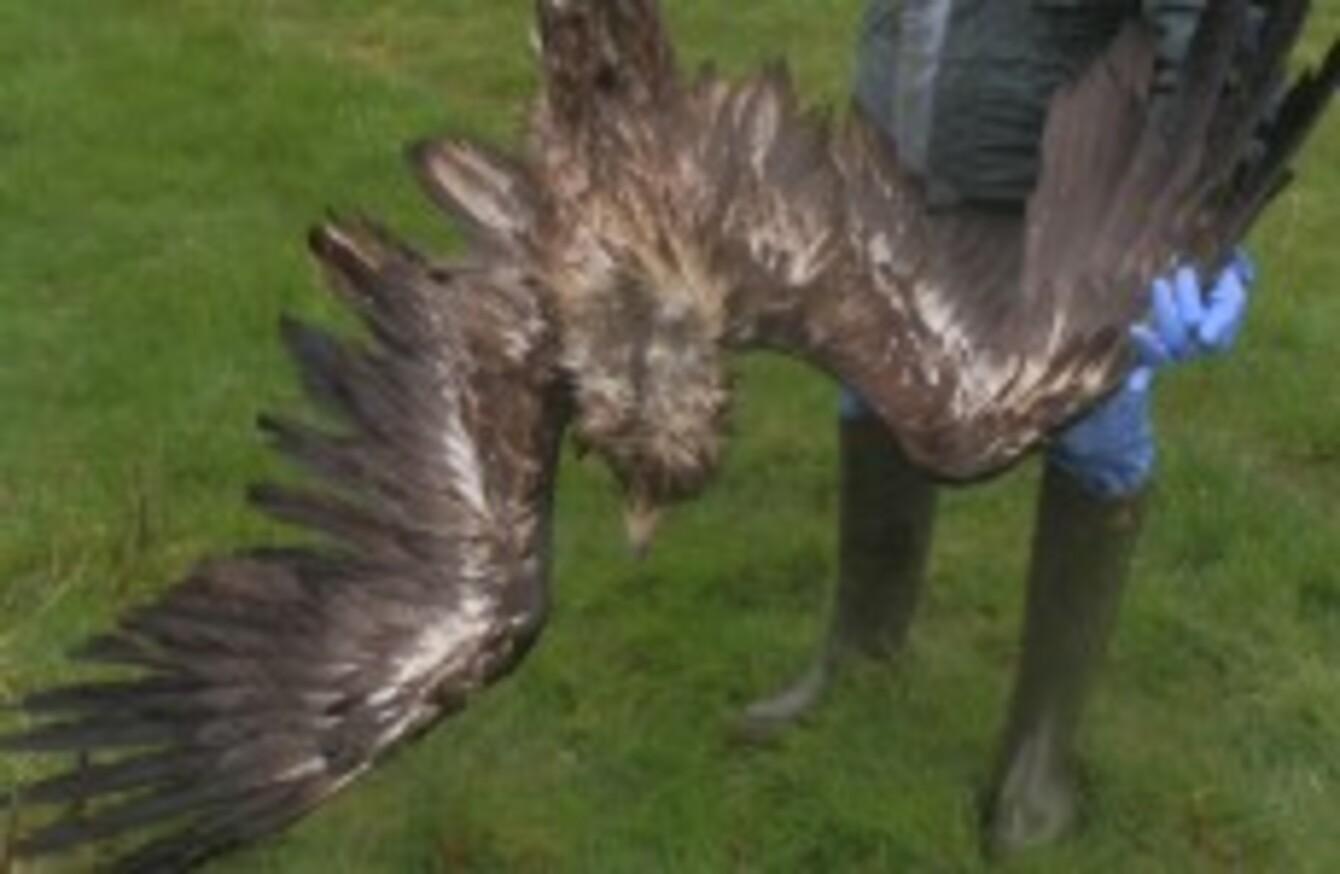 Image: Department of Arts, Heritage, and the Gaeltacht
Image: Department of Arts, Heritage, and the Gaeltacht
Updated 10.20pm
ONE OF THE first white-tailed eagles to be successfully bred in Ireland has been found dead after being shot.
Gardaí and the National Parks and Wildlife Service (NPWS) are both conducting an investigation into the shooting.
A post mortem confirmed that the bird had been shot, and suffered a broken leg and wing, but not die immediately.
"This bird would have been unable to fish and forage as normal, and it appears that it slowly starved to death as a result," Stefan Jones, a District Conservation Officer with the NPWS, said.
He said it was the surprising that the bird had managed to survive for any length of time, having been found with 50 shotgun pellets in it.

The bird's x-ray, with shotgun pellets visible. (Image Credit: Department of Arts, Heritage, and the Gaeltacht)
The male white-tailed eagle had been part of a breeding programme in Clare, and was one of two reared by eagles on Lough Derg.
It had flown from the nest in July last year.
The bird's remains were found in a field in Tipperary, with the last reporting sighting of the two young eagles being near Dromineer, on the eastern shore of Lough Derg, in January.
Dr. Allan Mee, Reintroduction Project Manager, said he was shocked that this could happen just seven months after the animal left the nest.

Project Manager Allan Mee holding the eagle's body. (Image Credit: Department of Arts, Heritage, and the Gaeltacht)
"This bird and its sibling were the hope for the future of the species in Ireland", he said.
"I feel gutted for these people [who had watched the animals progress] as well as the bird."
Let's hope its sibling and the other chicks to fly from nests in Ireland in 2014 will see a better fate. Ultimately it is up to ourselves to make this happen by cherishing the wonderful wildlife we do have, including eagles, and their habitats.
Ministers for Arts, Heritage, and the Gaeltacht Jimmy Deenihan said he was "shocked by this crime".
He notes that eagles are a protected species, and is urging anyone with information to contact the relevant authorities.
Anyone with information can contact Nenagh Garda Station on 067-50450.
One of the juvenile white-tailed eagles. (Image Credit: Valerie O'Sullivan)
In 2012, two eagles of the same breed were found dead in Mayo and Donegal, having been released from KIllarney National Park in 2010.
A post mortem revealed that one of the birds had high levels of poison in its system, and had also been shot.
Two others were poisoned in Co Cork last year, one of them fatally.
Originally published 4.52pm