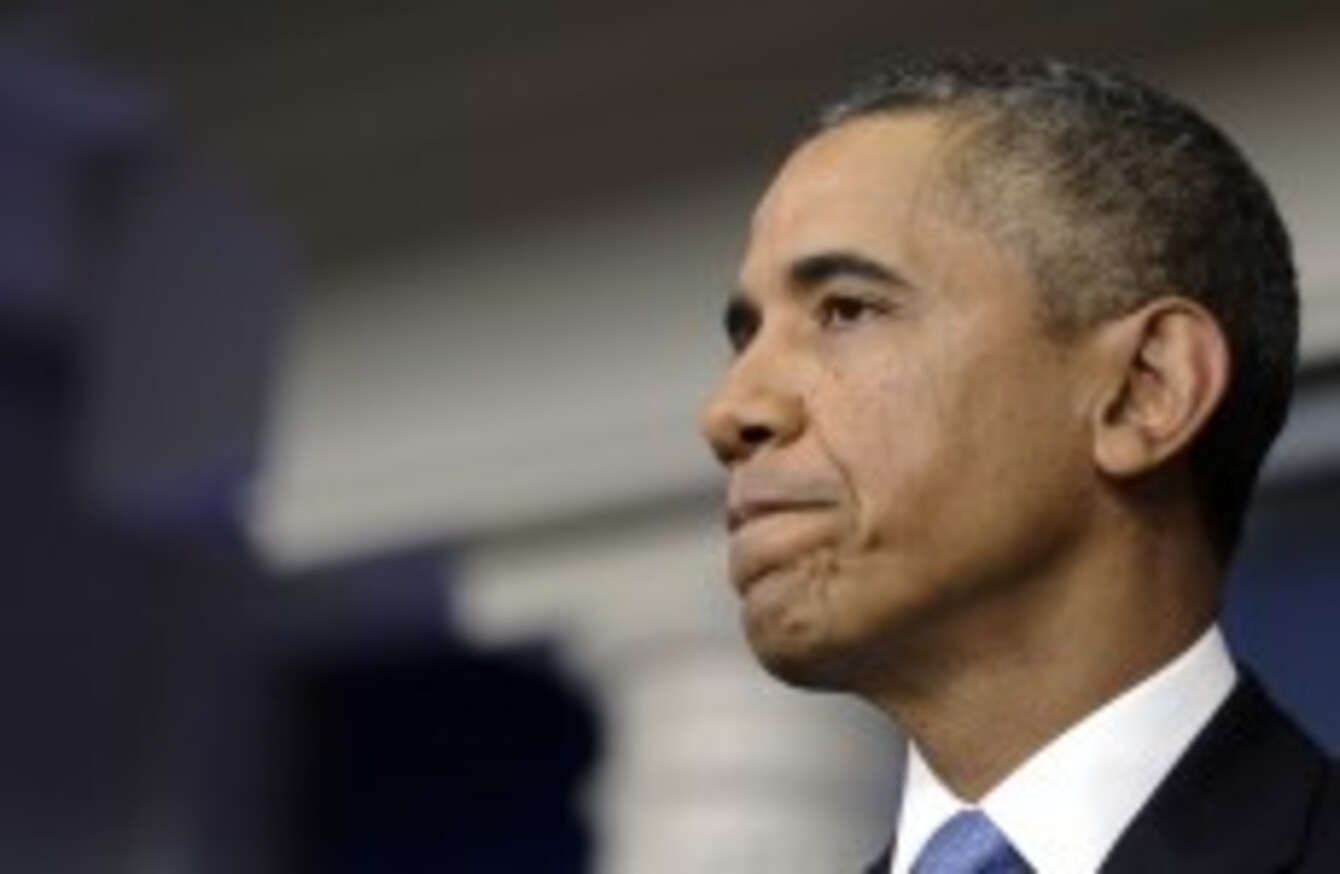 Image: Susan Walsh/AP/Press Association Images
Image: Susan Walsh/AP/Press Association Images
IN THE EARLY hours of this morning, the United States government shutdown for the first time in 17 years.
It means hundreds of thousands of workers are furloughed – placed on temporary unpaid leave – while nearly a million more are to work without pay.
How did this happen, what does it mean and what's going to happen next? TheJournal.ie breaks it down…
What's happened?
The US Congress – the House of Representatives and the Senate – has failed to agree on a budget for the federal government by the 1 October deadline. Because of this there is effectively no money allocated to pay people who work for government departments and agencies.
Therefore around 700,000 federal workers – people who work for government departments and agencies – have been sent home without pay for the day. In the US they call this a furlough. But it's anything but furry.
In addition around a million people have to work without pay, which is pretty rubbish. Speaking of rubbish the shutdown means that trash (as they call it over there) may not be collected and could pile up in some parts of the States.
What else is affected?
All sorts of other things close down including the Smithsonian museums, national parks, passport offices, zoos (though the animals still get fed) and lots of other things. The White House operates with a skeletal staff.
This New York Times graphic gives a good breakdown of who has to work and who does. Actuaries stay at home but if you're an air traffic controller you've got to go to work.
The US Capitol's Twitter account is also impacted:
How did this happen?
As we said, the US Congress couldn't agree a budget to fund the government for the next year. This has been a long-time coming and the government nearly shutdown in April 2011. In recent years the government has been funded by what's known as 'continuing resolutions'.
This time however Republicans in the House of Representatives – which they control – tied the passage of the budget to Barack Obama's controversial healthcare reform, large chunks of which come into effect today.
What's the deal with that?
'Obamacare' proposes to widen coverage for uninsured Americans and mandates them to buy health insurance (there is no public health service in the States like the HSE or the NHS in the UK) but Republicans and others believe it is too costly, will hit employers hard, and impinges on civil liberties.
Republicans in the House wanted to tie government funding to a one-year delay of Obamacare but when they passed a bill on this late last night it was immediately 'killed' in the Senate – which Democrats control – which stripped out the healthcare provisions and passed their own budget bill.
With the two houses deadlocked the government had to shutdown. "The House has voted to keep the government open but we also want basic fairness for all Americans under Obamacare," said the defacto leader of Republicans, House speaker John Boehner.
Meanwhile, Barack Obama said:
Are all Republicans anti-Obamacare?
Most are pretty hostile towards the bill but the key here is that Republicans have a large Tea Party wing which is fundamentally opposed to what Obamacare does.
The Tea Party is a political movement which sprung up amidst the financial crisis. It advocates reductions in the national debt, spending  and taxes. There are various extreme elements within the movement. Some want to shutdown the Department of Education, others are more moderate.
The point is that some Tea Party Republicans in Congress – like Ted Cruz – hold huge sway over they way in which the Republicans vote. House Democrat Leader Nancy Pelosi was in no doubt as to how much sway the movements holds, saying: "It's the Tea Party shutdown of government."
What is the wider impact of a shutdown?
Estimates put the cost to the American economy at some $300 million for every day the government is shutdown.
Goldman Sachs estimates that if it were to remain shutdown for three weeks then gross domestic product – a key economic growth indicator – could be down by nearly 1 per cent in this quarter alone.
But how long is it likely to last?
As long as the two houses of Congress can't agree on a budget the government will remain shutdown.
Has this happened before?
Yes, there have been over a dozen US federal government shutdowns in the last 40 years but all of varying degrees of severity. Some lasted a day, others a few days.
But the longest lasted three weeks in 1995 and 1996 when a Democratic President faced off with a Republican House Speaker – just like today – as Bill Clinton and Newt Gingrich failed to agree on a budget before eventually a compromise was reached:
#Open journalism No news is bad news Support The Journal

Your contributions will help us continue to deliver the stories that are important to you

Support us now
Pic: AP Photo/Greg Gibson, File
How do these things usually get resolved?
Compromise is the key if experience is to go by but public perception and reaction is also important.
A poll out yesterday showed that most people would blame Republicans in the House if the government shut down. This significantly weakens Republicans' hand in any negotiations as the longer the impasse remains the more damaging it is to them.
The last time the government shutdown it ultimately harmed Republicans as Newt Gingrich was ousted in the House and Bill Clinton retained the White House.
Barack Obama's unwillingness to compromise on his landmark healthcare reform, which – as he pointed out – has passed both houses and found to be constitutional by the US Supreme Court, shows how difficult it will be for a compromise to be reached on this occasion.
What's going to happen?
No one can say for sure but in just over two weeks time the US is scheduled to hit its debt ceiling of $16.7 trillion.
The White House i.e. Obama wants to raise the ceiling so as that the government can continue to fund all of what it does.
If that doesn't happen the US defaults on its debt for the first time ever and that's a big deal for its economy and the world's economy – it's that old saying:  'When American sneezes the world catches a cold'.
But Republicans want to tie any raising of the debt ceiling to, yep, you guessed it, defunding and/or delaying 'Obamacare'. A debt default and a government shutdown would be bad, bad, bad.
All that doesn't sound too good?
Yep and with Obama feeling there is no wiggle room on his healthcare reform and Republicans wanting to defund or delay it  there does not appear to be any compromise in sight right now.
But the longer the shutdown goes on the more imperative it becomes that one is reached for the US and the global economy.