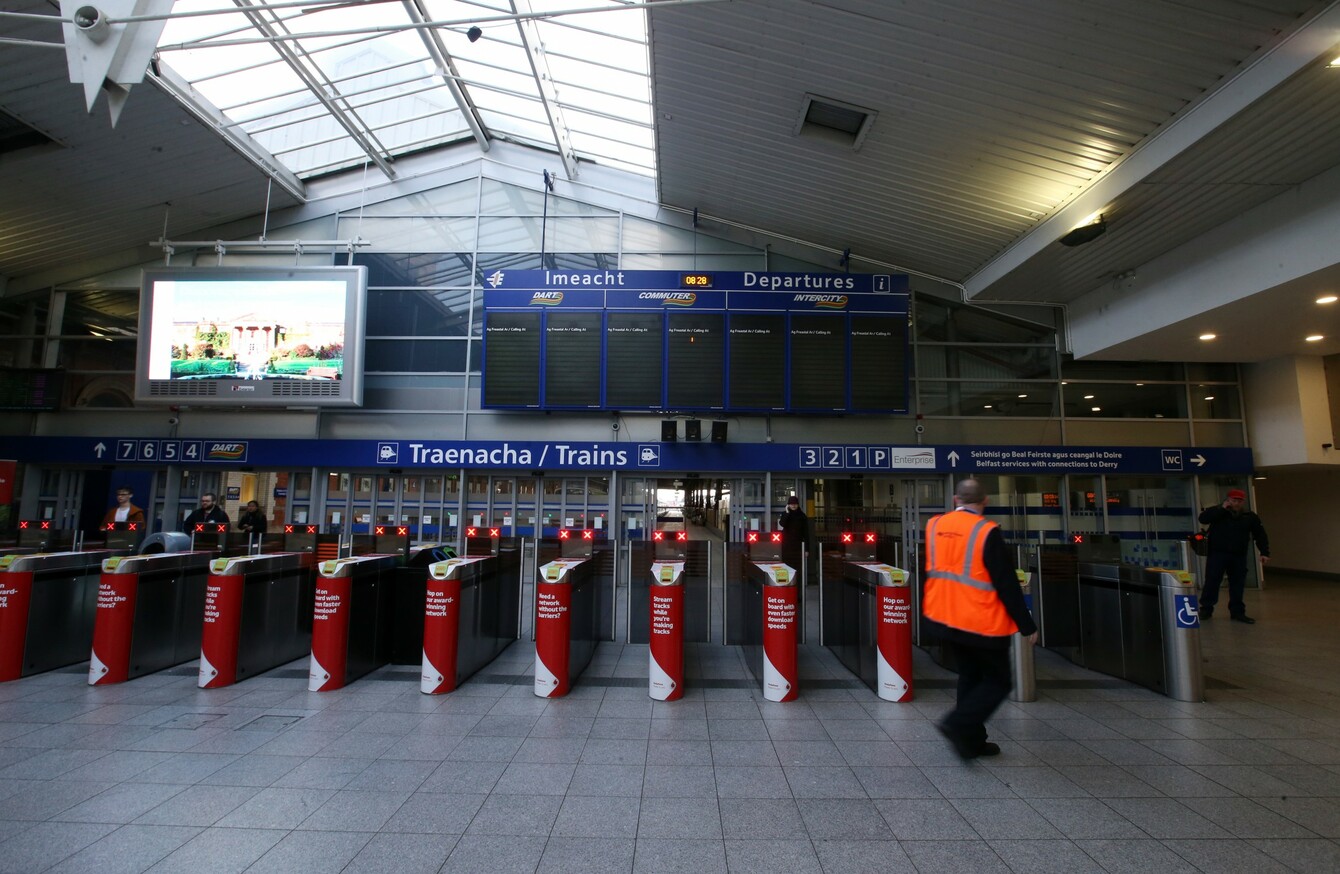 Image: Sam Boal/RollingNews.ie
Image: Sam Boal/RollingNews.ie
Updated 10.18pm 
THIS MORNING'S WILDCAT strike action which shut down many Irish Rail and Dublin Bus services came out of the blue for commuters – but could happen again.
While unions have distanced themselves from the action, saying that it was unsanctioned and unballoted, the strike represented a growing frustration among Bus Éireann staff who feel they are being ignored by the government and company management.
In conversations with multiple sources, TheJournal.ie has learned that the strike was planned on social media and messaging apps over the last week and saw NBRU members take up pickets at Dublin Bus and Irish Rail depots as early as 4am.
One source says that the choice of timing and location means that "there is no doubt this was highly orchestrated".
They point to pickets at Fairview and Bray driver depots, which would have left Dart services crippled as an example of the coordination of the strike.
These depots are the starting points for many drivers, so their unwillingness to cross an NBRU picket would have left most drivers unable to perform their routes.
In the dark
Siptu members involved in the Bus Eireann strike today said that they didn't know the action was planned and stayed on their official pickets at Bus Eireann depots across the country.
Some of the Siptu workers questioned the tactic of the NBRU staff, but few argued with its effectiveness, particularly the strategy of disrupting morning traffic in the capital.
"A few lads left the official picket after a week, affected Dublin city and got more from Shane Ross than we have in a week. That says it all."
Trade union Unite, which represents craft workers in Bus Éireann, stressed that this morning's protest action was down to the 'justifiable anger' felt by workers at the ongoing refusal by Transport Minister Shane Ross to intervene in the dispute, which is now in its eighth day.
NBRU General Secretary Dermot O'Leary told TheJournal.ie that he was unaware of the action:
"I have been clear and categorical that it was an unofficial wildcat action that we would not support. I woke up this morning to a lot of missed calls.
That said, I tried to explain to people that the longer this strike went on, something like this would happen. The people who conducted the action have a responsibility here, but the government and Department of Transport have the same responsibility.
"At the end of the day, we have to get around the table. If the pressure from today can bring that to bear, we'll see."
Getting around a table for talks is ostensibly what both sides want, but what if no talks are forthcoming?
Sources say that another wildcat is likely.
"You would hope it won't come to that," says one.
"But if they pressure dies down and there's no deal? I wouldn't bet against it."
Speaking later on RTÉ's Six One new, O'Leary repeated that he remains in control of the union.
#Open journalism No news is bad news Support The Journal

Your contributions will help us continue to deliver the stories that are important to you

Support us now
"I categorically state that the general secretary, which is me, is very much in charge of my trade union and its destination in this dispute," he said.
There's a difference between controlling policy and how we can resolve this dispute, and controlling people's anger. I can't be sitting on people's laps every time they want to express anger. And again I want to make the point, the Taoiseach was out again today suggesting that the parties should get together to resolve this issue. We've been saying from the start that we want to resolve it.
Earlier
Services are back to normal this evening, having been severely affected in Dublin and around the country.
The action lasted until 10am this morning – after rush hour had ended. The strikes continue as the stand-off between management and workers over pay conditions and proposed strategies to save the company from failing rumbles on.
Transport Minister Shane Ross called the action "entirely unjustifiable".
"It's just not on," he added. "Ordinary bus workers did not want this to happen. The general public did not want this to happen."
When asked what he would do beyond calling for picketers to desist today's action and calling on all parties to come together to solve the dispute at Bus Éireann, Ross said he wouldn't intervene himself.
- With reporting by Rónán Duffy