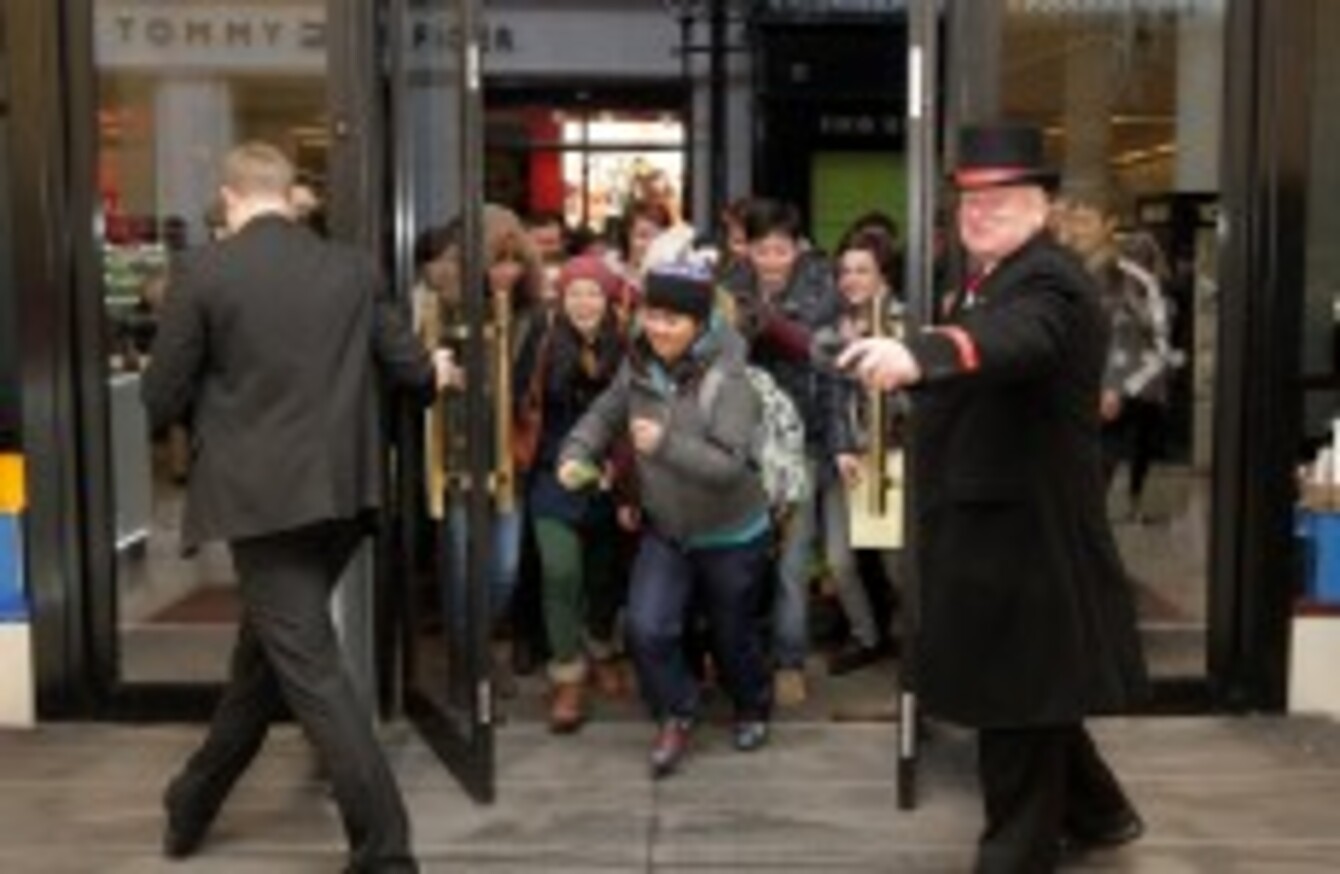 Brown Thomas, Dublin on 26 December 2012
Image: Photocall Ireland
Brown Thomas, Dublin on 26 December 2012
Image: Photocall Ireland
RETAILERS AROUND THE country are getting ready for a busy day, as shoppers flock to cities and shopping centres seeking post-Christmas bargains.
Pretty much all of the major department stores are opening their doors this morning; many smaller fashion retailers, boutiques and other outlets will be joining them, as businesses bid to keep pace with their competitors and, of course, the 24-hour international marketplace of the internet.
According to David Fitzsimons of representative body Retail Excellence Ireland: "Pre-Christmas sales were down this year — particularly in the ladies' fashion sector. After six years of recession it seems that quite a cautious mindset has set in amongst consumers."
That drop-off in sales in the week before Christmas — most likely influenced by some pretty dreadful weather — will be good news, however, for anyone seeking a bargain in the next few weeks.
"There'll be big time discounts — 70 or 80 per cent off, as retailers bid to convert stock into cash."
Fitzsimons says that consumers will see the largest discounts in the areas of fashion footwear and luxury brands in the first few days of the sales: "we'll see huge volumes move in the home improvement and DIY sector too as people look to take advantage of the Government's tax break on renovation and repair work".
An increasing number of retailers have been opening their doors on St Stephen's Day in recent years — a practice once the preserve of only the very largest department stores.
According to Fitzsimons: "Centres in all the main urban areas will be open. It's difficult not to be if your competitors are — the practice really kicked off around three years ago, and considering the amount of business done online around this period, that only increases the demand."
Here's a (by no means exhaustive) list of some of the larger retailers opening hours today:
All Debenhams outlets: Opening at 8am
Clerys Department Store, Dublin: 9am – 7pm
Arnotts, Dublin: 9am-7pm
All Brown Thomas stores: 9am-7pm
Marks & Spencer, Grafton St: 10am – 5pm
Marks & Spencer, Liffey Valley: 10am – 5pm
Marks & Spencer, Dundrum: 10am – 5pm
Marks & Spencer, Patrick St, Cork: 9am – 6pm
Dundrum Town Centre, Dublin: 9am – 6pm
Crescent Shopping Centre, Limerick: 12pm – 6pm
Mahon Point Shopping Centre, Cork: 11am – 7pm