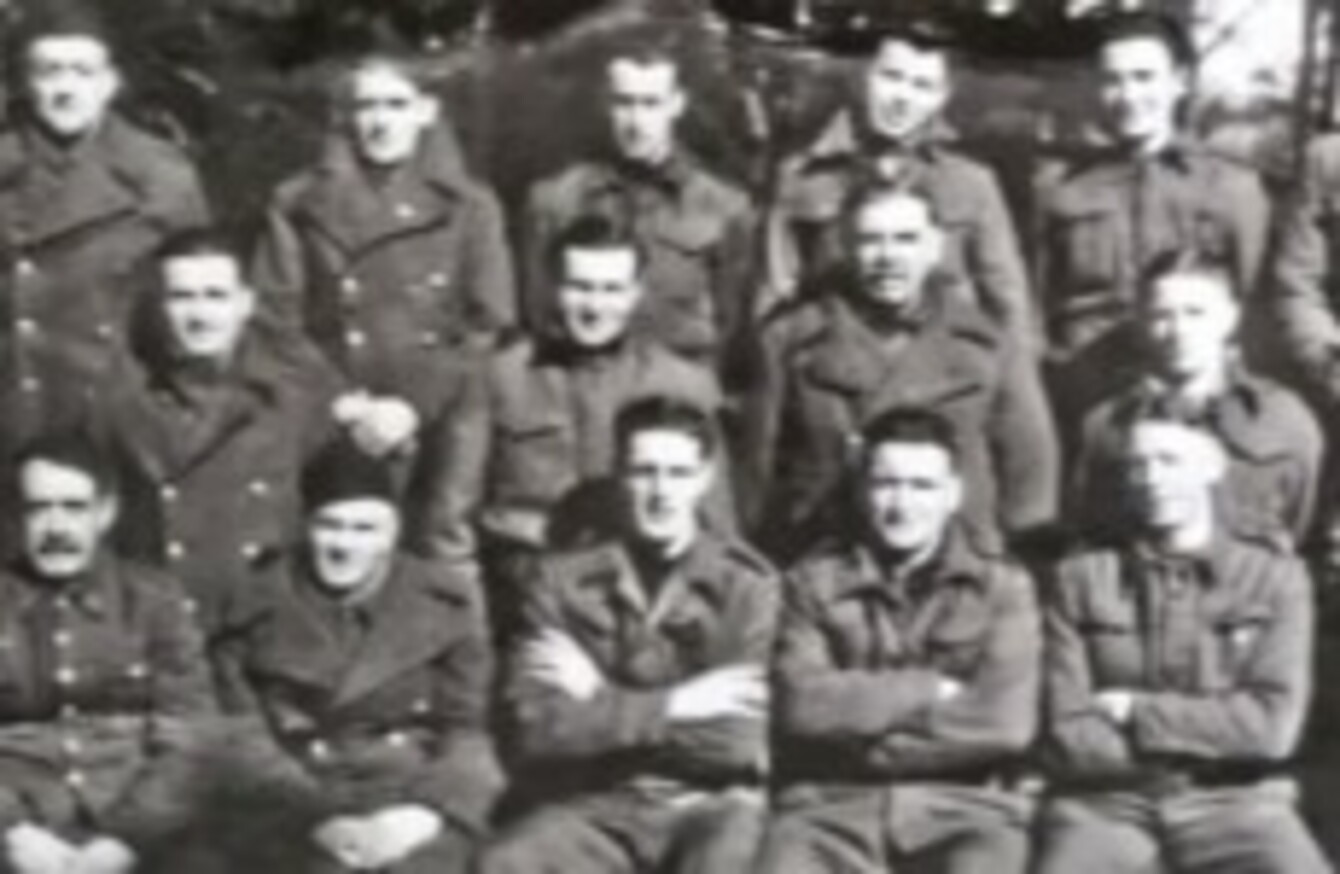 Soldiers who served with the British army.
Image: Screengrab/RTE Witnesses to War
Soldiers who served with the British army.
Image: Screengrab/RTE Witnesses to War
A DOCUMENTARY ABOUT the Irish men who chose to become British soldiers is to air tonight on RTE One.
The programme gives a revealing insight into the Irish men who fought for the British service in World War Two.
British Army
The men speak open and honestly about why they went to war with the British Army, giving first hand accounts about their time on the front line, with some men speaking about how they had to shoot and kill soldiers from the opposing side.
Nearly 60,000 Irish people died between the two World Wars.
Speaking to TheJournal.ie, the editor of Witnesses to War, Donal Byrne said one of the reasons behind making a progamme of this kind was that he had met many of the veterans from World War Two over the years and began to realise that they were becoming fewer and fewer.
"I thought this is really the last chance to capture the stories from these men," he said.
Byrne added that he travelled all over the country to try and find people to take part in the documentary which he said was not an easy task.
Silence over the years
"It was difficult to find people to take part that were both able and willing to talk about their experiences," he said, adding that it was a strange experience for the men after they returned from war, with many thinking that it was just best to stay quiet.
Many men didn't feel comfortable talking about what had happened when they returned to Ireland and many people were just not interested in listening to them.

You have to remember this was a post civil war Ireland and there were still issues surrounding Irish Republicanism and these men had fought on the side of the British.

These men went through some awful experiences and no matter how elderly they are, you could tell that it was still very emotional for them to recount what they had gone through at war.

Some told their stories which I think they had never even spoken about before, to anyone. I think at the time, they just returned home and got on with their lives.
Byrne said that throughout the interviews with the former soldiers he could tell that it was quite distressing reliving some of the stories.
Acceptance
There has long been an unease about  Irish men serving for the British forces, but Byrne said that this is finally changing.
"There is no question that it has become a lot more acceptable to openly talk and discuss the issue. One man interviewed for the programme said the same. He said that ever since the Queen's visit people have been much more open to talk about it, which has to be something to be welcomed," said Byrne.

(YouTube/
RTÉ TV Promotions
)
Witnesses to War airs tonight on RTÉ One at 10.35pm