Fire Chief John McKearney, centre right, tours the Occupy Vancouver site in downtown Vancouver, BC
Image: DARRYL DYCK/The Canadian Press/Press Association Images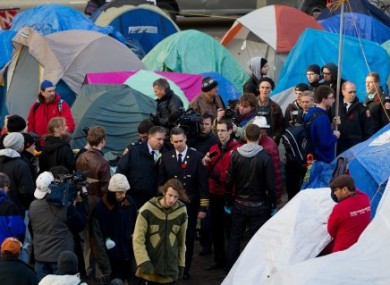 Fire Chief John McKearney, centre right, tours the Occupy Vancouver site in downtown Vancouver, BC
Image: DARRYL DYCK/The Canadian Press/Press Association Images
A WOMAN HAS died at the Occupy Vancouver camp.
Lauren Gill, an organiser at the camp, said the woman apparently died on Saturday afternoon of a drug overdose, and that the death highlights the need for addiction service "because drugs are such a big issue in the city".
Gill, who is running as an independent in this month's city elections, said that as an outreach worker in mental health and addiction services, she has seen far too many overdose deaths.
Police said they could not confirm the report that she had died of an overdose, but that there was no evidence to suggest foul play.
Al-Jazeera reports that protesters held a candle-light vigil for the woman and that there were also grievance counsellors made available to members of the camp.
Mayor Gregor Robertson has said he wants the Occupy protesters to leave the site, but hasn't threatened to force them out or set any deadlines.
Fire Chief John McKearney ordered protesters to remove large tarps and take down tents after emergency personnel had difficulty getting accessing the site Thursday to help another individual who suffered a (non-fatal) drug overdose.
The protesters initially rejected McKearney's concerns about safety, but removed some tarps.
In the video below, captured by bulletproofcourier, members of the camp express their annoyance at members of the press as emergency services take the deceased woman's body from the scene.
The situation turns sour as numerous confrontations occur between police and members of the camp, and protesters and members of the press.
One man says to camera of the woman's death: "This happens every day. The fact that it's focused on here is purely political."

Meanwhile, police arrested 20 people after an Occupy Atlanta protest rally in a city park spilled onto the streets.
Officers converged on the protesters on motorcycles, riding horseback and in riot gear.
Police had ordered protesters to leave Woodruff park, and said that those left behind after the 11pm closing time or blocked nearby roads were arrested.
In Washington, police and Occupy DC protesters are offering conflicting accounts about a weekend incident.
A driver struck three protesters near a demonstration downtown – police say he will not be charged.
A witness said she, her wife and her son were all struck by the car.
In Hawaii, police arrested roughly a half dozen protesters after organisers of  Occupy Honolulu tried to set up an encampment at a local park.
In Oregon, Portland Police Bureau chief Mike Reese has told members of Occupy Portland that they must work more closely with police.
Demonstrators in Cincinnati, Ohio, have been inspired to set up their own policitical party, which they hope to take to congress. Six potential candidates are currently being vetted.
In California, several hundred protesters marched through the Los Angeles financial district, while an Oakland brance of Wells Fargo bank closed after immigration rights protesters crowded the entrance to demand the bank's ties to private companies that run immigrant detention centres.
In Indiana, protesters marched through downtown Indianapolis, while in Idaho fifteen people set up an Occupy camp at the Old Ada Courthouse lawn in Boise.
And in Britain, 200 protesters marched to Parliament on Guy Fawkes Day, the annual commemoration of the English revolutionary who tried to blow up the building in the 17th century.
Two protesters were arrested for suspected criminal damage and unlawful protest, police said.
- Additional reporting by AP