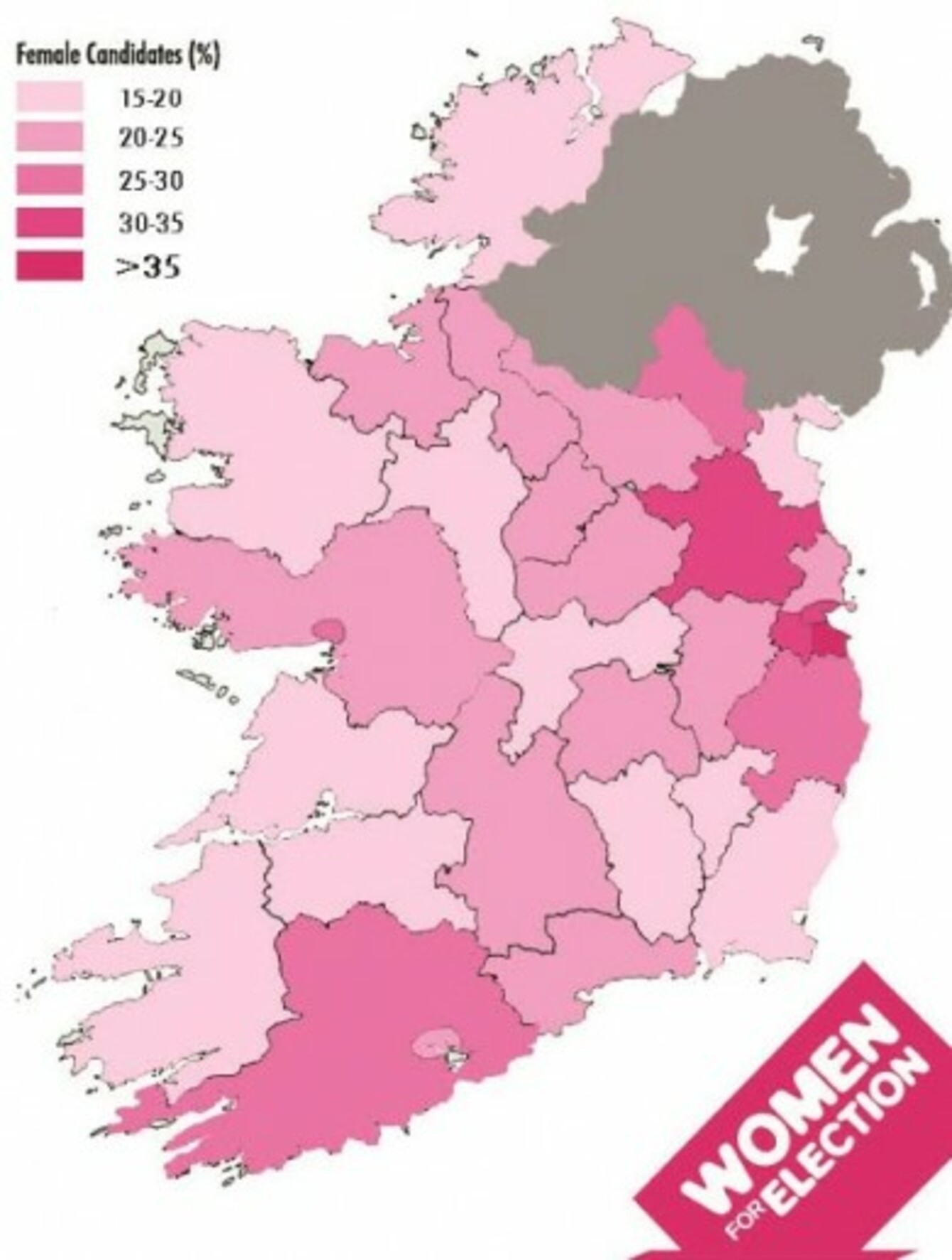 Female candidates across the country.
Image: Women for Election
Female candidates across the country.
Image: Women for Election
IN FEBRUARY WHEN the election campaign was kicking off, we brought you the figures of how many women were were candidates in each party.
Not all selections had been made at the time, but of those selected 22.2 per cent of Fine Gael candidates were women, 17.3 per cent for Fianna Fáil, 31.3 per cent for Labour and 30.1 per cent for Sinn Féin.
Has the political landscape changed in three months?
As of Thursday afternoon, there are 424 women candidates running for election.
It won't close until the weekend, so there could be a few more candidates announcing over the weekend.
The parties with the most women candidates are the left-wing parties, with People Before Profit leading the way with 40 per cent female representation, followed by the Green Party, the Anti Austerity Alliance and Sinn Féin.
This chart highlights the level of women running in all of the constituencies:
The coalition parties, Labour and Fine Gael, stand at 30.2 per cent and 22.6 per cent, respectively.
Fianna Fáil comes in last place with just 16.9 per cent of candidates running in the next election being women.
Taking a closer look at the constituencies, Dublin and Meath with 33 per cent and 31 per cent female candidates respectively are on course to meet election quotas which will come into effect at the next General election.
Dun Laoghaire-Rathdown tops the poll of women candidates, making up 66 per cent of candidates in Blackrock and 52 per cent in Dundrum.
However, there is still a shortfall in women candidates in rural areas, with no women candidates running in Muinebeag, Killaloe, Ballinasloe, Newcastle West, Athlone (Roscommon) and Baltinglass.
Here is the breakdown of the urban/rural divide in Ireland:
This is how the country is looking in terms of female candidates running in May:
Michelle O'Donnell Keating, Co-founder of Women for Election said she was delighted to see that more women are running for political office than ever before.
"This improvement is concentrated in Dublin and the commuter belt areas. These results show that the traditionally larger political parties will have an uphill struggle to meet the mandatory 30 per cent quota when it comes into force at the next General Election," she said.
Feedback from women they have worked with shows that overall there has been a positive reception for women candidates on the doorsteps, said O'Donnell Keating.
She said it was interesting that the newer parties such as People Befor Profit, which have cropped up over the last number of years, seem to be attractive to female candidates.
O'Donnell Keating said their message of a "new type of politics" seems to appeal to women who feel there might be a place for them in these parties, while the older more established parties such as Fine Gael and Fianna Fáil, despite trying to disseminate the message that they want more women in the party, the messages seems to be getting lost.