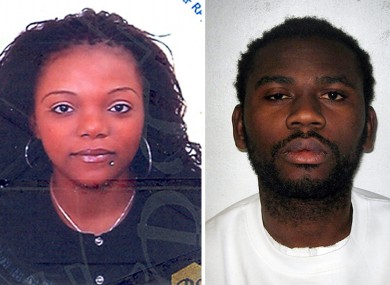 Undated Met Police handout photos of Magalie Bamu (left) and Eric Bikubi.
Image: Metropolitan Police/PA Wire/Press Association Images
A WOMAN AND HER boyfriend who were put on trial in London for the death of her brother have been found guilty of his murder.
Kristy Bamu, 15, had suffered over 100 injuries when he was found dead in the home of Magalie Bamu and her boyfriend Eric Bikubi at Christmas 2010.
He, his two brothers and two other sisters were visiting the couple from Paris and were spending the holidays with them when the teenager died.
The court heard that the couple had accused the teenager and two of his sisters of practising witchcraft, and that the children were threatened, beaten, and had been refused food and water by the couple.
Prosecutors claimed that the teenager was beaten with sticks and a metal bar before he drowned in their bathtub while being doused with cold water. They said that he was too exhausted to save himself. One doctor who treated him at the scene discovered that some of his teeth were broken and one had become lodged in his throat.
Prosecutor Brian Altman told the jury that Bamu, 29, and Bikubi, 28, both originally from Congo but living in Newham, had beaten the teenager as part of a 'deliverance' ceremony because they believed he had cast spells on other family members.
The couple is due to be sentenced on Monday.
In a statement, the family described Kristy Bamu as a "delightful child with a promising future – we will miss him terribly."
"The fact that Kristy died at the hands of those who were expected to look after him and his siblings during their visit to London makes it all the more difficult for us to come to terms with," they said.
"We will never forget Kristy but we will strive to move forward as a family as this is what Kristy would have wanted."
The police officer leading the case, Det Superintendent Terry Sharpe, said that this was "a difficult and distressing case to investigate bearing in mind what Kristy suffered over a period of days leading up to his death".
"The Met has done a great deal of work to understand and deal with belief-based child abuse, including witchcraft and spirit possession," he added. "However, this is a hidden and under-reported crime and therefore difficult to deal with in terms of protecting potential victims from harm."
- Additional reporting by the AP