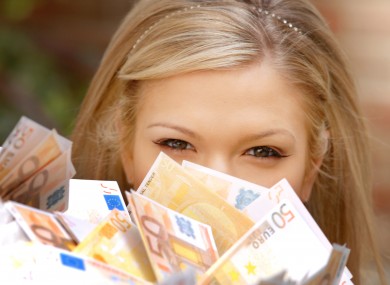 Money! Sarah Kavanagh helps promote a previous Euromillions jackpot. This Friday's jackpot will be the highest ever - a whopping €185,000,000.
Image: Sasko Lazarov/Photocall Ireland
FRIDAY'S EUROMILLIONS DRAW will boast the largest jackpot in the lottery's history – a mammoth €185,000,000 – as there were no winners of last night's draw where €176m was up for grabs.
The jumbo-sized jackpots are a result of the recent expansion of the lottery, which saw the introduction of an extra draw per week and an inflation in the prizes on offer.
If the lottery is won by a single lucky ticket-holder, their prize will dwarf the previous record victory – won by an anonymous Briton who took a €129,818,431 prize last October.
Before that, the record was held by an anonymous 25-year-old Spanish woman who was the sole winner of a €126m jackpot in May 2009.
The previous record jackpot was €183,000,000, won by two French people and one Portuguese in February 2006 when the jackpot rolled over eleven times.
Ireland's largest lottery winner was Limerick mother-of-six Dolores McNamara, who was the sole winner of a €115m jackpot in July 2005.
To take the jackpot, a ticketholder will need to match all five (out of 50) main numbers and both of the Lucky Stars, of which there are 11.
Therefore, the odds of winning the Euromillions are a gargantuan 116,531,800-to-1 – meaning you would have to spend over €233m buying enough tickets to guarantee victory.
Even if the jackpot wasn't shared, the total prize money someone could expect to win would be €211m – making it impossible to guarantee a profit as it sometimes is in the Irish national lottery.
If the jackpot is not won it will remain frozen at its €185m ceiling, with future additions to the jackpot being diverted into a secondary pot which will be made available for victory once the main prize is claimed.