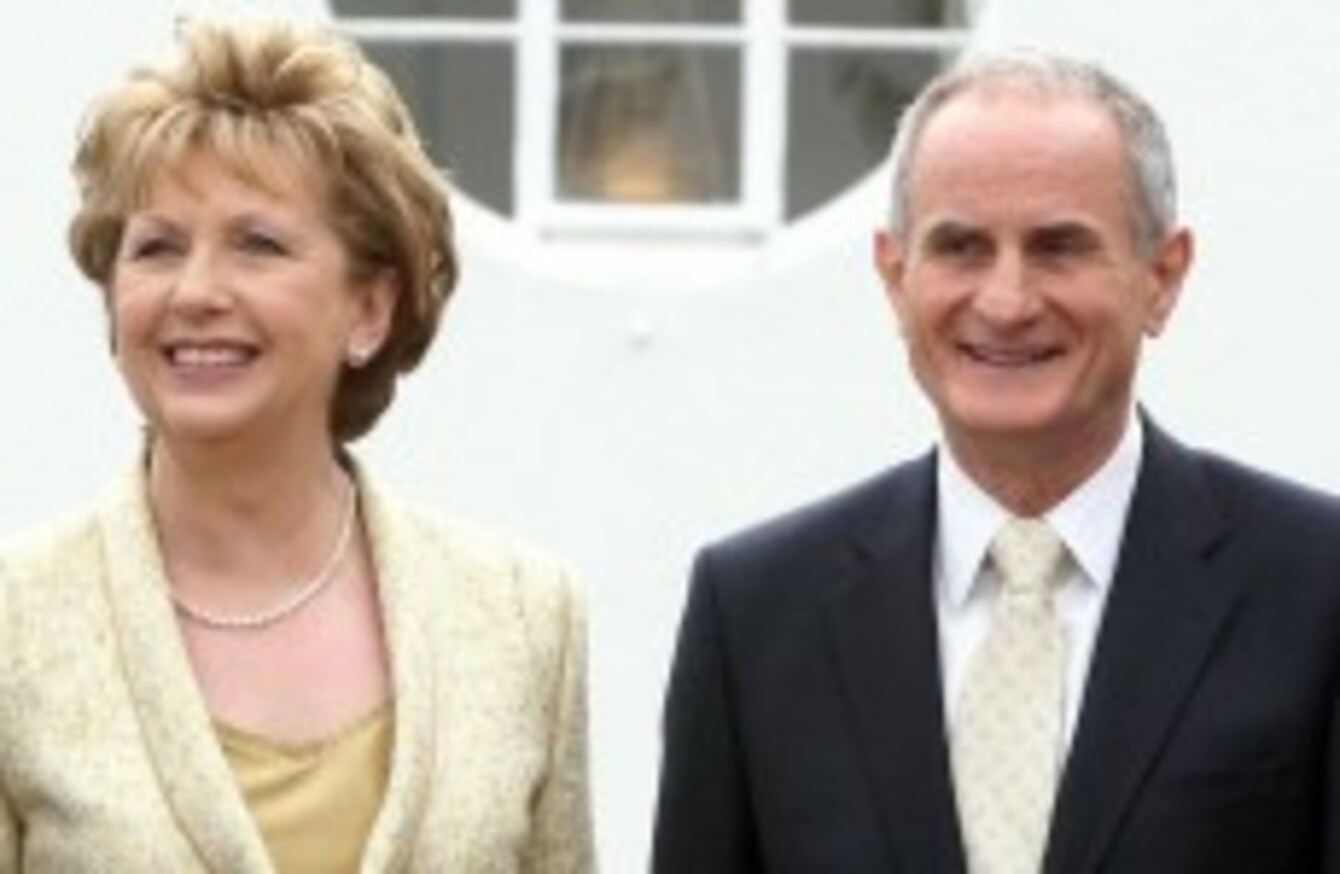 Could Martin McAleese succeed his wife as president of Ireland?
Image: Paul Faith/PA Wire/Press Association Images
Could Martin McAleese succeed his wife as president of Ireland?
Image: Paul Faith/PA Wire/Press Association Images
WITH THE RACE for the Áras hotting up it is reported today that one major political party may not run a candidate whilst Fine Gael may seek to unite behind the current president's husband.
The Sunday Independent reports that Fianna Fáil leader Michéal Martin recently told the party's national executive that he was reluctant to run a party candidate because of the cost it would involve.
Estimating that the cost may amount to half-a-million, Martin is reported to have said that whilst the party was keeping an open mind it had to be realistic about its position in the national political sphere.
Previously Martin has said that the party would take its time before deciding to name a candidate but it could yet decide to back an independent. One person who it won't be choosing is former Taoiseach Bertie Ahern.
Meanwhile, it is reported in today's Irish Mail on Sunday that Fine Gael may opt for a 'compromise candidate' in the form of the current president's husband Martin McAleese.
The paper reports that one of the Taoiseach's nominees to the Seanad would be seen as a candidate that the party could unite behind avoiding a bruising campaign.
Former president of the European Parliament Pat Cox and MEP Mairead McGuinness have already declared their intentions to run as the party's candidate in the Autumn but both are garnering little enthusiasm among the Fine Gael grassroots according to John Lee in the Mail.
However, in the Sunday Business Post, Niamh Connolly writes that the party leadership will back Cox who is expected to apply for membership of Fine Gael shortly.
Previous attempts by TheJournal.ie to contact McAleese to ascertain whether he would consider a presidential run have been unsuccessful.
A TheJournal.ie poll recently found that he was the third most popular candidate to be president but this was well behind independent Senator David Norris whom over 50 per cent of you want to be president.
Norris' popularity does not appear to have been affected by the controversy that has arisen over remarks he made about sexuality in a Magill magazine interview in 2002.
A poll in today's Sunday Independent sees him garnering 39 per cent support, followed by Pat Cox on 20 per cent.
A recent TheJournal.ie poll found that 39 per cent of you thought that whilst the re-emergence of the remarks should not harm his presidential bid it would.
Other candidates in the running include Labour's Michael D Higgins, former adviser Fergus Finlay, and senator Kathleen O'Meara. Other independents in the running are former Special Olympics chief Mary Davis and businessman Sean Gallagher.