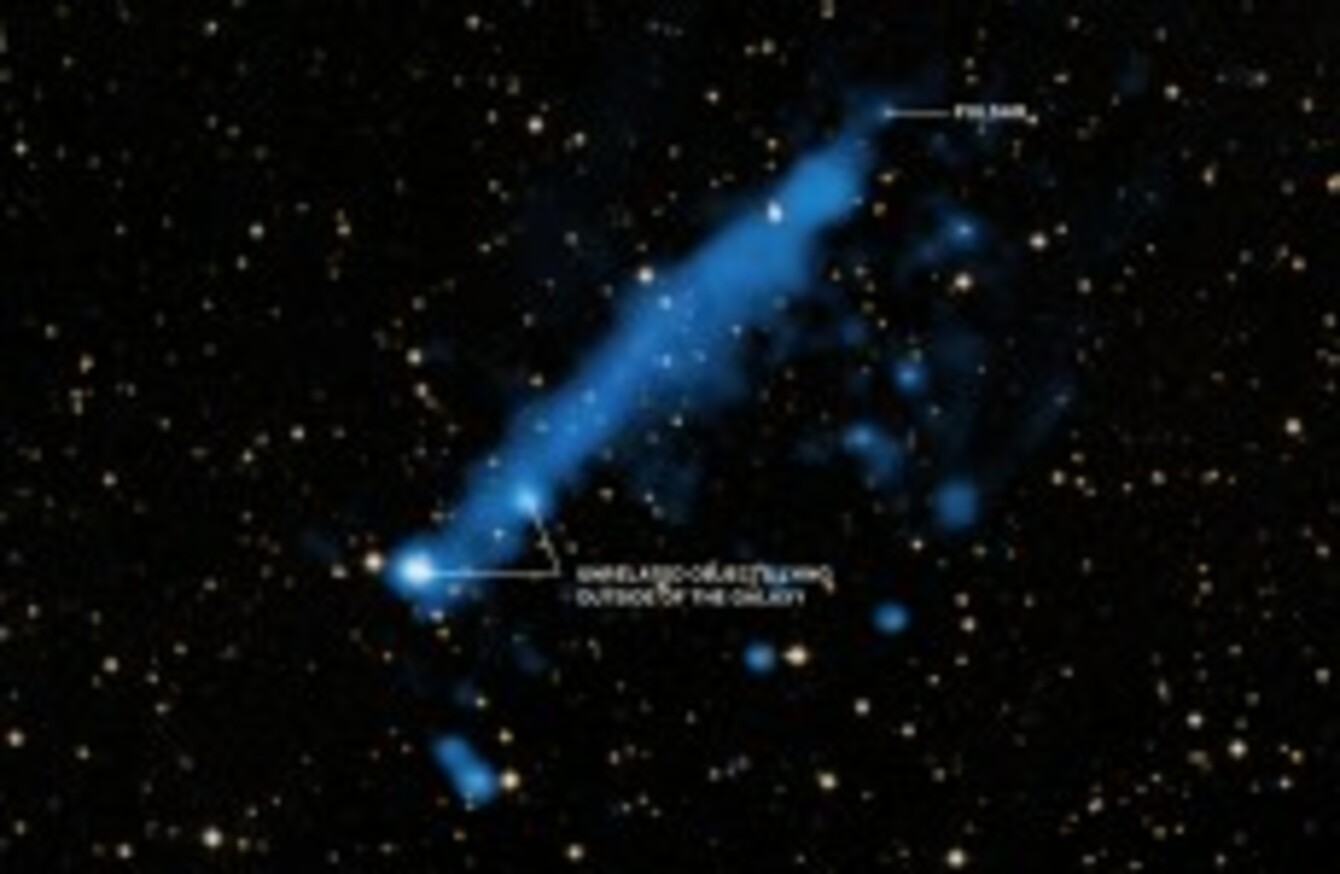 Image: NUI Galway marketing and communications office
Image: NUI Galway marketing and communications office
ASTRONOMERS FROM AN Irish university have made an important breakthrough in the understanding of how pulsars work.
The team, from NUI Galway's Centre for Astronomy, was led by NUIG's Dr Andy Shearer and has published its findings in the Monthly Notices of the Royal Astronomical Society.
The work was undertaken over 10 years.
A pulsar is a rapidly rotating neutron star that emits a beam of electromagnetic radiation. And this radiation can only be seen when the beam of the emission is pointing towards the Earth.
But despite over 40 years of observation and theory, the team says that pulsars "have defied an explanation of how they work".
Its members explain that although pulsars are about one and a half times the mass of the sun, "they are so small they could fit into Galway Bay". This means that they represent extreme matter.
Pulsars are formed during a massive explosion at the end of a star's life known as a Type II supernova. During a supernova, the light from a single star outshines its host galaxy which contains up to a hundred billion stars.
Using its inverse mapping or reverse engineering approach, and comparing optical observations with a detailed model of the structure of the pulsar, the team was able to establish for the first time that most of the light from the pulsar comes from close to the star's surface.
Dr Shearer explained:
We were trying to understand the observations we had made and each time people compared this way to theories. But then we thought, we can do this slightly differently – we can make an assumption where the observation will then lead to theory.
He said the results "exceeded our expectations" and that the light from the pulsar came from exactly the region they expected it to. Now, he said, "we want to see how the community responds."
This is contrary to most pulsar models and points to a new way of analysing observational data from pulsars.
Dr Shearer said:
This is the culmination of 10 years' work. Our success is based upon having some talented post-graduate students and post-doctoral researchers combined with looking at the problem in a different way. The result shows the importance of our approach of combining numerical models run on large supercomputers with detailed observations.
To follow these calculations we will use the SFI funded Galway Astronomical Stokes Polarimeter (GASP) to finally establish the conditions around a pulsar and solve a forty year old problem – how do pulsars work?
And in another development, NUI Galway astronomers, working with colleagues in Italy, the UK and US, have discovered an X-ray bright tail coming from a pulsar.
The discovery was made after they combined optical observations taken with the European Southern Observatory's Very Large Telescope and NASA's Chandra X-Ray observatory. The pulsar, known as PSR J0357, is about half a million years old and is located 1,600 light years from Earth with a tail of over four light years across.
These findings have been recently published in The Astrophysical Journal.
The work at NUI Galway involved observations of the Crab pulsar, which is a result of a supernova explosion that occurred in April 1054.
One of the few reports of this supernova from Europe came from Irish monks, and it was recorded in the Irish Annals.
The Crab Nebula was named by Count William Parsons, 3rd Earl of Rosse, in 1850 when he observed it from Birr.
And in a further twist, if you look at this pulsar in a certain way, it looks like a map of Ireland.
The next stage is to look at the remaining optical pulsars and gamma ray pulsars and see whether the same approach could be be used to explain where the gamma rays come from in pulsars.
"Once we've done that, if we've eliminated all but one of the theories then effectively we can say we understand the way in which pulsars work," said Dr Shearer.