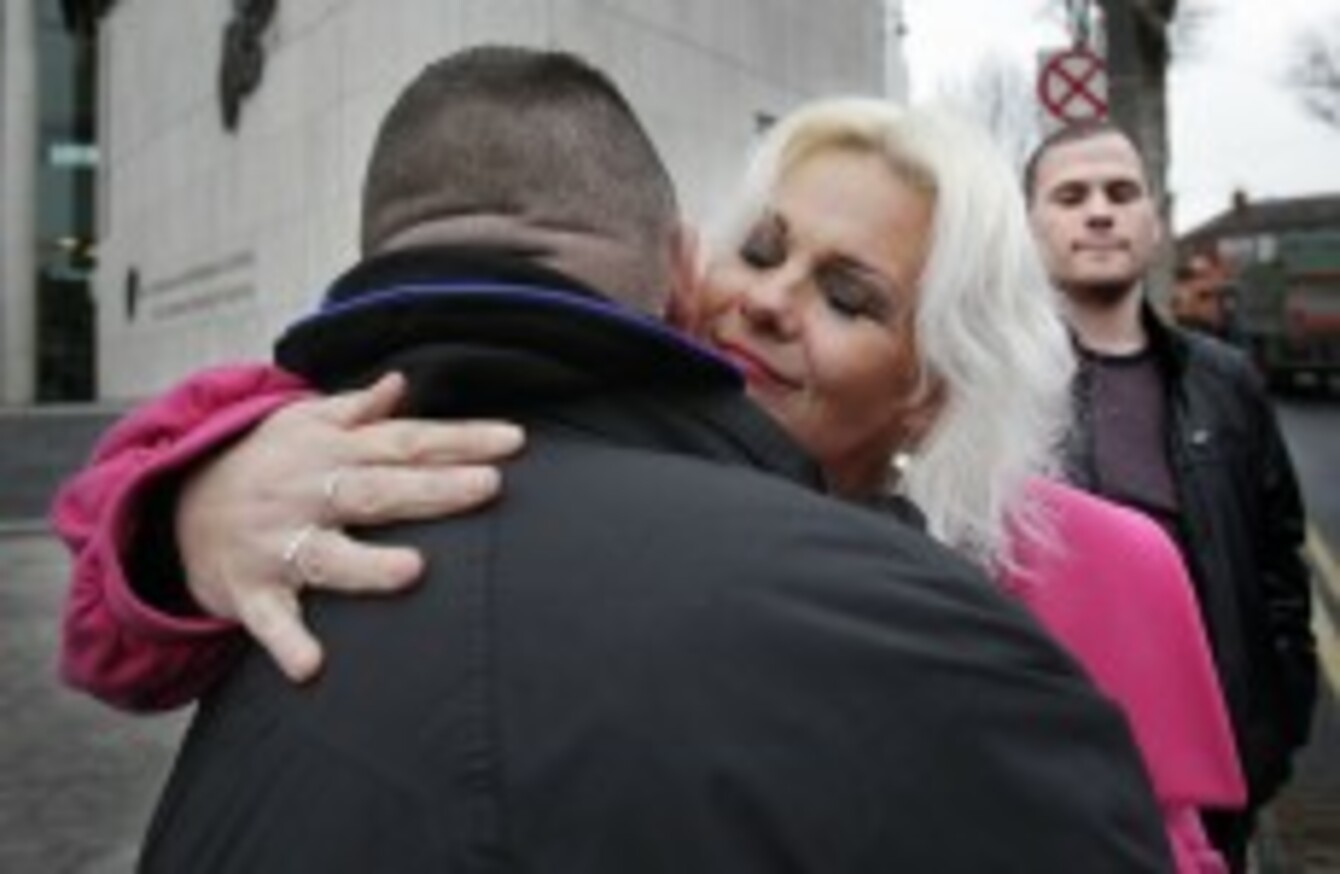 Fiona Doyle leaving the Central Criminal Court in Dublin today embraces her husband Jim (left) and with her son Paddy (right)
Image: Julien Behal/PA Wire/Press Association Images
Fiona Doyle leaving the Central Criminal Court in Dublin today embraces her husband Jim (left) and with her son Paddy (right)
Image: Julien Behal/PA Wire/Press Association Images
MINISTER FOR JUSTICE Alan Shatter has said that he "understands that people were disturbed" by details in the case where a woman's father was sentenced to jail over her rape, but let out on bail.
Fiona Doyle's father Patrick O'Brien was initially let out on bail on Monday after being found guilty on charges of the rape and indecent assault of his daughter over the course of 10 years.  Doyle waived her right to anonymity and spoke out about the fact that though her father was sentenced to 12 years in jail with nine suspended, he was allowed out on bail.
Revoked bail
Bail was revoked in the case today, RTÉ reports, and Mr Justice Paul Carney told the court he accepted the procedure he adopted in sentencing O'Brien was "inappropriate".
Minister Shatter said this morning that he could not comment specifically on this case, but that he understood that there would be appeals from both sides – from the Director of Public Prosecutions with regard to alleged leniency in the sentencing of O'Brien, and from the other side against the sentence.
He commented:
I can understand that people were disturbed by the terrible circumstances of the individual who made the complaint, who gave evidence in court. No child, no woman should be subject to the type of abuse that she was subjected to.
A review of sentencing in Irish courts is currently being carried out, and Minister Shatter said that he expects that work on this will conclude during the course of this year.
"I know there is public concern that there is a degree of inconsistency in sentencing," said Minister Shatter. He added that he is also conscious as a lawyer that it is not possible for the media to report everything that occurs in an individual court case.
He noted that An Taoiseach Enda Kenny has indicated he would like to meet Fiona Doyle, adding: "I think we have we have to wait the outcome of whatever proceedings now take place in the Court of Criminal Appeal and I think I have to be very cautious about how I express my views."
Judge commended

The Rape Crisis Network Ireland said that it welcomed the news that O'Brien will now go to jail to start his sentence.
Caroline Counihan, RCNI Legal Director said:
We commend Judge Carney for recognising and apologising for his earlier decision on bail and in taking swift action to revoke that bail for Patrick O'Brien. We feel this is appropriate given the seriousness of the case. We hope Fiona Doyle feels that she has been heard and taken seriously within the criminal justice system and that this action by the court Judge can go some way to healing the trauma she expressed after the sentence hearing on Monday.
Counihan noted that Judge Carney also spoke about wanting to involve other judges in the decisions he was faced with on Monday. "We hope that judges will use the experience of this case to work with others concerned with the criminal justice system to look at establishing guidelines for sentencing," she said, adding that the RCNI will also continue to support judges in whatever way is appropriate.