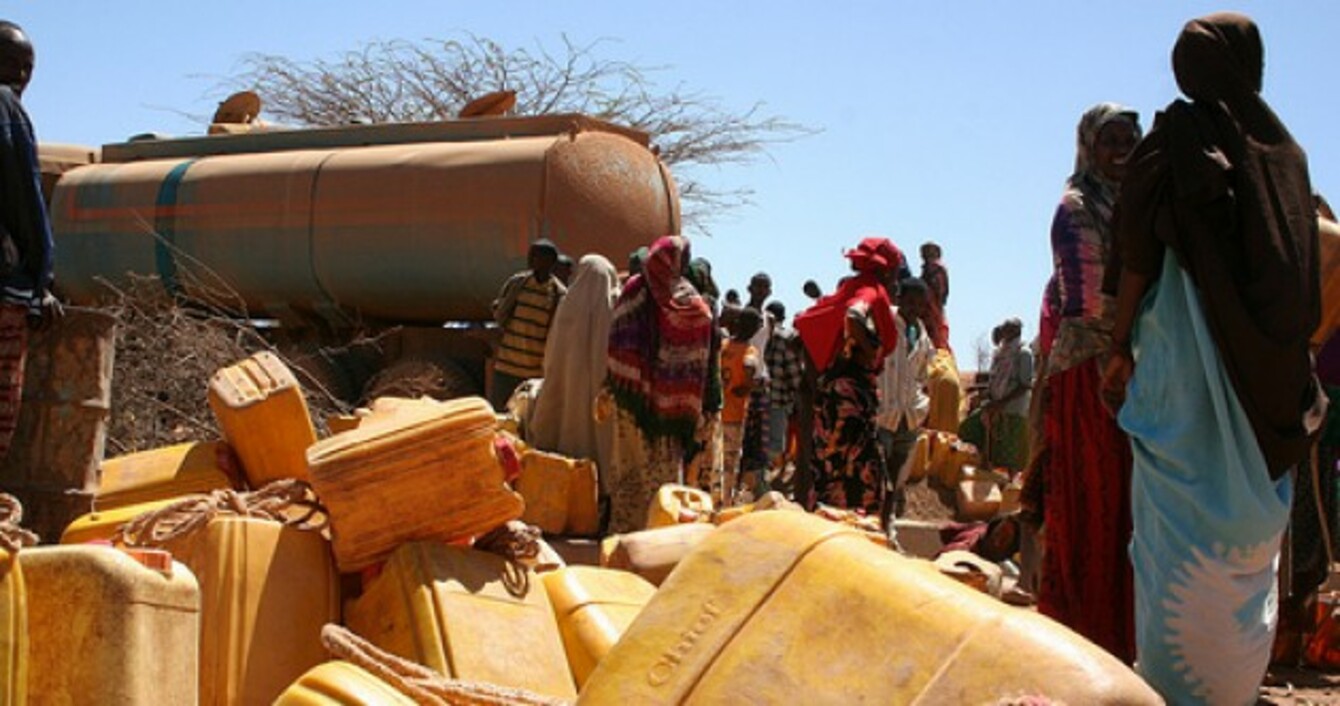 Trucking much-needed drinking water to villagers in Ethiopia
Trucking much-needed drinking water to villagers in Ethiopia
COUNTRIES IN THE Horn of Africa are currently experiencing their worst droughts in six decades. The situation is prompting a humanitarian crisis on a massive scale, with 12 million people facing starvation.
Witnessing the devastation first-hand is Jennifer O'Gorman, originally from Bray, Co Wicklow, who is working for Concern in Somalia. She writes here of the harrowing experience of camp-dwellers in Moghadishu. Oxfam Ireland is also on the ground in east Africa, as their photographic essay from Ethiopia shows.
Jennifer writes:
I arrived in a camp in Mogadishu today and spoke to a number of families who have been displaced by the drought. There are about 2,000 families living in the camp, from different regions in Somalia. The people here showed me the graves of children, small mounds in the soil. Six of these children had died from malaria and it seems there are at least five or six dying every day.
As I was walking through the camp I glanced into a tent where the bodies of five children were lying on the ground. I actually thought they were dead. I went to see if the family needed assistance and the mother spoke to me about what had happened to the family. The children were so weak and tired that they couldn't move. The father is sick and the mother was the only person who could get up. The desperation in their eyes is harrowing; they feel they are without dignity and support. They literally have nothing.
The children are so dehydrated, they can't cry. The family are from the Bay region, around 300km away. They walked most of the way to Mogadishu, occasionally getting a lift on trucks. Along the way they lost one child to hunger.  It took them 28 days to get here, and they have been in Mogadishu for nearly two days.
The family is mother Darfuro, the father Mohamed. The children are six-year-old twins Ali and Amina, and three other children Mohamed (10), Hussein (2) and Isha (7). They are suffering from headaches, fever, diarrhoea, stomach pain, measles and malnutrition. They have had some bad quality food but they are very hungry. They haven't been to hospital or visited any nutrition centre.
I spoke to Darfuro and she told me what had happened to the family:
I am worried we have no food or shelter, in the rain it's wet and too cold in the night. We desperately need food. We left the area because of drought and hunger; we had nothing there so we had to leave. We have problems here and we had problems there, we need your help and the world's help.
This family was pastoralist and depended on their livestock for survival – their animals were their wealth. They owned some cows, but lost them all due to the drought.
Concern's nutrition team are visiting this camp today and they are commencing registering those most in need for nutrition support. The family were given a food ration to last them a month and Concern will also provide the family with shelter, cooking utensils and other essential items.
All around I see people like this, people suffering hunger and mental trauma in equal measure, listless and desperate for help. It's hard not to be affected by these scenes, but I somehow manage to contain myself because I know Concern and just a few other agencies are here now. But the scale of this unfolding catastrophe is enormous and so much more help is needed.
Oxfam Ireland in Ethiopia: