Liveblog
IT'S FIGHT DEBATE NIGHT in America.
Incumbent Barack Obama should be more prepared for the rematch after losing out to challenger Mitt Romney two weeks ago. He should be but will he be?

With just three weeks until polling, tonight's town hall-style debate really is a pivotal moment in the campaign. Are you excited? What's helping you stay awake?
Come join us (please!) and talk to us (pretty please!) in the comments section, on Twitter (@sineadocarroll and @thejournal_ie) or by email sinead@thejournal.ie
We're just 30 minutes out from the start of the debate. Two weeks ago, very few people honestly thought the second debate would matter all that much. Incumbent Barack Obama would have it sewn up by then, surely? Wrong. The latest Gallup poll has revealed that challenger Mitt Romney has reached that key 50 per cent mark among 'likely voters'. Today, most of the analysis is about how the President needs a big performance to stay in the race. The moral? Two weeks is a long time in politics. But so is 90 minutes. Bring it on.
Tonight's debate has a different format to the first of the campaign a fortnight ago. The town hall-style meeting is becoming a favourite across the water as it sees real-life voters asking questions rather than stiff moderators or pumped up reporters. The set-up has been described as a danger-zone for the candidates who have both been accused of not connecting or relating to the ordinary citizens of America. Awkward moments, ahoy!
Although it will be members of the electorate posing the questions, there will still be a moderator tonight. CNN's Candy Crowley has been chosen to referee this one and there is much chat tonight about how far will she go in pushing candidate's for answers. Will she phrase supplementary queries? Will she interrupt when time is out?
Romney and Obama have both arrived at the debate hall at Hofstra University in Hempstead, New York. Romney's 'Body Man'/personal aide @dgjackson has been tweeting images of the family to show how relaxed they are. Last time out it was Jenga, tonight it is 'funny pictures'.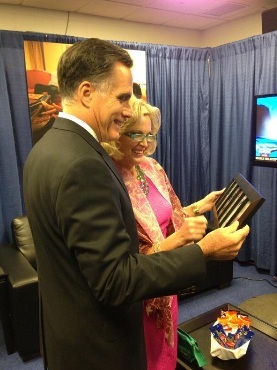 And relaxed he might be. New York Times reporter Michael Barbaro has revealed how Romney has been practising town hall-style debates for the past six months.
Aides to Mr. Romney began organizing frequent, off-the-record discussions with voters six months ago, with a specific goal in mind: making the candidate comfortable talking to ordinary people about their troubles and supplying him with anecdotes to tell during crucial moments of the campaign.

The sessions, typically held before or after public events in far-flung locales, around a small table with light food and beverages, had the advantage of being shielded from reporters, so that any of Mr. Romney's awkward moments or offhand remarks remained private. Aides said he had witnessed — and learned to react to — men and women become emotional about everything from foreclosed homes to their children's academic achievements.
Ten minutes to go and the audience are being asked to refrain from tweeting. That's optimistic. There will also be no cheering, clapping or jeering. That doesn't mean us though. We can clap, jeer and shout as much as we like. Yay!
The wives of both candidates are now being introduced to the crowd. CNN tells us they are both wearing hot pink. This is not a wedding so we don't care. Do we care? Ann Romney's son also told us his mother looked good in pink on Twitter so maybe we should? What do you think?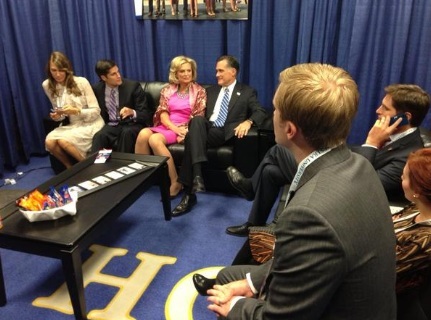 Image: @dgjackson
With just five minutes to go, let's get down to the nitty-gritty. Although foreign policy will be discussed tonight, the debate will likely be dominated by domestic issues and, in particular, the economic struggle of the middle class.
There are a number of issues that DIDN'T come up in the first debate, which will probably crop up today. Topical today is Libya after Hillary Clinton took the heat for the attacks on the US Embassy in Benghazi, stating that she was responsible for consulate security. That's one for Romney.
On the other side, Obama supporters will be expecting him to play a little dirtier, bringing up the 47 per cent, Romney's personal wealth and Bain capital – all weapons that weren't deployed last time around.
First question: how can you reassure me that I will be able to support myself after I graduate?
Romney says he knows how to create jobs. Jobs have been too scarce, he says, but that will change once he gets into the White Office. Tells Jeremy that he will guarantee him a job in 2014 as he presumes he will be president.
Obama brings the question around to manufacturing and the auto industry, as well as energy and the need to develop green energy. Praises Jeremy for investing in his education but adds that he wants more people to go to college. Obama really trying to pack it all in – also mentions ending wars to bring money back into the country for investment.
The moderator focuses the question more on the long-term unemployed who need a job right now. The pair debate the ins-and-outs of the auto industry bailout.
Next question from uncommitted voter Phillip Tricolla: Do you agree that it's not the job of the Energy Department to lower gas prices?
Most important thing we can do is to control our own energy, answers Obama. We have increased oil and gas production to its highest level in decades, he adds.
Obama says the US also has to look to the future and figure out how to produce efficient, clean energy which is environmentally friendly. He says oil imports are at their lowest in 16 years. Compares America to China and Germany, warning that he doesn't want clean energy jobs going there instead of US.
Petr in the comments section is already calling out the candidates for not connecting well with those posing the questions:
Hate the way the call the questioners by their first names like they know them. Comes across very insincere.
Do you agree?
Did he?
The gloves are off as Romney and Obama talk to each other directly about land leases to oil companies. Obama claims US oil, coal and gas production is up but Romney says it is not happening on federal lands. Tells Obama he will have a chance to respond in a minute. Obama sits down.
"If the President's policy is working, you will see the price of energy come down," continues Romney.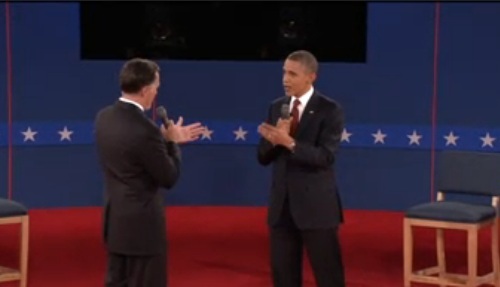 Romney bosses the moderator once again and gets his spoke in even though Candy Crowley said he wasn't due the time. Says he will pursue an aggressive policy on energy which will create jobs. Obama sits back, says he is "used to being interrupted".
Romney says middle-income earners will pay less taxes if he is elected to the White House as they need relief after the last four years. Where will the money then come from? The top 5 per cent will continue to pay 60 per cent of the income tax the nation collects, according to Romney.
Obama says his policy is simple – to give middle income families relief. Déjà vu.
Irish journalist Colette Browne is not convinced by Romney's answer on tax credits and levels:

How are we doing out there? Still interested or dying for the leaba?
Ding, ding, ding. Big Bird, Planned Parenthood, a successful investor who pays just 14 per cent – Obama finally hits Romney where it hurts. In one answer, Romney takes three hard blows.
And also, Obama's criticism of Romney's tax plan was basically this: RomneyTaxPlan.com
Romney responds saying that Obama has set America "on the road to Greece". He believes he can balance the budget as he did when he ran the Olympics and his businesses for 25 years.
NEXT QUESTION: how will you rectify inequalities for women in the workplace….
Obama begins his answer with chat about his single mom and his grandmother "who was smart as a whip". It is a family issue, a middle class issue that we have to fight for, says Obama.
Romney also has an anecdote about how he made an effort to hire women in the past.
His Chief of Staff had two kids still in school – "fine, let's have a flexible schedule" – he tells the audience. "I'm going to help women in America get good work…."
Obama said women do not need Romney's kind of advocacy. And he brings the topic around to women's health and contraception through insurance. Links it to the economy as it is money out of a family's pocket.
That all makes a difference to whether a woman can work, he says. These are family issues, and economic issues. The economy will grow when everyone is involved.
"I have two daughters and I want to make sure that they have the same opportunities as anyone's son has."
QUESTION: How do you differentiate yourself from George W Bush?
This one is for Mitt. Obviously.
Romney skips that question first to say he believes everyone in America should have access to contraceptives.
Moving back to Bush, he says these are different times to the Bush years.
Joseph in the comments section: "Jaysus he's mentioned the 5 point plan again, has Romney been on the phone to Enda"
And maybe Seán Gallagher about having a job creator in the White House (sub for the Áras)
NEXT UP: What has President Obama done to earn my vote in 2012? Audience member says he is not as excited as he was in 2008.
Obama uses the question to Romney to his advantage. Says Romney is different to Bush for a number of reasons, but they are not economic ones.
Cites Planned Parenthood and how Bush did not cut funding to it. Mentions Bush's embrace of immigration reform, comparing it to Romney's suggestion of self-deportation. Brings up Romney's healthcare voucher proposals as well.
Romney says America can't afford another four years like the last four.
Although it seems that Romney has interrupted Obama and the moderator more than he should, timers show that he has spoken for about four fewer minutes than the President.
NEXT QUESTION: On immigration…what do you plan on doing about immigrants without Green Cards who are productive members of society?

All the topics that didn't come up in Round 1 are being raised by the ordinary voters. Romney is up first and says America is a nation of immigrants but adds that illegal immigration must be stopped.
He will not grant "amnesty to those who come here illegally". That's bad news for the undocumented Irish in the US.
However, Romney says there should be pathway to citizenship for children of illegal immigrants. Serving in the US Army would be one such pathway, he explains.
Obama defends his record on immigration.
Meanwhile, there is a new Twitter parody account following the former Governor's claim that he went in search of women in Massachusetts and ended up with binders of information…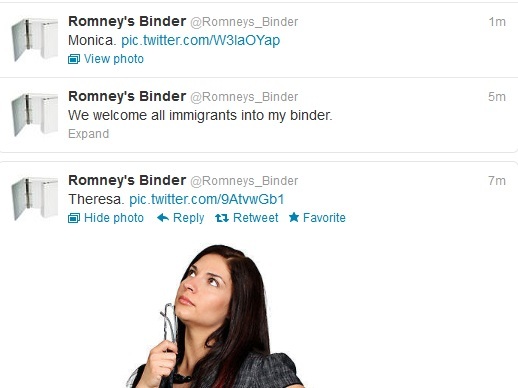 "It's not as big as yours." Obama to Romney
Get your mind out of the gutter…he means his pension.
NEXT QUESTION:Who denied enhanced security for the US diplomatic mission in Benghazi, Libya …
Obama criticises Romney for his press release at the time of the attacks: You don't turn national security into a political issue. Especially when it is happening.
When I say something, I mean it.
Says he will find out exactly what happened in Benghazi, adding that he is ultimately responsible.
Clinton has done an extraordinary job but she works for me, says Obama.
"The day after the attack, I stood in the Rose Garden and said it was an act of terror and we would hunt down those who pertuated it."
The suggestion that anyone on my team would play politics with this is offensive. Obama actually looks really, really cross about that one.
Oh oh oh. Forbidden round-of-applause.
That was in response to the moderator's confirmation that Obama did, in fact, call the attack on the embassy in Libya an act of terror. Romney had claimed he didn't.
Both are partially correct.
NEXT QUESTION: What has your administration done or what do you plan to do to limit the availability of assault weapons?
Obama says he wants a comprehensive strategy. Part one, would be taking weapons out of the hands of criminals or the mentally ill.
The second part would be about getting into community and catching such violent behaviours before they happen.
On the same question, Romney says he does not agree with any change to gun laws.
Says education is important to change the culture of violence. Somewhat clumsily, he brings that around to how marriage should be encouraged to enhance opportunities of young people.
A quick fact check on the Libya question/argument. Romney said Obama didn't call the attack on the embassy an act of terror for 14 days. Obama believed he said it the very next day.
The White House transcript shows the following:
No acts of terror will ever shake the resolve of this great nation, alter that character, or eclipse the light of the values that we stand for.
Obama and Romney agree on the importance of parents and schools in reducing violence seen in America.
NEXT QUESTION: What plans do you have to bring jobs back to the United States and keeps them here?
Romney borrows from Enda Kenny and says he wants to make the US the most attractive place in the world in which to do business.
Says he will cut the tax rates for big and small businesses.
The New York Times has been fact-checking some of the more contentious or questionable claims made by the two candidates.
On Obama's claim that Romney invested in a Chinese company that conducted video surveillance on citizens, Michael McIntire found:
The investment was actually made through a fund managed by Bain Capital, the private equity firm Mr. Romney founded and ran until 2001. Mr. Romney has as much as $2.25 million invested in three Bain Capital funds with sizable stakes in at least seven Chinese companies,including an electronics retailer accused of selling computers with pirated Microsoft software. He has millions more invested in Bain funds that control an auto parts company that is closing a United States factory and moving equipment and jobs to China.

Mr. Romney says his fortune is managed by a blind trust over which he has no control. However, the trust, managed by a law firm that also works for Bain Capital, would likely not meet federal requirements for independent management should be become president because of the close relationship between the law firm, Mr. Romney and Bain.
Lots of talk about China when talking about bringing jobs back to America through manufacturing.
Romney says China has been cheating – accusing it of hacking into computers, counterfeiting and copying products.
Obama talks more about winning the race through investments into education and development.
NEXT QUESTION: What do you believe is the biggest misconception about you?
Oooo, good one.
Romney says Obama's campaign has tried to portray him as someone he is not.
"I want 100 per cent of the American people to have a bright and prosperous future."
He doesn't add, not just 47 per cent, but that's what he means.
As Romney reads out his CV…Olympics, Massachussets, employer, balancer of budgets etc…, we've taken a look at how much better Obama is at the split screen: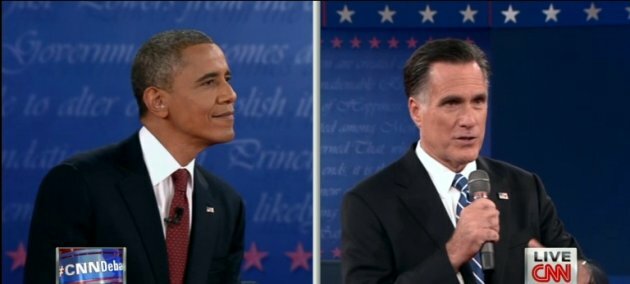 A little smirking but not quite full out Joe Biden laughin'
Obama focuses his last two minutes not on himself but how to move the country forward through creating jobs.
AND THERE IT IS.
Obama uses the opportunity to bring up Romney's 47 per cent gaffe. Reminds the electorate that behind closed doors Romney said 47 percent of Americans "believe that they are victims and that he would "never convince them they should take personal responsibility and care for their lives."
So, in your opinion: who won?
Regardless of who won or whether it was a solid performance from both, we'll be talking about Romney's binders full of women tomorrow.
Not only does it have a Twitter account, it also has a Tumblr. The Internet can kill.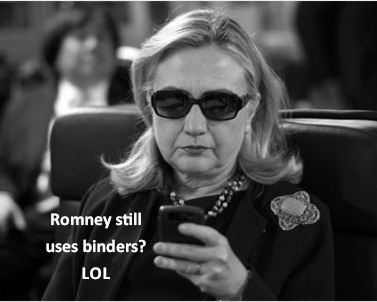 Tonight brought us much more confrontation between the two candidates, despite the town-hall format. Obama maybe learned what not to do from his VP Joe Biden last week, pulling back a little and sitting in a relaxed pose on his stool while Romney quibbled over the rules and paced the floor.
Romeny has got the thumbs up from at least one voter. Er, his son:

From Twitter:
Update: There were just over 7.2 million tweets during the 2nd Presidential Debate at Hofstra tonight.
Did you miss the action? Watch the whole thing back here:

General consensus following the debate is that both men performed proficiently but Obama probably shaded it because he was more prepared than last time out. He also tried to hammer home the idea that America knows him and knows that he means what he says. Better the devil you know was the message of night from the blue corner.
Romney's own goal of accusing Obama of not calling the recent Benghazi an attack an act of terror may be the thing that is remembered in the morning. Let's wait and see.
But that's all from us right now. Good night and good luck.
Contribute to this story: