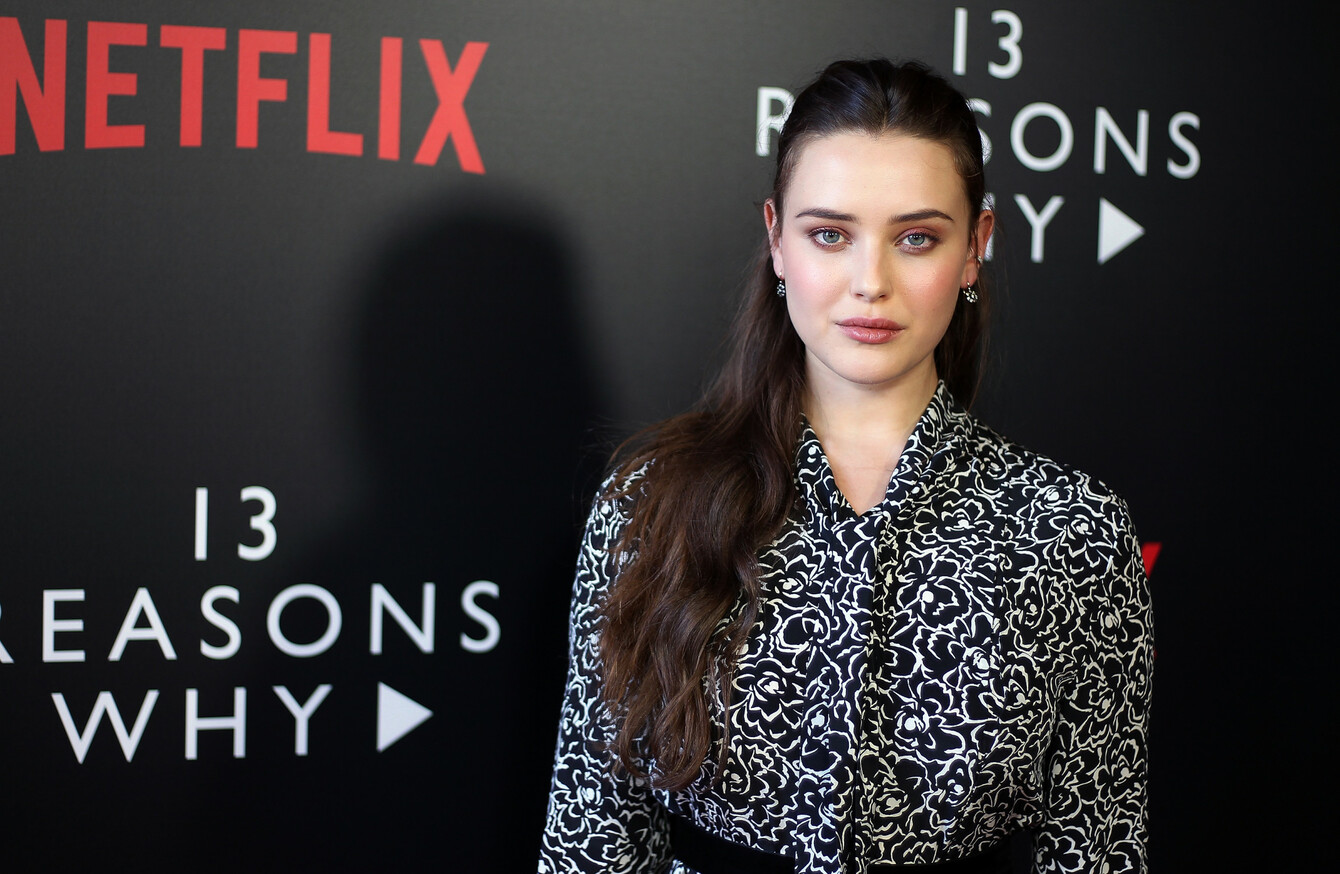 Actress Katherine Langford appears in the Netflix drama
Image: SIPA USA/PA Images
Actress Katherine Langford appears in the Netflix drama
Image: SIPA USA/PA Images
A NEW STUDY from the US has found that half of suicidal teenagers who watched the Netflix series 13 Reasons Why said the show contributed to their risk of dying by suicide, and researchers in Ireland say that there are concerns the show could lead to "copycat cases".
The popular drama generated controversy for its depiction of suicide, as it centres around a 17-year-old student, who before her death, records cassettes detailing 13 reasons behind her suicide.
Strict guidelines are in place for the media reporting of suicide, for example, and concerns were raised in how the show depicted suicide on screen and the effect it would have on those watching it. 
Professor Ella Arensman, from the National Suicide Research Foundation at University College Cork, told TheJournal.ie that research is currently under way to gauge the effect the show may have had on young people in Ireland. 
"It's difficult to say at the present [what effect it's had here]," she said. "We're very involved with the International Association for Suicide Prevention. Last year, in many countries, there were specific copycat cases [...] where for the parents it was clear that in the hours or days before an act of suicide took place, they'd watched the Netflix series."
Netflix has said that 13 Reasons Why has featured among the shows that Irish audiences have "binged" on the most since its release.
The study
The new study published in the journal Psychiatric Services from researchers at the University of Michigan asked teenagers who were suicidal if the show had contributed to suicide-related symptoms.
The study arose because anecdotal evidence among practitioners said that they were hearing more teens being treated for suicidal symptoms talking about 13 Reasons Why. 
Of the 87 youths who participated, 43 had watched it. And among the 43, 21 of those said it heightened their suicide risk. 
"Our study doesn't confirm that the show is increasing suicide risk, but it confirms that we should definitely be concerned about its impact on impressionable and vulnerable youth," the study's lead author Victor Hong said.
Few believe this type of media exposure will take kids who are not depressed and make them suicidal. The concern is about how this may negatively impact youth who are already teetering on the edge.
Irish context
The show is also available to anyone in Ireland with a Netflix subscription, and Aíne O'Meara from Headline – a national programme for responsible reporting of mental health and suicide – said the show has had an impact here too.
She told TheJournal.ie that there was a noticeable increase in teen suicide content in Irish media around the most recent release of the second series of 13 Reasons Why.
"This increase was a combination of entertainment reviews of the actual series, news items on teen suicides, and broader discussion of teen suicide in relation to bullying and rape culture," she said.
Professor Arensman said that – when she first saw the series – her immediate reaction was "are we going back in time?"
#Open journalism No news is bad news Support The Journal

Your contributions will help us continue to deliver the stories that are important to you

Support us now
She recalled a similar film that was shown in Germany in the 1980s that contained graphic details about a young man who took his life. Following that, there was a sharp increase in the number of suicides in young men.
"It is cases like this that supported the World Health Organisation putting in place guidelines for media reporting of suicide," she said. "Not to do it in a sensationalised way. Everything that was evidence-based in the guidelines is undone by the Netflix series."
O'Meara did highlight that discussions around the second series was more considered than the first, because of a toolkit released by Netflix themselves ahead of its release which provided talking points for parents, community organisations and schools concerned about their teens watching the show.
She added: "We find the difficulty when you get a suicide theme in a fictional setting, like 13RW or say for example Aidan Connors death in Coronation Street earlier this year, is you have entertainment and arts writers who are not as well versed on the guidelines for reporting on/covering suicide, whether that's factual or fictional, discussing things like suicide methodology in great detail.
News reporters don't do that anymore and for a very good reason. The risk of copycatting is just too high. Whether a suicide is factual or fictional, any graphic or visual representation of a suicide method is going to be problematic for vulnerable audiences.
Media reporting guidelines around suicide include exercising caution when referring to the methods and context of a suicide, steering away from melodramatic depictions of suicide or its aftermath and aiming for non-sensensationalising, sensitive coverage.
Need help? Support is available:
Samaritans 116 123 or email jo@samaritans.ie
Aware 1800 80 48 48 (depression, anxiety)
Pieta House 1800 247 247 or email mary@pieta.ie (suicide, self-harm)
Teen-Line Ireland 1800 833 634 (for ages 13 to 19)
Childline 1800 66 66 66 (for under 18s)