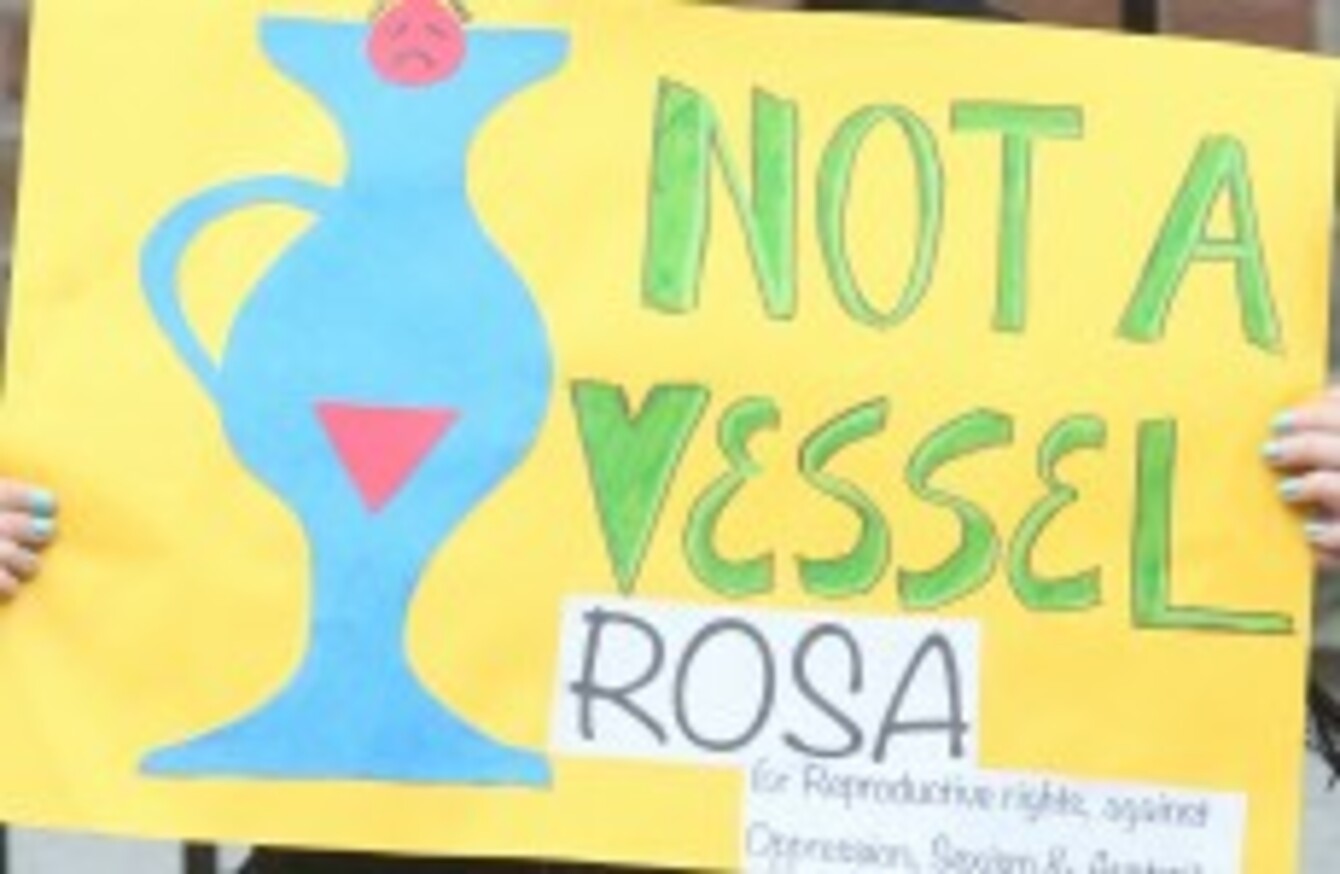 A recent 'repeal the 8th' protest.
Image: Sam Boal/Photocall Ireland
A recent 'repeal the 8th' protest.
Image: Sam Boal/Photocall Ireland
Updated: 4.50pm
A BILL CALLING for a referendum to repeal the 8th Amendment of the Irish Constitution will be proposed in the Dáil today by Socialist TDs.
Ruth Coppinger and Joe Higgins will introduce the Bill, with support from pro-choice groups ROSA and the Abortion Rights Campaign.
Speaking to TheJournal.ie this morning, Coppinger said that removing the "medieval" 8th Amendment was a matter of urgency, highlighted by the recent Ms Y case.
The case in question involved a young woman who said she was raped before arriving in Ireland. She sought an abortion but was denied one.
"Clearly it's dangerous and anti-woman, it's a sectarian amendment imposed by Catholic groups," the Dublin West TD said.
Coppinger added that it should be removed from Bunreact na hÉireann as the ongoing period of austerity in Ireland means "working class women will be unable to gather the €1,500 for an abortion in England".
The 8th Amendment, which was added to the Constitution in 1983, says:
The State acknowledges the right to life of the unborn and, with due regard to the equal right to life of the mother, guarantees in its laws to respect, and, as far as practicable, by its laws to defend and vindicate that right.
Coppinger said that it would make sense to hold the Referendum on the same day as the Marriage Equality Referendum, due to take place next Spring.
Speaking at the event, ROSA's Emma Quinn said "The establishment in this State is wedded to the past – we will wrench them into the 21stCentury kicking and screaming."
Young people are light years ahead of the conservative Government and establishment.
Public opinion
At the weekend a Millward Brown/Sunday Independent poll found that 56% of voters were in favour of a vote on whether or not to repeal the amendment, while just 19% were against it.
The poll also found that a majority of the general public supports abortion in limited circumstances.
72% support abortion where there is a medical risk to the woman's life other than suicide
69% of people say abortion is acceptable if a woman is pregnant as a result of rape
60% of people say abortion is acceptable where the mother's life is at risk through suicide
Coppinger said that while there seemed to be no "appetite for change" in the Government, there was among the general public.
The Pro-Life Campaign had not responded to a request for comment at the time of publication.
The Bill was launched at the O'Callaghan Mont Clare Hotel in Dublin, before being introduced in the Dail.
Additional reporting: Christine Bohan
Originally published: 8.54am