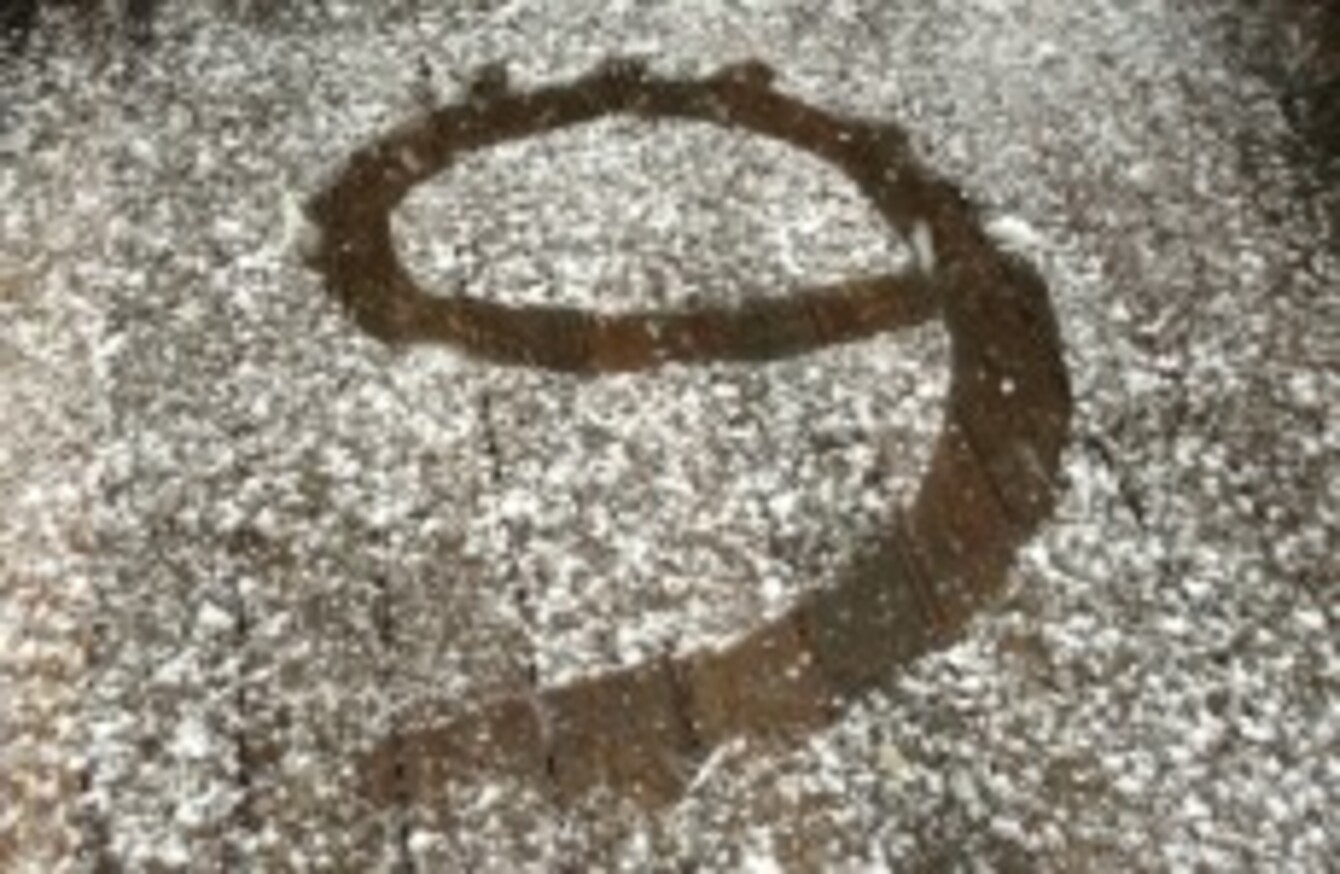 The lengths we go to sometimes...
Image: Gavan Reilly/TheJournal.ie
The lengths we go to sometimes...
Image: Gavan Reilly/TheJournal.ie
EVERY MORNING, TheJournal.ie brings you the nine things you need to know as you kick off your day.
1. #BY-ELECTION: Polling has opened in Meath East, where voters are going to the polls to elect a new TD following the death of Shane McEntee. The seat is seen as a two-way contest between McEntee's daughter Helen, for Fine Gael, and Fianna Fáil's senator Thomas Byrne. The election marks the first party political vote in Ireland for 16 months, and will be seen as a key indication of how the parties are faring midway through the Dáil term.
2. #WEATHER: Another day, another weather warning. A snow-ice warning is in place for Leinster, Cavan and Monaghan this morning after more snowfall overnight. Small accumulations were seen in flat areas, with between one and two inches on higher ground. Meanwhile, the Irish Air Corps is being dispatched to help farmers in Northern Ireland recover livestock which has been trapped in snowy areas since the region was first hit last Friday.
3. #TRANSGENDER: Ireland does not plan to issue new birth certificates to transgendered people, it has emerged. The government told the Strasbourg-based Council of Europe that it has no plans to issue people with a second birth cert, reflecting an acquired gender. The disclosure comes just as it emerges that Lydia Foy, who won legal recognition of her acquired gender in a landmark case in 2007, is going back to court because she was never given a new birth cert.
4. #BANKS: AIB has reported an operating loss of €2.8 billion for 2012 – and warned that it will post another loss in 2013. The loss for last year is well down on the €8.1 billion that AIB lost in 2011, but its chief executive David Duffy said the losses were part of restructuring arrangements that would bring it back to profitability 'in 2014′.
5. #GARDAI: Garda commissioner Martin Callinan is reportedly considering disciplinary measures against Garda sergeants who walked out during Alan Shatter's address to the AGSI conference. Callinan is quoted in many of today's papers as saying he would 'examine' the behaviour and that he had also sought a report into Enda Kenny's encounter with an off-duty Garda in Meath East on Monday.
6. #FÁS: FÁS has told a 60-year-old jobseeker that they should consider applying for a job as a busdriver… in Malta. Sinn Féin's Pearse Doherty revealed to the Dáil last night that one of his constituents had been sent details of a vacancy on the Mediterranean island for a job paying €250 a week – signing off, 'Wishing you every success'.
7. #UNITED STATES: It appears likely that the US Supreme Court will not issue a landmark ruling on gay marriage – with legal experts in the US suggesting that the court may simply decide that it should not have heard a challenge to California's ban on same-sex marriage. Today the court hears a separate case dealing with federal tax benefits for same-sex unions. Here's a selection of statistics on gay marriage in the US.
#Open journalism No news is bad news Support The Journal

Your contributions will help us continue to deliver the stories that are important to you

Support us now
8. #NORTH KOREA: North Korea has warned the South Korean president of a "horrible disaster", as southern authorities prepare for a possible incursion. Park Geun-hye was told to 'behave with discretion' and warning that she would meet with a 'miserable run' if she continue the last administration's policy of defying Northern warnings.
9. #LIFE FOR RENT: A British firm has opened a service offering mourners for hire – to be recruited by the families of dead people to make them appear as if they were more popular in life. The man behind the firm told today's Daily Telegraph that the idea originates from Asia – and that staff are briefed on the life of the deceased so that they can make small talk with other mourners at a funeral.